Description
Join us for the opening of Still: National Still Life Award 2017. Building on the ten year foundation of our still life painting award, Still is a newly biennial, acquisitive award for works in the genre of still life, in all mediums. Still is open to artists at all stages of their careers.
Still: National Still Life Award offers $20,000 for the major award and $5,000 for the People's Choice Award.
Still: National Still Life Award seeks to highlight the diversity and vitality of still life in Australian contemporary art practice, broadening the interpretation of this enduring genre. With art historian Frances Woodley's definition that still life is "the representation of objects in space in relation to a surface … a representation, a reflection, a transformation and a revelation of the objects around us" as a starting point, the award encourages artists to explore, among others, still life themes of 'memento mori', the everyday and the passage of time, life and death.
The 2017 Finalists:
Tony Albert, Louise Allerton, Kelly Austin, Tanya Baily, Elie Begg, Annette Blair, Rene Bolten, Mechelle Bounpraseuth, Terri Butterworth, Fran Callen, Tom Carment, Angela Casey, Tiffany Cole, Karl de Waal, Trisha Dean, Mary Donnelly, Scott Duncan, Sarah Edmondson, Nicolette Eisdell, Merran Esson, Ben Fayle, Guy Gilmour, Sarah Goffman, Ronnie Grammatica, Linda Greedy, Colleen Greig-Canty, Vanessa Holle, Alana Hunt, Susan Jacobsen, Laura Jones, Helle Jorgensen, Paul Kalemba, Laura E. Kennedy, Myriam Kin-Yee, Zai Kuang, Michael Langley, Sam Leach, Kellie Leczinska, Alison Mackay, Josh Mackenzie, Kiata Mason, Julian Meagher, Robert Moore, Stephen Nothling, Susan O'Doherty, Sarah O'Sullivan, Sassy Park, Victoria Reichelt, Elvis Richardson, Damien Shen, Brendan Smith, Tim Snowdon, Richard Spoehr, Vipoo Srivilasa, Nathan Taylor, Samantha Thompson, Anselm van Rood, Prue Venables, Lilli Waters, Kati Watson, Greg Weight, Mirra Whale, Cleo Wilkinson
The winner and People's Choice Awards* will be announced on the night and you are invited!
Many thanks to our generous sponsors: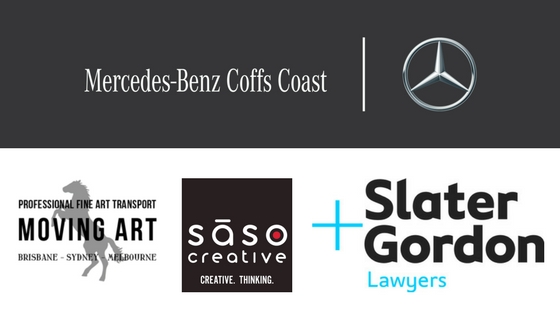 *YOU BE THE JUDGE!
Come to the Gallery to cast your vote before the official opening.
The Gallery will be open for People's Choice voting
Thursday 23 November 3pm - 6pm
Friday 24 November 10am - 6pm
Saturday 25 November 10am - 2pm