Description
We execute against future trends to ensure our clients know first and profit first.
Monthly Group Mentoring with Craig Rispin, Business Futurist and sits on the Value Chain Group advisory Board
If you don't know Craig - check him out on LinkedIn.com where you'll see his 502+ recommendations from executives.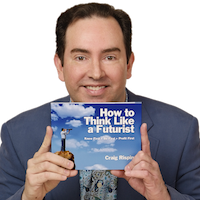 Craig Rispin, CSP TLM
Speaker of the Year,
Thought Leader Mentor of the Year
What will be covered?

Content is bespoke with 50% of learning covering something you should know - and 50% of your specific needs, projects and questions answered.
At a minimum during this year the program will cover:

Positioning yourself and your company as a thought leader
Developing your unique intellectual property
Expanding your network with other senior executives
Easy-to-use automation tools to leverage your entire company's time and effectiveness
Reducing marketing costs while increasing high-quality leads for your sales team
Systems to drive your personal productivity
Creating new income streams and launching new products and/or services
The purpose is to build better communities & involvement in projects which build our community's environment, create preferable futures & demonstrate our commitment to future generations.
Complete your project opportunities in the link below
http://www.vc3p.com/your-ideal-opportunity/
Powered by Value Chain Group www.vc3p.com- 'The Project Practice Professionals'_ See Presentation at the Project Management Inst below
https://www.melbourne.pmi.org.au/PMI/EventDetail.aspx?EventID=1353