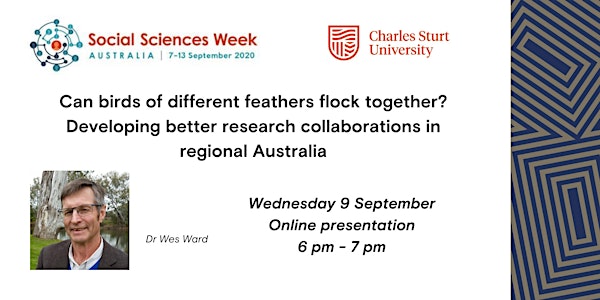 Online webinar Developing better research collaborations in regional Aust
Can birds of different feathers flock together? Developing better research collaborations in regional Australia
About this event
Collaboration is vital in NRM space, as no one person or organisation can successfully address all the complex socio-ecological issues facing NRM in Australia. Research institutes and NRM practitioner agencies bring complementary expertise, experience and resources to complex - and at times conflictual - social, institutional and external contexts, at the personal and organisational levels. Limited literature has recorded successful instances of long-term collaboration between research and practitioner NRM agencies in Australia, and even fewer peer-reviewed studies investigating possible barriers to relationships and communication on which these collaborations are based. Our study investigated the perceived barriers for establishing and maintaining agency-research collaborations, using a qualitative analysis of transcripts of interviews with ILWS/CSU researchers practitioners from North East CMA.
Wesley S. Ward, PhD is an adjunct research fellow, working in science communication and training in the Pacific Islands, South East Asia and Australia for 32 years. Since completing this research as part of PhD studies, he has investigated collaborations between scientists, government agents and landholders for natural resource management and sustainable agriculture in Australia.

The Social Sciences are key to understanding humanity, society and the institutions which govern our daily lives.
Social Sciences Week is a week-long series of events held across Australia each September offering insight into the impact of the social sciences on our lives.
It is an initiative of several of Australia's Social Sciences associations and is coordinated by the Academy of the Social Sciences in Australia.
https://socialsciences.org.au/socialsciencesweek/