About this Event
From the comfort of your own home, explore Tantric & Taoist practises to powerfully rediscover and strengthen your connection to your body, sexuality and your feminine power.
If you would like to immerse yourself in a full weekend of feminine POWER, you can join the Level 1 online workshop the day prior, Saturday September 5
Level 2, Shakti Activated
During this workshop we explore Jade/Yoni Egg and Breast Massage practises alongside meditation, breath and movement to connect deeply to our divine feminine essence and power.
About the workshop:
This workshop is a homecoming, an opportunity to connect deeply with your body and your Yoni and understand how to unlock, strengthen and work with your own sensuality, sexuality and sexual energy.
Through the wisdom of Tantric and Taoist practises, learn ways to strengthen your feminine power, open your heart, and unlock the gateways to infinite pleasure!
Together in a fun, safe, loving environment, we will explore:
The nature of sexual energy
Ways to harness, circulate and direct sexual energy to create the life you desire
Basic Taoist sexual reflexolgy points
Pelvic floor anatomy and engagement
Yoni/Vagina anatomy and reflexology
Yoni/Vagina articulation
Breast reflexolgy and breast massage techniques
Jade/Yoni Egg practises
Types of orgasm (discussion)
Pathways to increased pleasure
This is our Level 2 workshop, it is beginner friendly and Kerrie's events are all trauma informed, however we ask that you have an established level of self-awareness for these more intimate practises.
Partial nudity is optional in this workshop for those who feel inclined during breast massage practises. All practises can be done with your camera on or off, please note some students will leave their camera on, so all participants must be ok with the partial nudity of others.
This is not a 'sexual' or 'dirty' event, it is a journey inward allowing each woman to connect privately to her body and her own energetic pathways.
You will also receive a workbook to keep with the exercises from the day
Your Yoni Egg:
You must have a DRILLED Yoni egg and string for this workshop
If you already have an egg, please bring this to the workshop, along with your string.
THE GODDESS KIT (if you don't have an egg):
If you do not yet own an egg, you can purchase a Goddess Kit with your ticket which includes:
You own medium size, drilled, Nephrite Jade Yoni Egg!
Biodegradable string
50ml glass bottle of liquid coconut oil
Palo Santo to soothe the energy in your space
A small crystal (stone varies for each kit)
Natural fibre bags and biodegradable packaging
All products in your kit have been sourced with our Mother in mind, being as kind as possible to the earth is more pleasurable for us all!
Your Goddess Kit will be posted to you!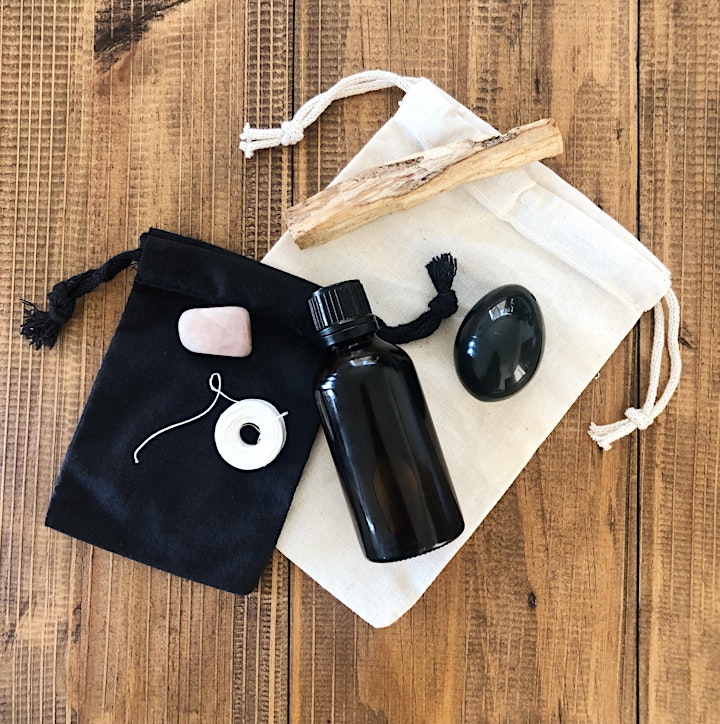 PLEASE NOTE
If you are pregnant, have recently given birth, you will be bleeding on the day of the workshop, have an IUD, a yeast or other infection, a UTI, STD or something else...
YES you are welcome! You can still use your egg in some of these instances, and if not, you can learn the practices on the day and use your egg at a later, more appropriate stage.
If any of the above or something else applies to you please email contact@kerrie-louise.com so we can fully and discreetly support you on the day.
You will receive a take-home workbook with the exercises from the day.
What You Need on the Day:
Set up your space so you can sit, stand and lay down comfortably
Privacy
Wear something that you feel sexy but comfortable in
You can be naked for the Jade Egg practises or wear a sarong or loose skirt, or cover yourself with a blanket
Your drilled Jade Egg and string
Coconut oil or another body-friendly oil
A notebook and pen
A water bottle and any snacks you would like! We will have a short break for lunch and some tea/toilet breaks throughout the day.
You can be topless for the breast massage practices, or you can wear a loose top so that you can massage your breasts from underneath instead.
Note: All of Kerrie's events donate money to organisations supporting women in crisis and victims of domestic violence.
About the hostess
Hi, I'm Kerrie!
I teach women to live a life of passion, self-expression and mind-blowing pleasure!
I believe it is each woman's right to experience mind-blowing pleasure and be powerfully self-expressed in her own unique way.
From yoga studios, to corporate offices around Australia, I have spent the past 10 years studying and teaching in areas of Tantra, Taoism, Mindfulness, Yoga, Sacred Femininity, Trauma and Mental Health, Non-Violent Communication, Space-Holding, Meditation, Breathwork, and Coaching.
As a Women's Empowerment and Sacred Sexuality Coach, and a Tao Tantric Sacred Feminine Arts facilitator, I have worked with hundreds of women and I now dedicate my days to supporting women like you to achieve freedom in their bodies, minds and lives!
"Thank you for Shakti Awakening on Saturday -WOW, that is powerful stuff!
The workshop was sensational, I really enjoyed the knowledge and understanding you laid down as a foundation, and the delicious wisdom and practices that you lead us through were mind-blowing"
— Linda
"Kerrie holds a tender yet powerful space that invokes a feeling of safety, allowing all your vulnerabilities to come out from the shadows. To be seen, held and heard in your pure truth, in true surrender, is healing in action.
I laughed, cried and connected....and came out the other side feeling deep love for myself and the sisterhood.
I celebrate you and all the beautiful work you do Kerrie!"
— Samantha
"Thank you Kerrie for an incredible experience yesterday! The sheer vulnerability that filled the room made me feel safe, seen, heard and loved.
I feel honoured and grateful to experience the magic of 'Shakti Awakening'. I've always been curious about the art of Tantra but never knew where to start.
I left with feelings of empowerment, sensuality and love etched into my veins. Scanning my eyes into those of the other womxn in the room, I felt a strong mirror of the same"
— Brianna
Kerrie's personal study and certifications:
Sex, Love & Relationship Coaching; The Tantric Institute of Integrated Sexuality
Sacred Feminine Arts Facilitator; Tao Tantric Arts, Aligned with the Universal Healing Tao System (Mantak Chia)
Somatic Experiencing, Body-Oriented Approach to Trauma and Stress, Peter Levine
Mindfulness for Mental Health and Trauma, Meditation Australia
Non-Violent Communication
Trauma-Informed Yoga
Advanced Assisting and Consensual Touch in Yoga
100hr Multi-Disciplinary Meditation, Sarvaguna Yoga
100hr Yin Yoga and Buddhist Mindfulness Teacher Training, Insight Yoga Institute
500hr Advanced Vinyasa Teacher Training; Heart of Vinyasa
200hr Vinyasa Yoga Teacher Training, Power Living Australia
Date and Time
Location
Refund Policy