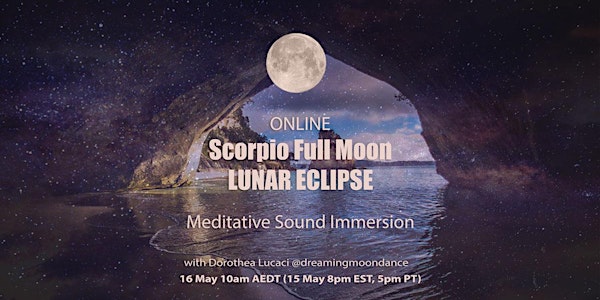 ONLINE: Scorpio Full Moon Lunar Eclipse Meditative Sound Immersion
Refund policy
Refunds up to 30 days before event
Eventbrite's fee is nonrefundable.
Come do some powerful deep inner work with us!
About this event
Scorpio Lunar Eclipse,
Date:
It will be 15 May in these areas:
NYC, TORONTO, MONTEAL, 8pm:
LA, VANCOUVER, 5pm:
SAO PAULO, 9pm
It will be 16 May in these areas:
10 AM AEDT (Melbourne AU Time)
NZ, 12pm:
TOKYO, 9am:
MANILA, 8am:
DELHI 5.30am:
(Please check your time zone by googling Melbourne, AU time.)
Ticket sales close 15 minutes before event!
*** This is an online event that will be held on Zoom.us, please download the app and look out for an invite from zoom to your inbox, when joining the meeting please use the same name you purchased tickets with.***
Arrive a little early to check in, bring some headphones for better listening, and find a quiet spot to relax and immerse in the experience.
Immerse in the Experience:
Come join us for this powerful Scorpio Full Moon Total Lunar Eclipse and connect to the energy of Scorpio, of letting go, transforming, re-birthing and witnessing the truth of our own power and ability to create.
We'll breath together with a pranayama to relax us into the present, chant mantra to quiet the mind, and experience a guided meditation to melt us deeper into the experience.
From there we'll immerse in the vibrations of a sound bath, which will create space for deep relaxation and the release of tension, stress, and stagnant or stagnant emotions.
When we enter this tranquil and expanded state of being, the mind, body, emotions, and spirit has the opportunity to soothe, re-calibrate, and restore to inner harmony. And from this place of resonance we can build, align and connect to our greatest potential.
About the Scorpio Lunar Eclipse:
Eclipses come in pairs (sometimes 3's) every six months and bring change in the form of realignment, like a cosmic shake down, to get back on course with your soul, purpose, and heart's desire.
A Full Moon Lunar Eclipse helps us close out the old, let go of what doesn't serve, celebrate a culmination, and empty out to make room for the new.
This Scorpio Total Lunar Eclipse will help illuminate the depths of our unconscious, so we can truly see ourselves, our gifts, talents, potential, and power, and the limiting beliefs, outdated thoughts, habits and emotions that are holding us back from following our hearts and the desire of our soul.
Pluto, the ruler of the eclipse will be in harmony with the sun and moon, giving us the strength and courage to see ourselves and transform what no longer serves.
Mars and Neptune will be in harmony with this eclipse helping us access our divine spark and follow it along its path.
Saturn will be bringing some intensity, showing us where control, tradition, doubts and fears have held us back and helping us commit to a new way of being with conviction and the desire to reach personal mastery.
The veils to the other world are thinned, and this is a perfect opportunity to be with like minded people in community, connecting and doing the deep work of evolution and transformation.
Proven Benefits of Sound Therapy:
** Reduces stress and anxiety
** Improve immune and nervous system health
** Improves sleep and relaxation
** Boosts your mental, emotional and energetic state of being
** Helps release emotional tension
** Helps you maintaining a healthy spiritual and self-care practice
Sound is the gateway to the soul, when we sit and listen, we begin to hear the silence between sounds, and from there are transported to other worlds, and to the depth of our soul.
About Dreaming Moondance:
Dorothea Lucaci is an intuitive healing artist, astrologer and musician.
Along her educational journey she became a Reiki Master, Advanced Theta Healing Practitioner, Astrologer, and Sound Therapist, who also holds a Bachelor of Social Science and Psychology. In addition to these disciplines Dorothea has studied Past Life Regression, Integrative Hypnosis, Life Coaching, the Akashic Records, Access Bars, and other complementary Energy Medicine modalities.
Dorothea has spent the past 7 years studying sound and music extensively with various teachers from different traditions across NYC, Melbourne and around the world.
She offers Sound, Mantra, Chants, Meditation, and Past Life Regression events as well as bespoke private healing sessions using her vast expertise.