Online Networking Event with 5-7 panelists for STEM UniSA students by WinSTEM UniSA.
About this Event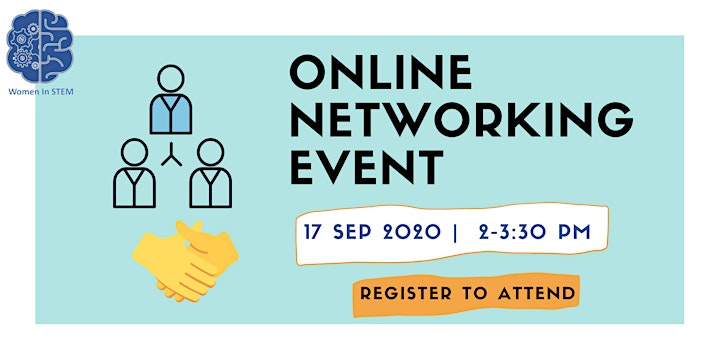 Women in STEM UniSA is delighted to inform all our students that we will be hosting an Online Networking Event with 5-7 panelists. This is a wonderful opportunity for our students to interact with the panelists and explore various suitable career pathways.
Following is the event structure:
1. Panel Introduction
2. General Q&A sessions
3. Industry-specific breakout rooms
Our panelists belong from diverse disciplines in STEM. The following are the brief descriptions of our panelists.
Megan Nicholson, Entrée Recruitment
Megan Nicholson started her recruitment career with Entrée Recruitment in 2003. Megan quickly established a reputation as a consultative, value-based recruiter. Megan has been recognized for her achievements when she was a runner-up in the CareerOne Recruitment and Consulting Services Association (RCSA) awards for most popular consultant and for outstanding achievement from a consultant and most recently in 2019 by the RCSA as a finalist for Recruitment Leader of the Year. Megan also currently holds the role of Co-Chair for the RCSA SA Council. Megan's practical experience is backed up by qualifications in human resources.
Monica Purdak, Accenture
Monica graduated from UniSA this year with a Bachelor of Business (Information Strategy and Management), however, has been interning at Accenture in technology since December 2019. She is an Application Development Analyst and forms part of the Application Outsourcing team in Adelaide. She loves the challenges, daily learning, and collaborative team that this role provides.
Dr. Natalie Francis, Head of People, Peak at Work
Natalie Francis is an author, Registered Psychologist, studied Systems Engineering, and after completing her Ph.D. started with IBM to lead their Australian talent practice for artificial intelligence. Natalie led IBM's Australian Thought Leader Centre of Excellence, is an IBM Innovation Lab award recipient and presenter at their New York Watson Artificial intelligence center. Natalie's experience includes as Vice President of a US-based artificial intelligence technology start-up, before establishing Peak at Work where she currently consults with organizations and individuals on building workforce capability in the age of new technologies. Natalie has worked with some of the world's most iconic global brands in technology, finance, and engineering and has ​advised boards, executives, and senior leaders on building workforce capability in the age of automation and AI. She is passionate about the contribution of higher education to the business environment and provides mentoring and support to individuals seeking to use their research qualifications outside of traditional academic pathways.
David Dahm, Medical and Health Business Adviser, CEO & Founder of Health & Life
David Dahm is a Chartered Accountant and is the CEO and Founder of Health and Life, which is a national Chartered Accounting Firm that provides advisory, tax and accounting services to the healthcare industry. David's qualifications as a Chartered Accountant include being a Fellow of CPA Australia, a Fellow of the Financial Services Institute of Australia, a Fellow of the Taxation Institute of Australia, a Fellow of the Australian Association of Practice Managers in healthcare, a Certified Practice Manager, Fellow of the Institute of Managers and Leaders, a Fellow of the Governors Leadership Foundation and a Registered Tax Agent a nd has been an Australian General Practice Surveyor for 10 years. He has also served on various Not for Profit national and state boards. Health and Life have serviced over 1,200 clients in Australia, from doctors in general and specialist practice, public and private hospitals, after-hour clinics, international pharmaceuticals, and the Australian Government, both at State and Federal levels.
James-Leon Roberts - Executive Aviation Consultant
James-Leon is a Senior Information Technology and Business Executive with 30 years' experiences within the Aviation, Finance and Telecom industries. Highly motivated, highly ethical and credible, innovative and deadline driven individual. An assertive leader with a collaborative leadership style that has demonstrated the ability to manage departments effectively and mobilize resources to achieve business objectives. Sophisticated management skills in a fluid and fast changing landscape to compete in both local and global markets. He believes that his strength is to share his experiences and knowledge with others to ensure growth for all and most importantly learn from those around him.
Alex Avery - Director - Notitia
Alex has worked across academia, start-ups, consultancies, and holds an Honorary Fellowship at UniMelb. He's passionate about applying analytics for societal benefit, and is a technology and data expert. He co-founded Notitia, a digital transformation and analytics business; which leverages data and technology to improve businesses, operations and client outcomes.
Note:
The online event link will be shared with our attendees closer to the event date. Kindly note that to attend the event you must sign up with your university email via the provided registration link.