Online LinkedIn Program for VAs & Marketing Managers (starting 6 Jan)

Wednesday, 6 January 2016 from 7:00 am to 8:00 am (AWST)
Event Details
Invitation to join the
 Wildfire Social Marketing LinkedIn Program 
We have trained hundreds of professionals in how to set up and use LinkedIn, but find that there is often inconsistent implementation.  The biggest issue is that professionals are often time poor, and lack the time to focus on marketing activities and require help.  To make a bigger difference to more people, we are sharing our systems for the first time in order to train other professionals in.. This program has been designed especially for professional Virtual Assistant's who would like to offer LinkedIn services to clients.  Of course to be able to offer the service, you need to be walking the talk and put our program into action on yourself first. 
MODULE 1 - starts 6 January....Register interest to join us.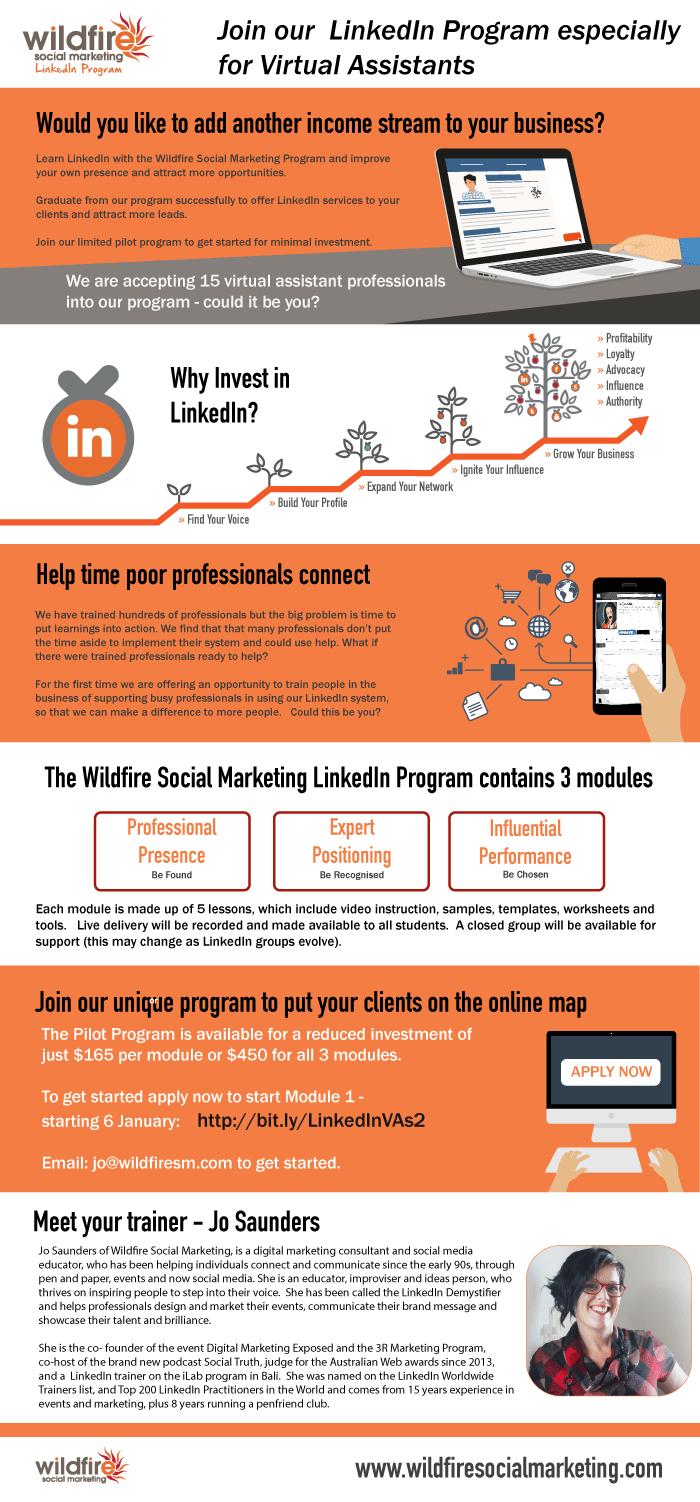 PROGRAM FORMAT 
The program is split into 3 modules, which you can pay for individually or pay for the entire program. The main reason I have structured it this way is to make the program affordable and manageable.  Being the pilot, the price is much lower than it will be next year.  The dates below are a guide.  
Here are the main topics of each module:
MODULE 1 – PROFESSIONAL PRESENCE
This module is all about setting up and optimising your client's profile, in order for them to be found by the right people.
LESSON 1 – PURPOSE (Wed 6 Jan)
LESSON 2 – DIGITAL FOOTPRINT ESSENTIALS (Fri 8 Jan)
LESSON 3 – SUMMARY FORMULA (Wed)
LESSON 4 – EXPANDING YOUR STORY (Fri)
LESSON 5 – PROOF & PLANNING (Wed)
(AWST 7-8am / AEST 10-11am) 
MODULE 2 – EXPERT POSITIONING
This module is all about building a network and establishing your client's expertise so they are recognised and remembered.
LESSON 1 – GOAL SETTING & PLANNING (3 Feb)
LESSON 2 – CONNECTION STRATEGY AND MANAGEMENT (10 Feb)
LESSON 3 –CONTENT STRATEGY (17 Feb)
LESSON 4 – COMPANY STRATEGY (24 Feb)
LESSON 5 – GROUP STRATEGY (2 Mar)
(AWST 9-10am / AEST 12-1pm)
MODULE 3 – INFLUENTIAL PERFORMANCE
Once your have created an optimised profile, and have build the connection, communication and content strategy for your clients, it is time to take it up a notch. 
LESSON 1 – COMMUNICATION AND ENGAGEMENT STRATEGY  (9 Mar)
LESSON 2 – RESEARCH & ADVANCED SEARCH (16 Mar)
LESSON 3 – 3RD PARTY TOOLS (23 Mar)
LESSON 4 – PERFORMANCE METRICS (30 Mar)
LESSON 5 – PLANNING AND POLICY (6 Apr)
(AWST 9-10am / AEST 12-1pm)
PREQUISITES
There are no perquisites to joining the program, other than to be committed to implement your learnings on yourself before offering help to clients.  Walking the talk is very important in offering a credible service. Module 2 and 3 have prerequisites of completing the previous modules.  The bigger plan is to have the program recognised, so when this happens you will be notified how to qualify.
READY TO JOIN US??
Module 1 starts Wednesday 6 January and will run weekly.  The live session will be 7am – 8am AWST time (10am-11am AEST)
(Module 2 and 3 will most likely run 9-10am AWST)
BOOK NOW for  Module 1 ($165 incl. GST) or the entire program ($450 incl. GST) Note This pricing will only be offered for this program.  This is a massive opportunity to add a revenue stream to your business.  It may only take 1-2 clients to return your investment.  Are you ready?
"Today I attended Jo's LinkedIn training session in Melbourne and, wow, was I impressed! A really fun but super-informative session that actually IGNITED THE FIRE (yes I said it!) in my belly for LinkedIn. And trust me - that's a mean feat right there!  If you get a chance to attend one of Jo's sessions, I highly recommend it. She's a great teacher, really professional but approachable, knowledgeable and fun - HIGHLY RECOMMEND!" 
- Rosie Shilo VYVA
Organiser
We are in the era of social business, where LinkedIn, social media  and content strategy are essential.  Don't struggle with setting up your online profiles, getting your content marketing started, building relationships and using tools to be known, remembered and chosen.  
Jo is known as the LinkedIn Demystifyer and can help you be more productive, effective and efficient on the largest professional social network. We offer in-house and public training, individual and group mentoring programs, and profile set up and transformation services.   
Check out our upcoming public events and get in touch to organise custom training for you and your organisation.