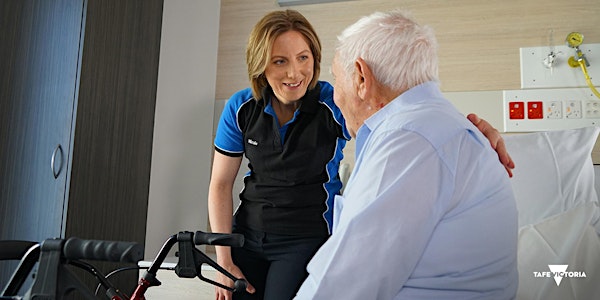 Online Info Session | Certificate IV in Allied Health Assistance
Bendigo TAFE - Certificate IV in Allied Health Assistance (HLT43015) | Online Info Session | Free TAFE and JobTrainer* initiative course
About this event
Attend Bendigo TAFE's online information session to learn more on the enrolment process as well as a general overview of the program including how to apply, testing and interviews that may need to be attended. This information session will also include an interview process at the conclusion of the info session, for those wishing to apply for the next intake.
>> Certificate IV in Allied Health Assistance (HLT43015)
This course is offered as part of the Free TAFE and JobTrainer* initiative.
This qualification is aimed at training workers who support allied health professionals such as Physiotherapists and Occupational Therapists. As part of this course there is a minimum of 120 hours of mandatory work placement. This course is due to commence February 2022.
You MUST register through EventBrite in order to participate.
Upon registering, you will be emailed a link to join the information session at least one day prior to the session.
Please note that prior to the session, you will need to have the free BlueJeans app installed on your phone, tablet or computer to be able to hear and see the presentation. To download the free BlueJeans app: https://www.bluejeans.com/downloads
Please also have handy any qualifications, certificates or unit statement of attainment related to the course completed in the last two years, as well as any concession or medicare card.
Process after session:
Literacy & Numeracy evaluation (online), DSR webform, Pre-training review and interview. Upon success in these requirements, enrolment can follow.*
If you require any additional information, please contact Teresa via email tlamond@bendigotafe.edu.au