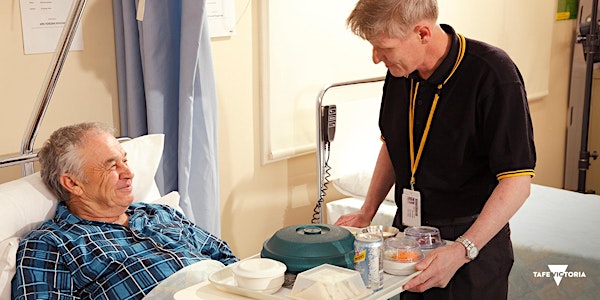 Online Info Session | Certificate III in Health Services Assistance
Register for our online information session on Certificate III in Health Services Assistance (HLT33115) | Bendigo TAFE | Free TAFE* course
About this event
Learn more about our Certificate III in Health Services Assistance (HLT33115), including the enrolment process, how to apply, and any testing or interview requirements.
This course is offered as part of the Free TAFE and JobTrainer* initiative. Attendance at this information session is mandatory, as part of the application process.
Certificate III in Health Services Assistance (HLT33115)
The Certificate III in Health Services Assistance (HLT33115) is a foundation level course where you will be assisting health professionals with patients. Typically, the Health Service Assistant will be required to assist nursing staff in delivery of services such as washing, dressing, toileting and grooming, transporting patients/clients, assisting with the delivery of meals, bed making, stock control, cleaning and other general ward duties.
This course includes a minimum of 120 hours of mandatory work placement.
Register via EventBrite
You MUST register through EventBrite in order to participate.
What to do before the session?
Before attending the session, we advise students to apply to this course through Bendigo TAFE.
Please also have handy any qualifications, certificates or unit statement of attainment related to the course completed in the last two years, as well as your medicare and any concession cards.
Login via BlueJeans
Login via this BlueJeans link after registering for the event: https://bluejeans.com/944273765/6607
Please note that prior to the session, you will need to have the free BlueJeans app installed on your phone, tablet or computer to be able to hear and see the presentation. To download the free BlueJeans app: https://www.bluejeans.com/downloads
What happens after the session?
Upon successful application, you will have the opportunity to complete your language and literacy evaluation.
*Eligibility criteria applies. Other fees and charges may apply. Find out more at freetafe.vic.gov.au. This course is also available as part of the JobTrainer initiative. Eligibility criteria applies. Find out more