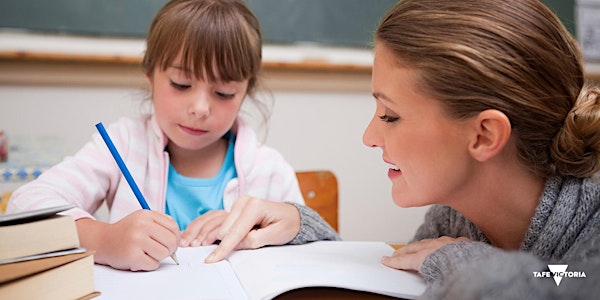 Online Info Session | Certificate III in Education Support (CHC30213)
Bendigo TAFE | Certificate III in Education Support (CHC30213) - Free TAFE* | Online Information Session
About this event
Register for our online information session to learn more on the enrolment process, how to apply, any testing or interviews that may need to be attended, as well as a general overview of the program.
This course is offered as part of the Free TAFE and JobTrainer* initiative.
This course is suitable for new integration aides, or for those seeking employment as an integration aide. Students will develop the skills required to support children both academically and emotionally with inclusive learning practices for children and young people.
> Certificate III in Education Support (CHC30213)
Please also have handy any qualification certificates or unit statement of attainments related to the course completed in the last 2 years. Also, please have your medicare card and any concession cards handy.
You MUST register through EventBrite in order to participate.
Login via this BlueJeans link https://bluejeans.com/604615974/2196
Please note that prior to the session: You will need to have the free BlueJeans app installed on your phone, tablet or computer to be able to hear and see the presentation. To download the free BlueJeans app: https://www.bluejeans.com/downloads
Process after session: Literacy & Numeracy evaluation (online), DSR webform, Pre-training review. Upon success in these requirements, enrolment can follow.
For any queries please email cmoosman@bendigotafe.edu.au
Organiser of Online Info Session | Certificate III in Education Support (CHC30213)