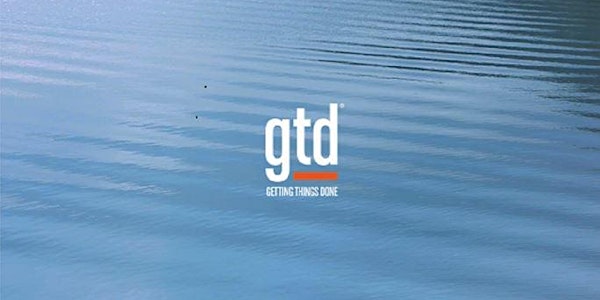 ONLINE Getting Things Done GTD Fundamentals with Implementation Workshop
Learn the best practices for Stress-Free Productivity with this Live Instructor-led Interactive Course in Getting Things Done Methodology.
About this event
ENJOY 50% OFF OUR ONLINE COURSE DUE TO COVID-19 DISCOUNT.
GTD Fundamentals Course : Cost: $395+GST (reduced from $695+GST)
Dates: Feb 1,2,3 Time 11:00 AM to 1:00PM
GTD Fundamentals Course+ Implementation Workshop: Cost:$595+GST (reduced from $1291+GST)
Dates: Feb 1,2,3,4,7 Time 11:00 AM to 1:00PM
This is a LIVE Instructor-Led Course delivered in 2 hour slots over 5 days.
Course Overview:
We live in a world where we are reactive as we are flooded with emails and instant messages, busy calendars and distractive environment.
We are consistently busy, however, there is a overwhelming worry we may be missing something that will fall through the cracks and haunt us.
Getting Things Done® (GTD®) is the Gold Standard in Productivity for getting in control of your world and maintaining perspective in your life.
You will increase your productivity while maintaining a clear mind and the confidence that you are consistently focused on the right things.
GTD Fundamentals Course:
The GTD Fundamentals course is delivered over 3 days in 2 hour slots and is led live by our Certified GTD Coach.
This course instils the critical distinctions of the five steps of workflow mastery: capture, clarify, organize, reflect, engage and how to optimize your system to make priority choices.
5 GTD steps Mindmarkers: We are super excited that this program includes one year subscription of our training reinforcement program which will help integrate your learning from this course to your day to day life. This is only available for participants of the course. What's Covered in the Course:
Capturing "stuff" into external locations
Processing "IN" to empty consistently
Applying the two-minute rule
Making decisions when things show up vs. when they blow up
Tracking actions contextually vs. unworkable daily to-do lists
Getting email under control
Delegating and tracking deliverables appropriately
Creating a functioning reference system
Breaking through procrastination
Managing priorities effectively
GTD Installation and Implementation workshop (I&I) for Calendar, Email, Tasks and Projects
Make the most of your investment in learning the Getting Things Done® methodology and make some real progress in the implementation of GTD.
What is covered:
Email: Handheld workshop for structuring email according to best practices for GTD, with live demonstration, leading participants through handling your own personal backlog and structuring email.
Calendar: This workshop covers best practices for calendar management, three-fold nature of work and includes live demonstration.
Tasks and Projects: This workshops allows you to set up your GTD system for tasks and projects on paper based system or software of your choice.
Populate your GTD System
Apply the Five of Phases Workflow
BONUS - With booking of GTD Fundamentals Course with Implementation Workshop:
Complementary assessment to help determine the best list manager to suit you
30 min virtual coaching session with our certified gtd coach to help with your implementation
WHO SHOULD ATTEND?
Beginners
Veteran GTD practitioners looking for a refresher and new inspiration
Venue:
ONLINE – YOU WILL RECEIVE A LINK TO JOIN THE WEBINAR ONCE YOU REGISTER.
Your Investment:
BELOW FEES ARE AFTER THE 50% OFF DUE TO PANDEMIC DISCOUNT. EVENTBRTIE FEES APPLY
GTD FUNDMENTALS COURSE: $395+GST (instead of the $695+GST)
GTD FUNDMENTALS COURSE WITH IMPLEMENTATON: $595+GST (instead of $1291+GST)
Our Mission is to help People, Teams and Organizations thrive in their implementation of GTD, and we've been told we have achieved that on many occasions. Our clients range from high profile executives and professionals to full time parents and students.
Productivity First Client Testimonials : Don't just take our word for it, see it for yourself: click here
GTD global clients:
Microsoft, HewlettPackard, IBM, KPMG, Accenture, Nike, Sony, Adidas, Novartis, VISA, Sun MicroSystems, Harvard University, The Washington Post, Xerox, Cisco, AstraZeneca, McDonalds, NASA, Starbucks, GE, Blue Cross Blue Shield, Pharmacia, American Red Cross, Deloitte , Nestle, and many more.
"GTD allows me to be present and to show up fully in the moment." —Louis Kim, Vice President, Hewlett Packard (HP)
FAQ
Seminar Cancellation Policy:
We are unable to offer refund on cancellation. Productivity First is happy to transfer your booking to our next workshop.
There is no charge if you would like someone else to attend on your behalf.
Productivity First reserves the right to reschedule the event due to unforeseen circumstances, in which case you will be given an option to transfer to the new date.
We look forward to seeing you at the event!