ONLINE 6 Week Money Makeover - Starts Monday June 20, 2016

Monday, June 20, 2016 at 7:30 PM

-

Monday, July 25, 2016 at 8:30 PM (AEST)
Event Details
A heartfelt welcome to the 6 Step Money Makeover
Refresh your life & finances!
This is for you if... 
Somewhere in the back of your mind, you know your finances could do with a spring clean

You're interested (or want to be more interested) in money and your financial future

You like the idea of mixing finance with a little fun...
What is it?
This 6 week fun and interactive new Money Makeover program is a first of it's kind - our aim is to make life planning and personal finance fun, social and totally life-changing. It's all about learning the life and finance skills we all need to know but so often didn't learn at home or at school - join now to help each other take action and feel set for a financially secure future.
Over 6 weeks you will:
Get zest back in your life with inspiring personal and financial goals

Set up an awesome day-to-day money management system

Noticeably decrease personal debt and/or increase saving levels

Complete an insurance audit

Start the estate planning  conversation

Understand the key investing principles

Explore the opportunities that come with property investing

Learn more about how the stock market works and ways to invest in shares

Review your superannuation and learn easy ways to maximise your retirement savings

Understand tax basics when it comes to investing

Map your personal and professional support network

Establish healthy habits and complete the course with a refreshed and optimistic mindset
Join girlfriends, workmates and new 10thousandgirl friends over 6 Weeks to give your personal finances a Blitz.    
How does it work?
Register here

Receive your welcome email with Module 1 Pre-work and webinar links

Login to 6 x weekly live intereactive webinars (7.30-8.30pm Mondays, starting 20 June)

Enjoy 6 x weekly resource emails with tips, links and webinar recordings
Note: If you are unable to join a webinar live, recordings are available each week to enjoy in your own time.
Supported by interactive webinars, videos and online materials, 10thousandgirl will guide you through the program. Each week you'll receive an email with helpful tools, links and resources. It will provide the details for you to login to the weekly webinar and you'll be tasked with a 10 minute challenge. Between webinars you have the option to ask questions and chat with like-minds and experts on a private online forum.
Financially empower yourself while $10 of your program fees go toward providing a microloan for a woman to start a new business and lift herself and her family out of poverty. Pretty inspiring!
FAQs
What is the 6 Step Money Makeover?
The 10thousandgirl 6 Step Money Makeover is an online personal finance program run over a 6 week period. The objective is to stimulate conversation, action and learning around planning our lives and best managing our personal finances, building women's financial confidence and wellbeing.
How does it work?
Materials including checklists, reflection sheets, templates and resource material is backed by expert videos and live webinars to guide you through each Module. The objectives of the program are to increase your basic financial know-how, expand your professional support network and have your own goals, plans and personal finances cracking for your life ahead. Sharing in conversations with like-minded womon online fast-tracks everyone's learning, helping to improve your personal situation and as a group, contributing to the health and sustainability of our broader economy.
How much is the program?
The program is $149 and includes a moduled financial education course, online eductional materials, access to local professional services Mentors, telephone and email support and your contribution to microfinance.
How often do we 'meet'? What's my time commitment?
The program runs over 6 weeks. We recommend you put aside a minimum of 1.5 hours a week to join the weekly webinar, login to the discussion forums and complete your 10 minute challenge. Of course it is up to you how much time you spend. The more time you invest over the 6 week period, the better foundations you can lay for your future and the better you'll feel with yourself at the end of the program!
Where do we 'meet'?
You can login to the weekly webinar wherever is comfortable - at your home, workplace, a community centre or quiet public space. All you need is access to the internet and your emails to find the link to join the webinar.
Who's it for?
By joining the program you and like-minds can pool knowledge and resources, learn from each other's questions and keep each other motivated and on track with your own plans and personal finances, whilst helping others at the same time. Whether you:
Are 18 or 55

Have never really delved into your finances before or are savvy and interested and looking for a fun way to keep motivated and inspired

Are carrying some debt

Have some money tucked away

Have investments well underway

Like to feel confident and secure in your decisions

Are looking for a like minded crew to learn and network with
What does the course cover?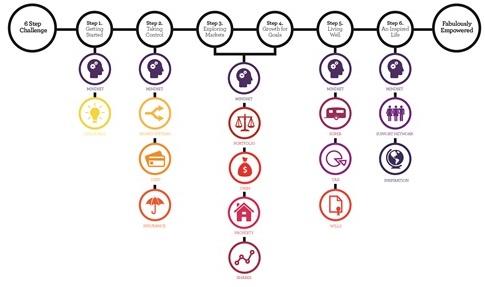 How am I supporting microfinance by joining the program? 
For each woman who joins the 6 Step Challenge and learns to manage and invest their income wisely, $10 of their program fees are contributed to microloans for women in a neighbouring country who don't have access to traditional lending institutes. The loan is provided along with business training until she can set up an income stream supporting herself, her family and in some cases employing others in the community. 10thousandgirl is partnering with Good Return and Opportunity International to provide microloans.
Sign Up NOW!
10thousandgirl is a not for profit organisation committed to inspiring Australian women to confidently pursue their life plans through financial empowerment and starting a ripple effect through microfinance. More on www.10thousandgirl.com. By registering for this event you will be signed up for the monthly 10thousandgirl inspiration 'The Ripple'.
When
Monday, June 20, 2016 at 7:30 PM

-

Monday, July 25, 2016 at 8:30 PM (AEST)
Add to my calendar
Organizer
Learn the principles behind personal finance and investing in an engaging, supportive and light-hearted environment.
Each time a group of women in Australia complete a 6 Step Money Makeover Program, a microloan is provided to a woman living in extreme poverty to create a new income stream. Building your own financial confidence and wellbeing creates a Ripple Effect of women's financial empowerment globally.