Description
* TICKETS AVAILBLE ON THE DOOR - ALL NIGHT LONG*
ONE PUF 4TH BIRTHDAY RAVE : MJ COLE (UK GARAGE LEGEND/UK) - *TONIGHT*
BROWN ALLEY - 17TH NOVEMBER 2017
Yes, yes, yes, yes!
Here it is, 4 years strong and still coming true.
Having spent the last few years bringing you the finest UK Garage, Grime & Bassline to Melbourne we go that one step further to celebrate our 4th Birthday with none other than the king himself MJ COLE one night only direct from the UK.
Supports : Exit99, Smutlee, DJ Lady Erica, Polat, Coldpast, Percy Miracles, Gingus, 2fuddha & Kamo
BIO:
One of U.K. garage's first true stars, MJ Cole's work spanned Mercury Prize-nominated albums and a lengthy career as a remixer and producer. While growing up in London, Colestudied the oboe and piano, ultimately earning a degree in music from City University. He also immersed himself in electronic music culture, working as a tape operator and engineer for the drum 'n' bass label SOUR. Cole founded his own imprint, Prolific Records, and issued singles as Morf, Jilt, Spectra 1000, and Matlock. While working on Ramsey & Fen's 2-step remixes for Kym Mazelle in 1996, he caught the garage bug and worked on numerous productions as well as remixes for Soul II Soul, Goldie, Gwen McRae, Another Level, and State of Mind. "Sincere," one of Cole's first tracks under his own name, became a Top 40 hit in 1998. Recorded using a sampler and Atari, it was released via AM:PM and was one of the first charting garage singles. Soon after, Colesigned to Gilles Peterson's Talkin' Loud label, which released the "Crazy Love" single in May 2000 and the full-length Sincere that July. The album's quick, crisp production style earned him a Brit Award nomination as well as a Mercury Prize nomination.
Cole released another album, 2003's Cut to the Chase with Talkin' Loud, before leaving the label in 2004. That year, he began releasing a steady stream of singles and EPs on Prolific, including collaborations with Tubby T, Wiley, and Elisabeth Troy. During this time, he remixed artists such as Amy Winehouse, Alicia Keys, and Mariah Carey, took his DJ set on the road, and composed music for television ad campaigns. His own Riddim EP appeared in 2010. Also around this time, he co-wrote songs with Jimmy Napes and Sam Smith, remixed tracks by Jess Glynne and Adam F, and produced tracks for Dizzee Rascal and Katy B. Lobster Boy Records released the single "Alcatraz" in 2016. The following year, he returned with the single "Shelter," featuring Bruno Major.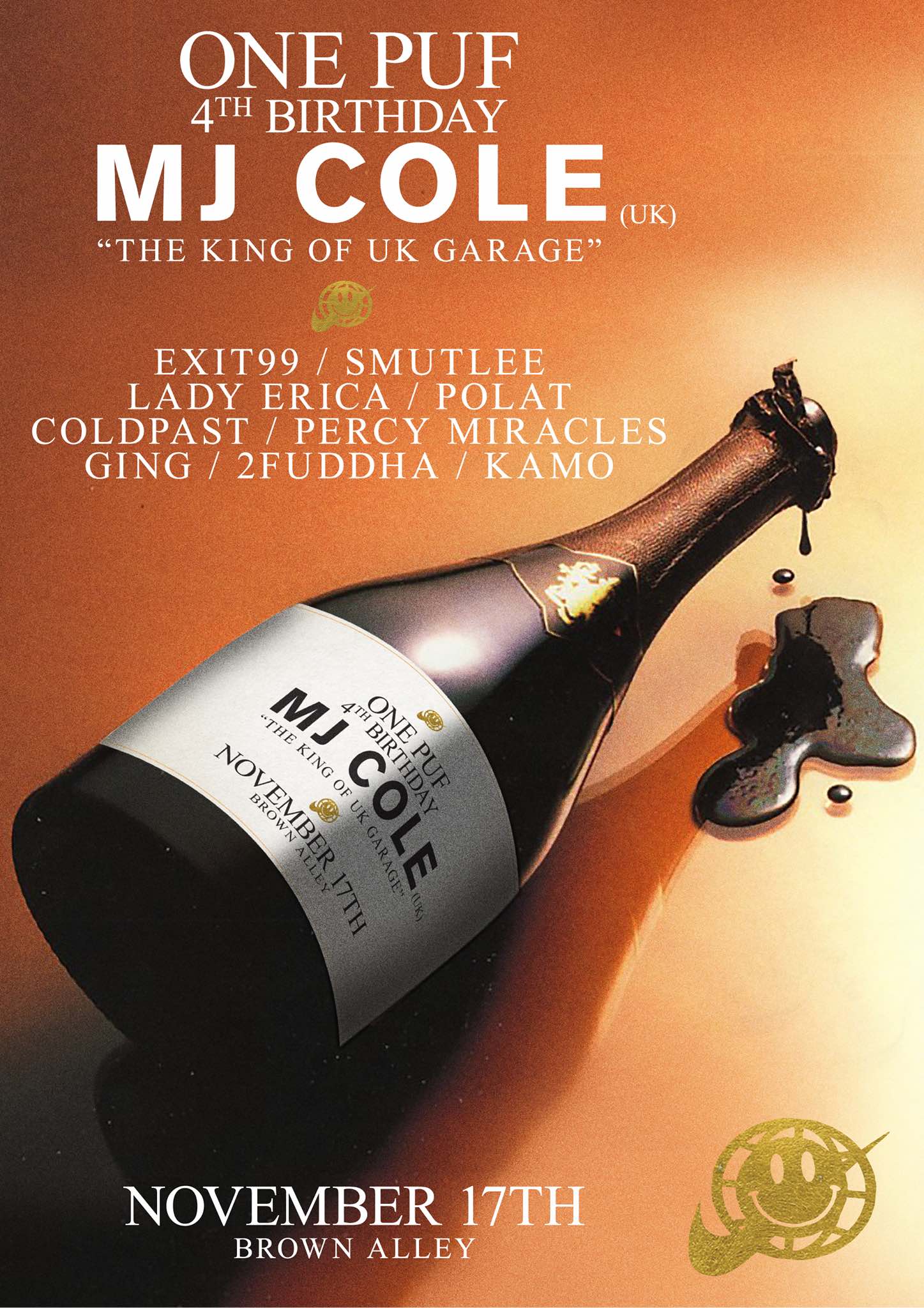 Organiser of ONE PUF 4TH B'DAY : MJ COLE (UK)