About this Event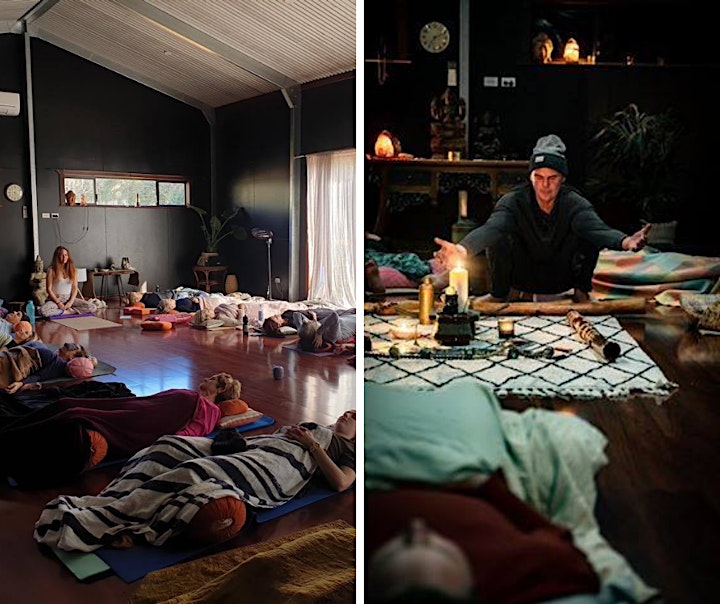 Om Didge Healing and Breath of Life Soul Activation Journey
28th November 1pm - 5pm
Johnine Barlow and Ty Criddle are joining together to create a sacred space of healing, transformation and rejuvenation in the gorgeous lush surrounds of The Raw Space Studio, 78 John Street, Henley Brook, WA 6055.
This is an invitation for you to join our soul mate community for a multi-dimensional experience into the heart of your being.
Let yourself receive the ancient therapeutic vibrations of Om and the Didgeridoo.
Johnine and Ty will guide you into a deep meditative state where you feel safe to dissolve your inner barriers and transform your pain and suffering into love and higher again into divine consciousness.
We gather together for an afternoon of connection and soul activations to take you from mind to body - to soul and deeper into the layers of your spirit.
You'll experience the power of Divine stillness that activates your soul to expand and release itself from the confines of body, mind and the five senses.
Become consciously aware recognising yourself as separate to your thoughts, emotions and body; a reset coming to peace with yourself.
Johnine's insight through higher clairvoyance will open you to new gateways of consciousness and transport you to higher dimensions of tranquil mind where you can experience your primordial essence of stillness.
::
Ty awakens you to a deeper enriched connection with Divine Mother Earth's presence through the sacred sounds of Om and the ancient healing tool of the Didgeridoo.
"Ty and I are excited to be facilitating an open circle 'Satsang' for you to understand your inner experiences, integrate your soul shifts and open you to higher gateways of consciousness".
Experience profound healing and greater love for self through meditation sound - light - vibration.
Book your space and let yourself receive the medicine of frequency in an afternoon retreat located 30 min from Perth where you will journey deeply into your divinity with Johnine & Ty.
Namaste Johnine and Ty
::
IMPORTANT NOTES:
* PLEASE ARRIVE ON TIME AT 12:45PM READY TO START AT 1:00PM SHARP.
Please note: There will be no refunds for a missed session or cancellations. You can 'gift' your class to a friend on that day if you are unable to attend.
* Please bring your own yoga mat (towel if you don't have one), cushions, blanket and water bottle.
* PLEASE BRING A NOTEPAD & PEN TO JOURNAL ANY INSIGHTS OR REALISATIONS.
* We will be having a short afternoon tea break to connect, digest frequencies and enjoy freshly cut brewed ginger tea with nourishing slices.
* CONTACT JOHNINE BARLOW FOR ANY FURTHER INFORMATION ON HER FB BUSINESS PAGE OR: 0428 271 978
Johnine Barlow's Facebook Business Page