OLD - Perth (Fremantle) Photography Tours - Morning Session

Weekly Event - Every Saturday
Event Details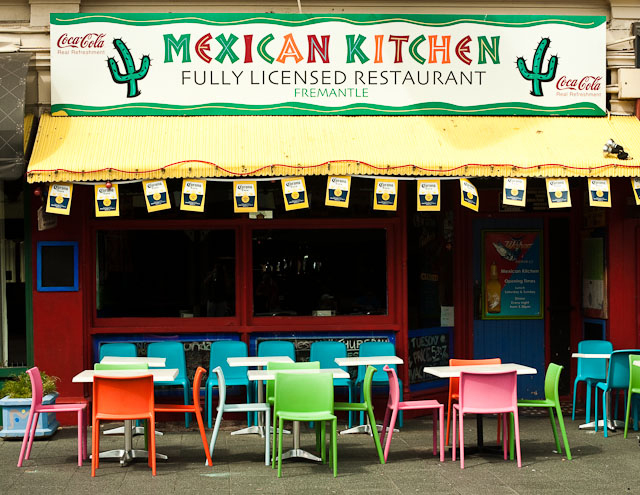 When? Every Saturday, check the schedule menu above for times and dates.
Where? In Fremantle City meeting at Town Hall
How much? $99.00
How long?   3 Hours (morning session)
 WHAT TO BRING:
- Digital Camera (all camera types welcome)
- Fully charged batteries (re-charger) and spares if possible.
- Image cards formatted (space to photograph) and spares if possible.
- Hat, sun-glasses, sun-lotion & water.
- Good walking shoes.
- Umbrella (just in case)
- Small towel & plastic bag (keep your camera dry)
- Camera Manual
- notepad & pen….to record the handy hints and tips
- Optional extras - tripod, cable release or remote.
* Rain or shine we'll be fine as we will be under cover or indoors for some locations
What will I learn?
- Elements & Principles in Composition & Design.
- Hands on challenges to put theory into practice.
- Get off auto mode on your camera and learn to shoot in manual mode.
- 10 technical points and 10 creative ideas.
- Photo critique.
- Travel Photography
 Tour Terms & Conditions Agreement:
Sydney | Melbourne | Brisbane | Adelaide | Perth | Photography Tours
The 3 hour walk will mostly involve walking along public footpaths and parks in and around the City. However, it will also involve crossing busy intersections and may involve walking over uneven ground, up and down stairs and other pedestrian obstacles.
Due to the nature and extent of these activities, each participant:
1.    Assures the company that he/she is physically and mentally able to undertake the activities; and
2.    Assures the company that he/she has no pre-existing condition that may be affected by the activities; and
3. Assures the company that he/she is at least 16 years of age (unless he/she is accompanied by a person at least 16 years of age who accepts full responsibility for the care and well being of the minor and the parent or guardian of the minor has provided written consent to the company for the minor to take part in the activities) – it is strongly advised that the accompanying adult be of the same sex as the participant due to the anticipated need for that adult to accompany the minor when he or she needs to use public toilet facilities
4. Must not, on the assessment of company staff, be under the influence of alcohol or drugs of any kind during the activities; and
5. Understands that the consumption of alcohol or drugs of any kind during these activities is absolutely prohibited (anyone who, on the assessment of company staff, is consuming or is under the influence of alcohol or drugs of any kind will be expelled from the workshop and will forfeit the fee paid for the workshop); and
6. Understands that he/she accepts full responsibility for his/her own safety, care and wellbeing during the activities. This includes paying due care and attention to traffic, pedestrians and other potential obstacles and dangers; and
7. Understands that the company accepts no responsibility or liability whatsoever for loss or damage to the property of participants. This includes valuables, personal belongings, photographic equipment and clothing; and
8. Understands that he/she is personally responsible for ensuring that he/she has adequate food, water and clothing for the activities.
Cancellation Policy
More than 3 days notice: Full refund (Except for Gift Vouchers)
Less than 3 days notice: No refund
All participants must confirm bookings in advance.
Payment must be made in full prior to commencement of the tour.
In the case of inclement weather, class meeting point may be rescheduled and participants will be notified.
Min 2 & Max 10 people
Alfonso Calero Phone : 02-9427-9636 & 0417 482 473
For more info: www.photographytravel.net
Email: info@photographytravel.net
Where
In front of Fremantle Town Hall
Corner Adelaide & William Street
Fremantle
Australia

Weekly Event - Every Saturday
Add to my calendar
Organiser
Photography tours with a professional photographer.