Description
Oktoberfest, the famous German Festival is coming to the West!
Inspired by the traditional Bavarian festival and great beer, Oktoberfest in historic Williamstown sees the amazing and newly renovated Seaworks big shed transformed into the biggest undercover beer hall on the water. Experience authentic German food stalls, roving performers and a marvellous mix of entertainment throughout the afternoon and evening.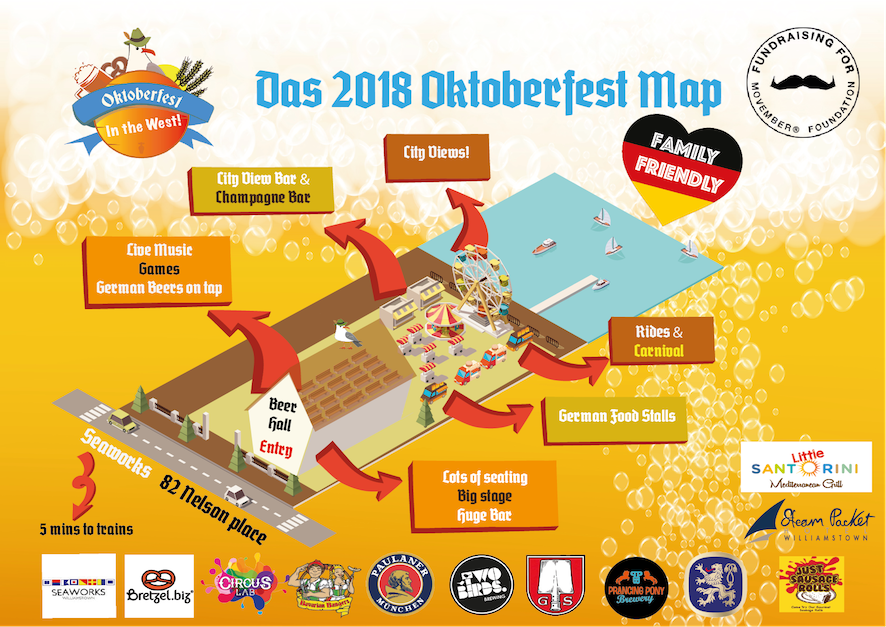 This historic building will be transformed into the biggest Munich Style Beer Hall seen!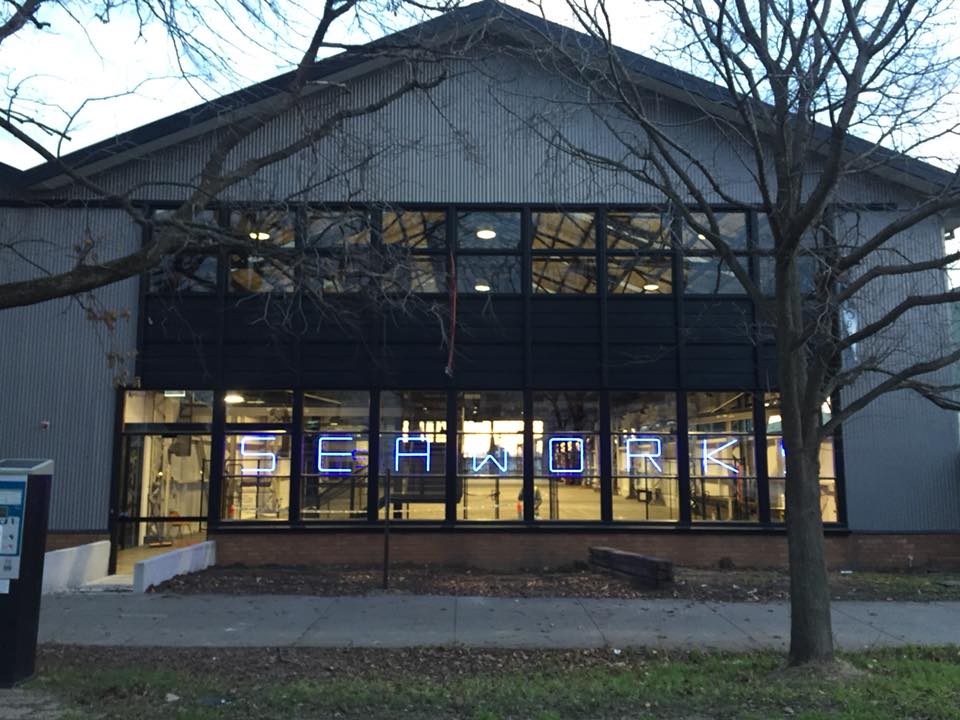 Outside a wonderful carnival atmosphere including rides, food stalls, markets, bars, games and more!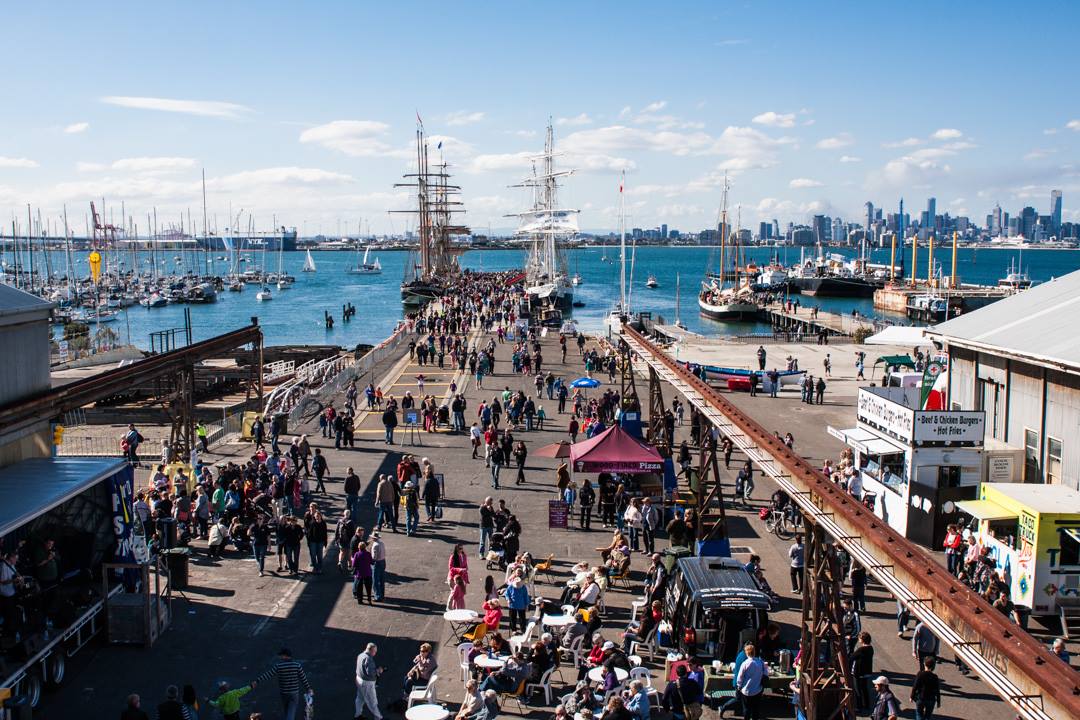 Our range of tradtional German fare and modern street food will have something for everyone!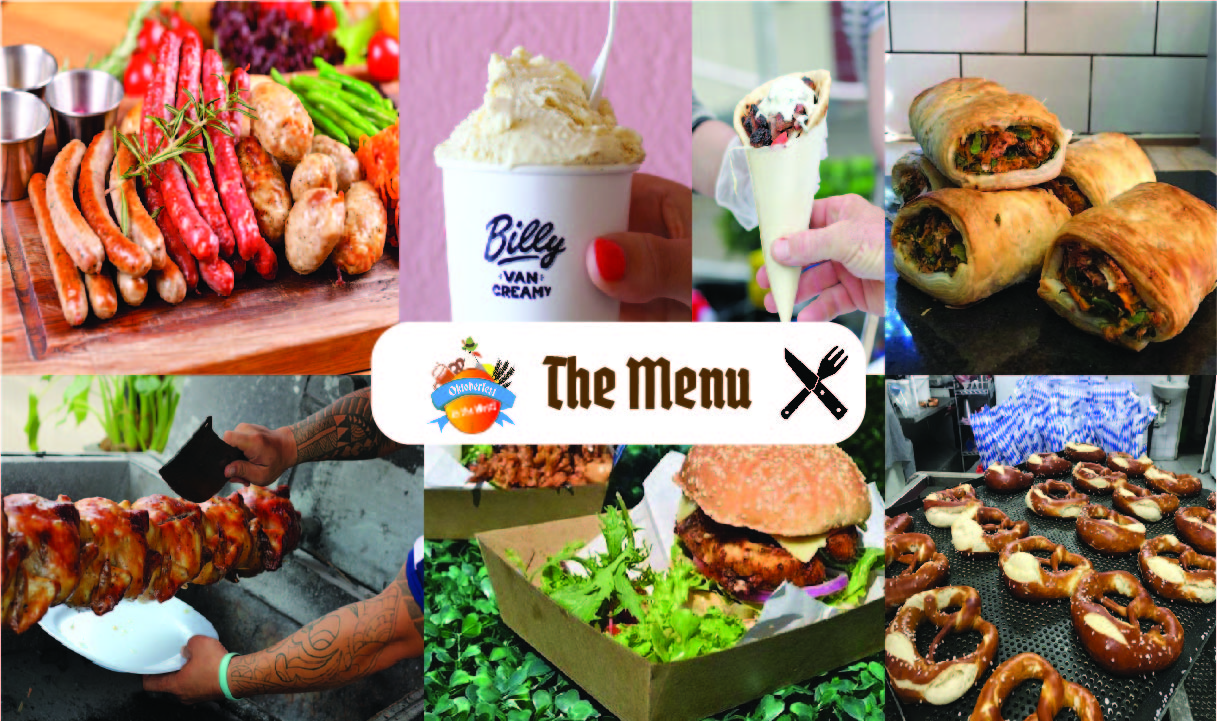 FAQs
Are there ID or minimum age requirements to enter the event?
Yes you will not be able to purchase Alcohol unless you can prove you are 18+
Children are allowed but we would recommend the evening may not be the right environment for younger children.
What are my transport/parking options for getting to and from the event?
Trains to Williamstown Station, then a short walk to Seaworks.
Street parking is available.
What can I bring into the event?
Drinks and food (apart from for infants) are not allowed into the event.
How can I contact the organiser with any questions?
Visit our website www.octoberfestwest.com.au or contact info@atmosphericevent.com with any questions.
What's the refund policy?
Sorry there are no refunds on tickets.
Information for TODAY
Weather
We're lucky that it will be a lovely 22oC sunny day. Please bring sunscreen, warmer clothes for the evening e.g. jacket, a hat (we will be selling some great German style hats so don't worry if you forget).
Dressing Up
Yes, many people will so have fun!
Getting to Seaworks (www.seaworks.com.au)
The easiest and safest way is train, the Williamstown station is a lovely 5 min walk away. Visit http://seaworks.com.au/contact-us/getting-to-seaworks/ for more info, you'll also see signs from the train station to help you.
Here is a link to train times, they run every 30 mins from the City.
https://www.ptv.vic.gov.au/timetables/linemain/17?net=vic&project=ttb&contentFilter=ALLSTOPS&line=02WMN&itdLPxx_selLineDir=R⊃=E&itdLPxx_selWDType=
The entrance to Oktoberfest is 82 Nelson Place Williamstown, there is parking on Nelson place and the roads around. Some are 2 hour and further away (cnr Hanmer/Ann Street) near Williamstown Station is all day. There is also metered parking on some streets. Parking inspectors will be out in force so please be careful. If you plan to drink we do advise you not to drive.
If you are getting dropped off or picked up there is a signed area on the corner of Ann Street and Nelson Place, this will help you prevent holding up traffic and is safer whilst you get out of your car.
Getting in to the Event (check FAQ's on our website https://www.oktoberfestwest.com.au/ for more info)
We are committed to getting in you in as fast as we can. When you arrive our security will ask to check your bags. You will be not be able to bring liquids, food (unless for an infant) or drugs of any kind (unless proven prescription) or objects deemed dangerous.

If our security see any dangerous signs of danger in your demeanor (drug or excessive alcohol signs) they have the right to refuse entry.

You will be also be asked for ID if needed. Please bring just in case.

Your tickets will then be scanned, you can provide your tickets on your phone by downloading the Eventbrite App or print off your tickets. Please make sure every person in your group has a ticket especially if they are arriving at different times to you.

At this stage we are not sure if tickets will be available on the door so please encourage friends to buy now.

You will be then given your 470ml high quality plastic souvenir stein. This is the only way you can buy beer and cider on the day. If you lose your stein you can buy a replacement one.

If you're feeling very German you can purchase our special 1 litre Steins!! Champagne and Wine will be served in 200ml plastic wine cups.
Leaving the venue (Pass Outs)
As stated on our website we cannot offer pass outs unless it is an emergency situation. This is a safety and licence requirement as we need to know how many people and who is on site at any time.
Seating
We will have plenty of seating and each bench and table seats 8 people so please make sure you share your space with others!

We recommend getting your table as soon as you arrive!
Buying Drinks & Food
All drinks are served in plastic due to regulations and safety. We can't afford for our guests to be injured by glass.

Drinks can only be bought at the bar by using your credit/debit card. We do this to make it a faster transaction. If you have cash we can exchange this for tokens at the entrance and these can be used to buy Beer & Cider drinks.

There is free water available outside via our water fountain, and on the bar. We will also be selling bottled water.

Soft drinks are available to buy from our Food Vendors.

There is coffee vendor on site.

Food vendors will take cash or card but not tokens.
Smoking
Is not permitted in the venue, there are highly sensitive smoke alarms in the toilets as well. A smoking area will be signed outside the back of Seaworks next to the Dodgem cars.
Drinking & use of Drugs
Our prime focus is on safety and making sure everyone has good time.

We have a very experienced security team who will be monitoring all patrons throughout the day and night.

If they feel you are getting to the stage of having too much to drink our security will speak to you and give you advice on slowing down, drinking some water etc.

Anyone caught with drugs or showing the effects of drugs will be taken from the venue immediately.

Anyone showing aggression or effects of excessive alcohol will also be removed from the venue.

Next door to Seaworks is the local Police station and they will also be monitoring the event.
In Case of an Accident
We have an experienced first aid team on site. Situated near the toilets and bar area inside.
Seaworks Outside
The outside area offers great views over the water to the city. Outside you will find our rides, food vendors and a bar.

As the venue is on the water, access to the pier is restricted and our security has been instructed to monitor this area carefully.

Alcohol can only be consumed in certain spots outside and cannot be taken near the rides.
Leaving the Event
We want to make sure you get home safely so please have a plan to get home.

The event operates until 11pm however the bar will close at 10.30pm.

Our security will usher people through the front entrance. You will not be able to take drinks from the venue.

Once outside you will be encouraged to move to the pick up point (cnr Ann & Nelson Place) or towards the station. We cannot allow people to wait directly outside the venue.

Please consider our neighbours when leaving!
Finally we thank you for participating in Oktoberfest in the West and we look forward to having a great day with you!!
Regards
The Oktoberfest team