Description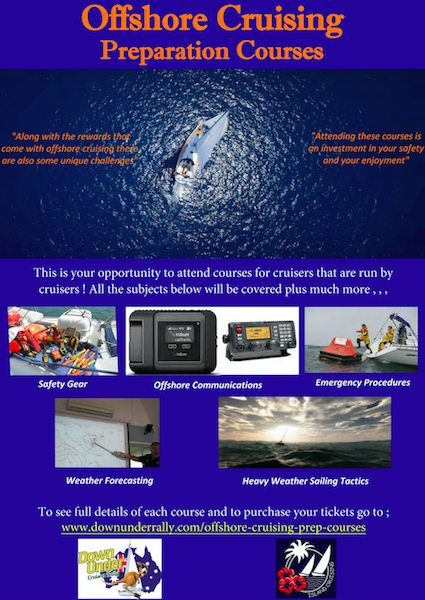 Who should attend?
All those who are interested in making offshore passages with the view to spending time cruising in different countries and or in remote locations.
The majority of cruisers are cruising couples and are often dubbed the "Captain" and "The Admiral" This course is designed to be attended by both the "Captain" & the "Admiral".
The fee for this course buys you two seats so both the Captain & the Admiral can attend.
What is the purpose of this course?
To provide those who attend with the skills and the confidence to achieve your cruising goals.
Along with rewards, adventures and discoveries that come with offshore cruising there are also some unique challenges.By gaining some insight into these challenges we believe that you will be better prepared to manage them when they arise.
By attending this course you are investing in both your cruising safety and enjoyment.
The Down Under Rally believes that over the duration of your cruising term you will receive your investment in this course back many times over.
To learn more about the course content and the presenters please go to:
https://www.downunderrally.com/offshore-cruising-prep-courses/