A 3 hour event that's 10x better than speed dating! Meet your highly compatible match, or game partner, to participate in this experiment.
About this event
This event is best suited to singles who are:
Straight
Female 28-57 / Male 28-59
Ready for a relationship
Down-to-earth
Open-minded
Young-at-heart
Professionals / employed
Keep physically active
Value connection, communication and are reliable
Aren't too busy to prepare well for this experience
Monogamous (one partner at a time)
Ambivert / extrovert (enjoy social situations)
Open to a personal growth experience
Sick of online dating? Looking for a real connection?
You're invited to participate in Offline Valentine - a cleverly crafted singles event which spans three hours. Enjoy our fun ice-breaker, participate in a sharing game using a famous set of 36 questions, and mingle with quality singles.
Once you book your ticket, our professional matchmaker calls you (up to 2-3 months before the event) to discuss who you're looking for, then selects a match (or game partner) for you to meet on the night.
During the second part of the event, you and your match/game partner exchange answers to the famous 36 questions which are scientifically proven to create closeness.
These questions have resulted in love and eventually marriage. We supply you with the 36 questions on the night to help generate intimacy and chemistry.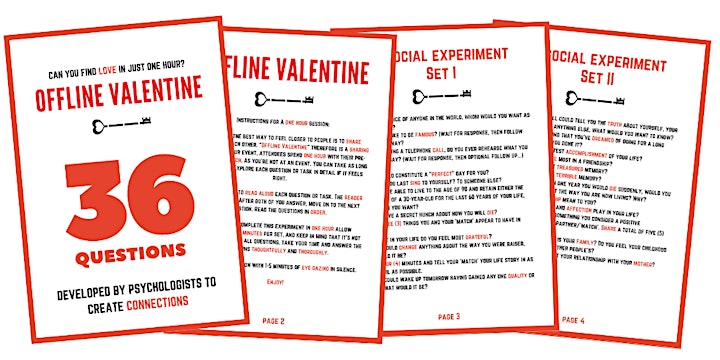 ** Download your free copy of the 36 Questions That Lead To Love here
THE MAIN EVENT:
7:30pm WARM UP, DRINKS & CANAPES
Mingling time with up to 99 other quality singles who are all looking for someone special. You'll be surrounded by people of a similar age. You'll feel excited participating in our fun ice-breaker game using locks and keys. This activity helps you approach new people to start conversations easily. Roam the room and introduce yourself to people. Discover what you have in common. Start to filter the crowd for your special someone... You'll have more time later to resume conversations. Consider this part the warm up. Help yourself to complimentary drinks and food.
8:20pm THE SHARING GAME USING 36 QUESTIONS
The one hour social experiment begins! Meet your match (or game partner), and sit down to enjoy a sharing game using the 36 questions. It's important to read the questions before the event and contemplate your answers. NOTE: the questions contain themes such as death and fire which can be emotionally triggering for some. Complete the hour with a moment of eye gazing to further strengthen the connection and possibly create chemistry.
9:30pm MINGLE, CONNECT & SHARE YOUR CONTACT DETAILS
More general mingling time and a chance to talk with someone you've not yet introduced yourself to. You may reconnect with someone you spoke with earlier. Continue to play the lock and key game, speak with our dating/relationship coaches, or continue chatting with your match / game partner. Feel free to use the 36 questions with people during the rest of the night.
10:30pm The official end time, however, approximately 50% of guests usually continue to socialise thereafter. Return your lock and key to the hosts.
ALL TICKETS INCLUDE:
A partner to play the sharing game with (36 questions)
Matching registration analysis & pre-event consultation with matchmaker
Coaching videos to increase your chances of success
Mingle with up to 99 other singles (ages 28-59)
Attend exclusive three hour event
Complimentary drinks (x2)
Nibbles (special diets catered for)
Fun & engaging ice-breaker using a lock & key
The 36 questions "that lead to love" in one hour
Charismatic hosts, and roaming coaches
Suitable venue for relaxed dialogue
Pen & paper to share your contact details
BONUS 1: Meet some wing-women / wing-men on the Monday (3 days before) in a 30 minute Zoom session. Ladies meet the ladies. Guys meet the guys. Familiar faces make it easier for you to arrive and start mingling on Thursday.
BONUS 2: It's a secret! You'll find out after you've bought your ticket. Just ask me! HINT: Keep your Friday free from 6-6:30pm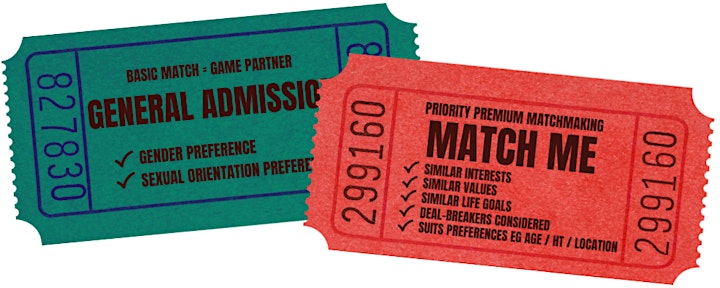 TICKET OPTIONS:
1. General Admission | $179 + booking fee - MOST POPULAR
Meet professionals at, and around your table, who are a similar age.
You're allocated a "game partner" to enjoy the sharing game with, using the 36 questions we provide. Your game partner is a basic match (preferred gender, sexual orientation, +/- similar age, +/- general location, +/- interests / values). There's no guarantee that you will be attracted to or enjoy this person. The experiment is simply to see if you can create a connection in one hour with someone new.
Tickets available until five (5) days before the event (join the waitlist if need be)
Includes brief analysis of Matching Registration data plus a consultation & coaching session with our matchmaker to increase your chances of success
Potential for free upgrade if you are a good candidate for our premium "Match Me" clients.
2. Match Me | $640 (Personalised Matchmaking) + booking fee - PRIORITY SERVICE
Meet singles at, and around your table, who are a similar age.
Enjoy a priority service and meet a highly compatible match for the sharing game, using the 36 questions. Your match is personalised to suit your preferences for: gender, sexual orientation, desire to have or not have children, religion, height, location, age, education, body shape, values, interests, life-style choices eg smoking, hobbies etc. There's no guarantee that you will be attracted to or feel chemistry with this person, but we try our very best to find you a great match.
NOTE: Non-negotiables and deal-breakers are taken into account
Tickets available until 14 days before the event
Includes in-depth analysis of Matching Registration data plus extended consultation & coaching session with our matchmaker to increase your chances of success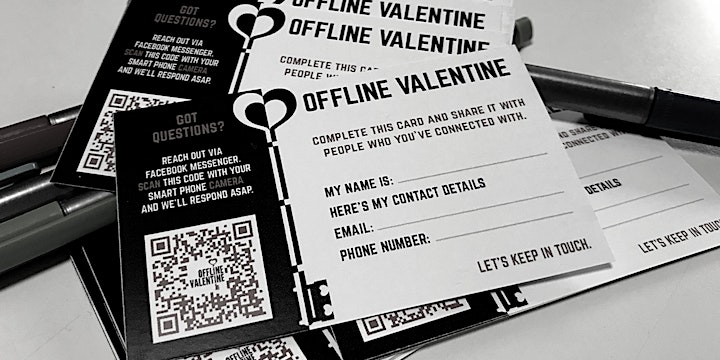 GIVE: DON'T ASK
All guests are encouraged to share their business cards or use our contact cards to stay connected with the people who they meet at this event. You are invited to GIVE your number / email but DO NOT ASK someone for theirs. Asking can make people very uncomfortable and reflect poorly on those who don't follow the rules.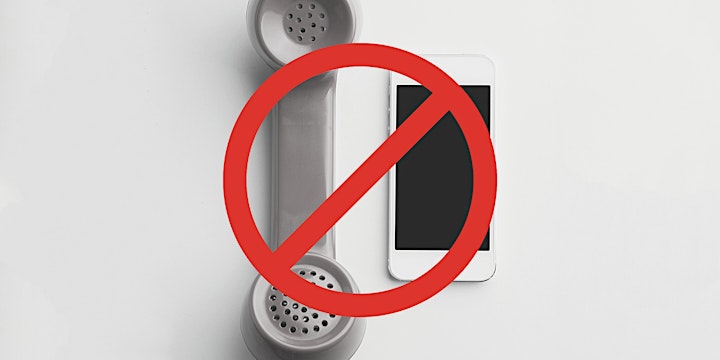 MOBILE FREE ZONE
Our event is a mobile free zone.
Switch your phone to silent and keep it out of sight.
Need to take an important call or text? Excuse yourself from the group. This show of courtesy will be well received by other attendees as respectful and polite.
REFUNDS:
No refunds if your circumstances change or if you change your mind about attending. Please let us know if you cannot make it as we will have to find another partner for your match to do the 36 questions with.
A partial or full refund may be available in the unlikely situation that we are unable to match you. You'll be notified at least 1-2 days before the event.
HOW DO I JOIN?
Step One: Book your preferred ticket & become a subscriber (subscribe)
Step Two: Complete matching registration ASAP (complete here)
Step Three: Book consult with matchmaker ASAP (book here)
Step Four: Complete pre-event checklist (check your email)
Step Five: Attend events
Wing-person, Monday (optional), link via email
Social Experiment, Thursday (compulsory)
Bonus Second Chance, Friday 6pm (optional), access via email
Step Six: Complete the reflection & feedback form (check your email)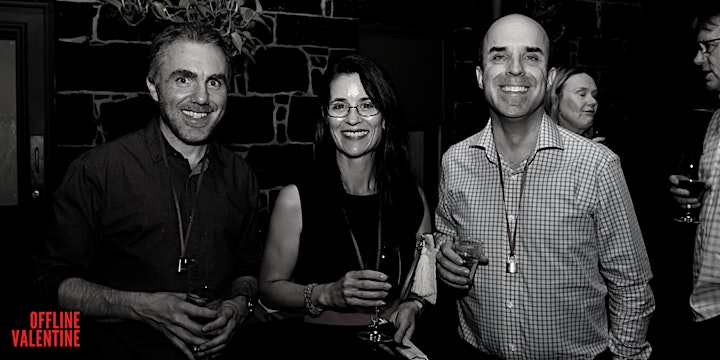 DRESS CODE:
Smart / cocktail /semi-formal (dress comfortably) Eg dress, shirt, suit slacks. No jeans.
FAQS:
For more information about the event, visit www.offlinevalentine.com
Ask questions via SMS; Sarah (Matchmaker / scientist) 0414 030 774. Include your name and event date
COVID: In the case that we cannot meet offline (due to Covid) we have successfully run this event in the virtual space where participants have felt a wonderful sense of connection with each other. This is the back-up plan.
Listen to Ash's Story
How Does Premium Matchmaking Work ('Match Me' ticket)?
TESTIMONIALS & FEEDBACK
"Good way to meet new people and hopefully meet someone special. It is a lot of fun."
"This event was amazingly well-run with outstanding preparation with regular emails and videos, good quality people were attracted to the event. The 36 Questions done in pairs created a fun vibe for the night."
"Take a chance. Forget all the expectations and just be in the moment. You might not find love but you will definitely meet some great people with interesting stories."
"I would say it was very well organised and a lot of thought went into making it a great night. The questions were not as intense or as confronting as I thought they may have been, it made a big difference in reading through them prior to the event."
"We were a good match on some key levels. He was willing to go deep and vulnerable and to me that's key to relating. I think he got a bit freaked out at the rapid opening, and we both felt intense feelings, and he expressed fear of too much too soon. We chatted about that openly too, it was great. Exchanged numbers, had a goodnight text… if nothing else, it was a deeply moving loving experience last night. I live for that stuff!!!"
"Good experiment to get talking with people. Don't beat yourself up over not clicking with your match - and please STAY FOR THE MINGLING AFTERWARDS. If you leave early, you miss a plethora of opportunities!"
"This was a very safe space full of like-minded people. All were respectful and happy to have a chat no matter if there was romantic attraction or not. It felt like we all supported each other on this night, even though we were strangers."
"Having common values makes a huge difference to the match. When we compared our cards, we had at least 8 similarities (not married, no kids, wants kids, volunteers, values driven, similar interests, professionals) and that made all the difference."
GALLERY