Event Information
Location
Wellington Square
Wellington Square
North Adelaide, SA 5006
Australia
Join Former DPP Stephen Pallaras to officially launch Real Change SA, to become your effective voice in the parliament of South Australia
About this event
Former DPP Stephe Pallaras QC is officially launching Real Change SA to become an effective, independent advocate inside the parliament of South Australia, free from the party hacks that control the existing political parties.
He's concerned about restoring integrity to parliament and the powers of the ICAC; providing more effective laws to protect women from sexual violence and give them a fairer go in the courts; protect women and children from domestic violence ; fixing the health system, resourcing mental health, stopping ambulance ramping, taking real action on climate change; protecting the elderly and recognising First Nations people in the constitution and untangle the bureaucracy involving multiple departments that prevent real change.
Stephen is tired of watching politicians collect their pay packets without taking responsibility . He's running to become your voice in the parliament, the voice of common sense, to hold politicians to account and get things done.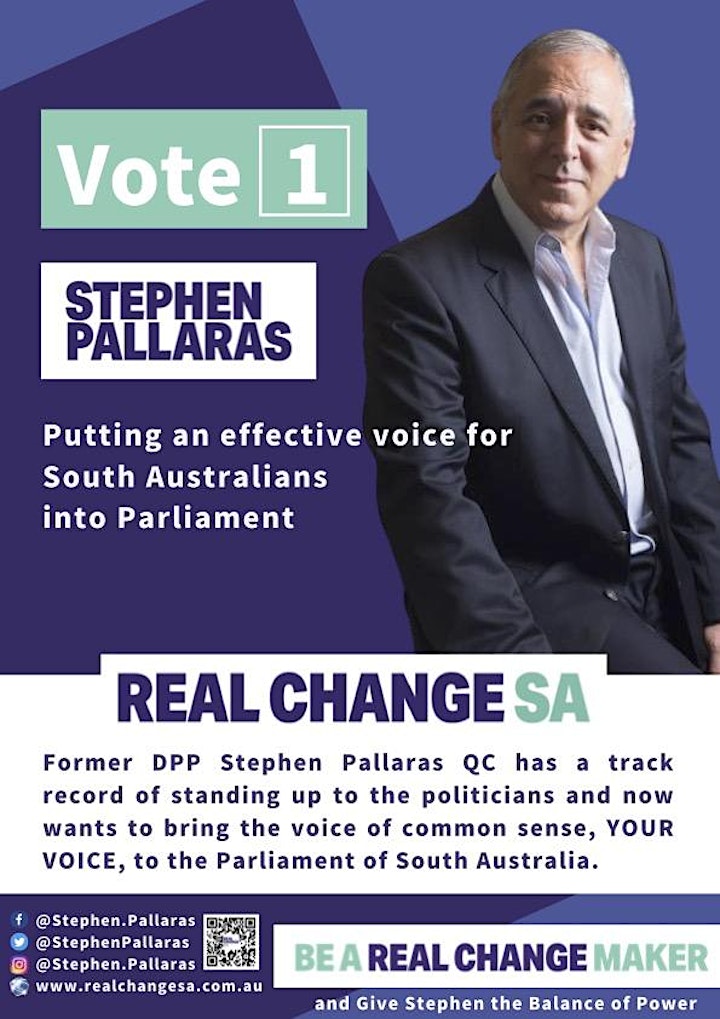 Date and time
Location
Wellington Square
Wellington Square
North Adelaide, SA 5006
Australia