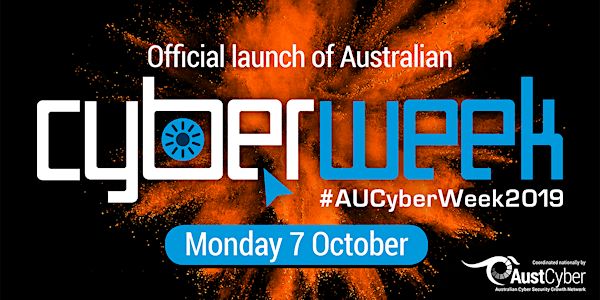 Official launch of Australian Cyber Week 2019
Location
Meeting Room 218, Level 2 Foyer 2.7, Melbourne Convention and Exhibition Centre
1 Convention Centre Place
South Wharf, VIC 3006
Australia
You are invited to the official launch of Cyber Week 2019
About this event
Join Dr Katie Allen MP and Michelle Price, CEO of AustCyber, to launch Australian Cyber Week.
As the first of many events held between 7-11 October, the launch event will enable you to network with industry leaders, technology minded professionals, government executives, cyber security investors and Australian cyber security companies.
The event will also feature Michelle Price in conversation with:
Rachael Leighton, Principal Advisor, Cyber Strategy and Awareness, Department of Premier and Cabinet (Victoria Government)
Andy Lamrock, CP, Verizon
David and Rachael will share their practical insights to help you better understand the current and future cyber security landscape – both domestic and internationally.
The event begins at 1:30pm and concludes at 3pm.
You are welcome to stay for 'AustCyber AllStars: Brian David Johnson in conversation with Michelle Price' which commences at 3:00pm and concludes at 4:30pm at the same location. More details about this event can be found here.
Light refreshments will be available at both events.
What is Australian Cyber Week 2019?
Cyber Week is the annual showcase of our vibrant and dynamic national cyber security sector and is being held from 7-11 October 2019.
Cyber Week provides a great way for cyber curious individuals and organisations to better understand what cyber security can do and mean for them. Events and activities span the full breadth of the cyber security landscape – for those within the sector, but also well beyond.
Jump in and be part of it – participate in an event being convened by any one of a number of Cyber Week partners and sponsors and/or contribute to the discussion online.
To view the full schedule of events, visit: https://www.austcyber.com/news-events/australian-cyberweek