Description
This is the OFFICIAL CELEBRATION and LAUNCH of my journey and self-empowerment book "Destined to be ... ME"
I am excited to celebrate with my friends, family, professional connections and my community. I am also excited to say that our wonderful Mayor Paul Pisasale will be attending my launch in support of my work, and for that I am truly grateful
PLEASE JOIN ME IN CELEBRATING NOT ONLY THIS HUGE MILESTONE IN MY LIFE BUT THIS LEGACY I HAVE NOW CREATED FOR ALL ETERNITY.
But please respecfully ONLY RSVP if you ARE DEFINTELY coming due to catering numbers.
There will be a polite serving of finger food and a complimentary glass of champange on arrival.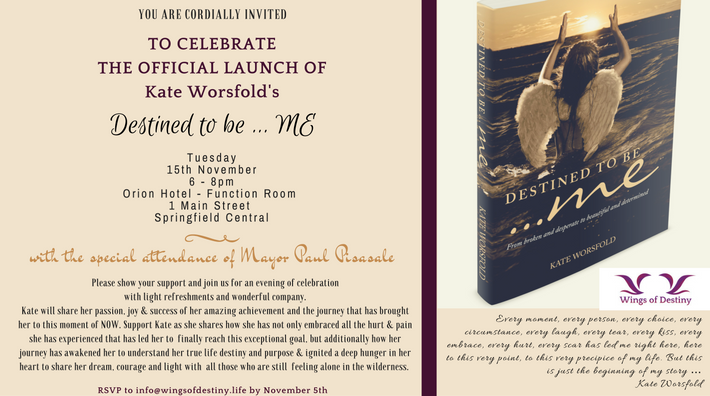 I WOULD BE UNIVERSALLY GRATEFUL TO SEE YOU THERE and celebrate that finally I officially have my life's work in my hands!!! A huge moment for me in August when my publisher Ocean Reeve handed me the first copy of my book. After my initial scream, I looked down at what I was holding and realised this was not just about the last 18 months it has taken me to write this - This was about 22 years of my life and tears started streaming. It was a massive emotionally overwhelming feeling! All the pain, hurt, sacrifice, tears and fears have brought me to this place of courage, strength, hope and empowerment.
This book is NOT about my story. This book is a self-help book, featuring some small case studies (like me and other amazing women) to help connect with other women that have experienced DV and to give them the tools and the strategy on how to come out of the darkness and into the light – it is designed to help them feel understood, validated and listened to on their journey after leaving DV and to know that not only are they NOT alone in their rebuilding and recovery but also to help them find the hope, confidence and strength inside themselves to know that they can survive and that they are NOT defined by what happened to them. It offers them the opportunity to come back to their authentic selves and to reconnect with the real them and not the person they thought and think they are, based on all the abuse, lies and manipulation they were subjected to and brainwashed into thinking.
This is my opportunity to help build women up post DV. All media is too focused on showing the darkness and negative structures around DV and no one has stopped to highlight the light – the light that women have found post leaving these relationships.. the courage, the bravery, the strength, the empowerment, the endless possibilities of a wonderful life in spite of all the hurt – We need to stop focusing on the fear, pain and suffering and give these women back hope, love, passion and empowerment!
This is what my quest is about! This is my life purpose – that for all the years that I experienced DV – This is not who I am. That was only one part of my life and I am MUCH more than the DV that I experienced!
I am a strong, powerful, loving, confident woman and I am in-service to ALL women globally to help them come back to the light and themselves.
I was Destined to be … ME and here I am READY TO HELP OTHER WOMEN WHO HAVE SUFFERED THE SAME. I AM IN SERVICE TO ALL WHO NEED ME.
My book will be available for purchase on the night and I will be pesonally signing all copies.
I look forward to seeing you there!