Description
Object Club – exclusive to Museum Friends – explores different facets of objects and their place in history.
Join National Museum Deputy Director Dr Janda Gooding for an insight into the personal story behind the James Taylor Light Horse uniform on Friday 27 January 2017.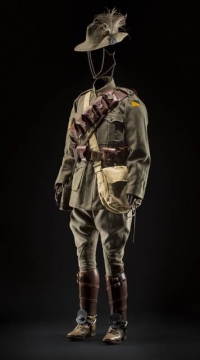 10am – 12pm
Friends full members free. Join Friends
The James Taylor Light Horse collection is a largely complete Light Horse uniform associated with James Samuel Taylor, a farrier with the 9th Light Horse Regiment in World War One. Taylor's tunic, leather leggings, kit bag and pay book bear his name or regimental number. The uniform recently went on show in our Journeys gallery.
Friends Lounge