Description
Big data has dominated technology headlines for over half a decade, with data analytics, extraction, and visualization having revolutionised numerous sectors across the globe.
While significant changes have indeed driven progress across a range of industries, from tech to fashion, in reality most businesses are only just beginning to understand the potential of big data, let alone the infrastructure systems they require. Regardless of nature, operations, and size, firms must embrace big data as the key to unlocking their full potential.
The French-Australian Chamber of Commerce & Industry (FACCI) invites you to join us for an in-depth presentation by an esteemed panel that will address Big Data trends, opportunities and challenges from CIO, business, consulting and technological perspectives.

Discover our panellists and register to secure your place!
Christophe Poulmarc'k, CIO - BNP Paribas Security Services - Australia & New Zealand
"Big Data: Opportunities and Challenges for BNP Paribas"

Christophe is the CIO of BNP Paribas Securities for Australia & New Zealand and has over 20 years of professional experience in the Financial Services Industry.
He is a business-oriented IT manager with experience from Front-Office to Back-Office, across all IT functions with various countries and cultures (Europen, American and Asian). His expertise is in transformations (digital, cultural, employee, organisational or technology platform related).
Over his career at BNP Paribas in the USA, Japan, Hong Kong and Australia, Christophe dealt with multiple businesses within Capital Market business line: Basis Trading, High Frequency Trading, Cash & Listed Derivatives Execution, Equity Financing and Forex Trading, Fund Accounting and Fund Management Back-office.
Christophe has an educational background in Software Engineering with a specialty in network & real-time programming, and a keen interest in innovation: Artificial Intelligence, Machine Learning, Blockchain or Big Data.
David Alia, CEO of OCTO Technology Australia
"How we built a valuable datalake for both IT and business in the cloud"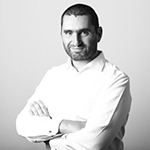 David Alia is CEO of OCTO Technology Australia, an IT Consulting company created in France in 1998.
Through his career of Software Engineer, he has advised his clients on various topics like Architecture, Lean, Agile and Transformation.
Still eager to code with his teams during internal coding nights, he assists executives and managers who desire to change their way of working for real and who value quality over quantity. This can be made possible through Discipline (Lean and Software Craftsmanship), Creativity (Culture Hacking, Mindfulness) and Expertise, all ingredients that bloom in a culture of safety and trust.
David is also a (Big) Data Architect - because you never totally quit your Software Engineer passion and curiosity for technology. He was a key player on big data topics such as data strategy and data lake at ASX50 companies
Alexis Giral, Founding Director & Senior IT Infrastructure Consultant at Systemethix
"Big Data: Solutions & Trends"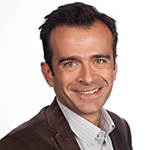 Alexis Giral is the driving force behind setting up Systemethix in Australia, New Zealand and Singapore with his two partners.
Prior to Systemethix, Alexis worked for nearly 17 years at IBM. During that time, he had multiple roles such as infrastructure specialist & architect, storage evangelist, advanced technical support specialist, and technical project manager, team leader & manager, in both pre-sales and post-sales work. Before moving to Australia (where the bodyboarding and surfing is admittedly better) Alexis worked in Europe, America, Africa and Asia where he acquired skills that went beyond the technical to allow him to work more efficiently with teams of mixed technical skills and cultural backgrounds and build lasting friendships. His years in Australia have turned Alexis into a straight shooter who is not reluctant to tell customers exactly where they stand.
One of Alexis' strengths is the ability to work with multiple vendors and technologies to bring the best solution to the customer. Alexis is dedicated to achieving commercial outcomes for clients and recognises that technology and design of infrastructure solutions are only useful to clients if they also take into account business requirements and are built on a roadmap based on short, medium and long-term goals. Another one of Alexis' strength is his ability to work with both the technical and non-technical teams and ensure that all solutions are well documented through all stages of the project lifecycle.
Thank you to WeWork for kindly hosting this event

About WeWork
WeWork is the platform for creators. We provide beautiful workspace, an inspiring community, and meaningful business services to tens of thousands of members around the world. From startups and freelancers to small businesses and large corporations, our community is united by a desire for our members to create meaningful work and lead meaningful lives—to be a part of something greater than ourselves. Co-founded by Adam Neumann and Miguel McKelvey in New York City in 2010, WeWork is a privately held company with over 3500 employees.
EVENT DETAILS
Tickets
Get 4 free tickets if you are a Patron Member
Get 2 free tickets if you are a Corporate Member
Get 1 free ticket if you are an Individual/Small-Business/Start-up Member

Member's rate: $40 (for any additional tickets)
Non-Member's rate: $70