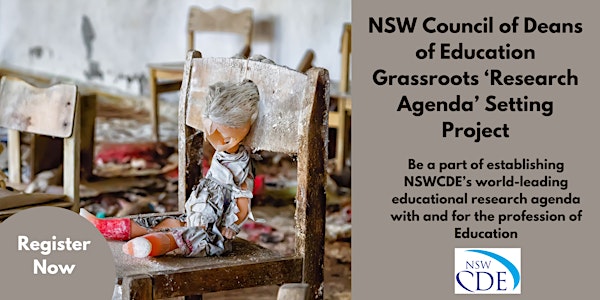 NSW Council of Deans of Education Grassroots 'Research Agenda' Setting
This project seeks 'to establish an educational research agenda' with/for the profession, identifying the biggest questions in education.
About this event
The NSWCDE are presently leading a grassroots educational research agenda setting project. This is a highly consultative project that is being organised through a series of three roundtable series.
The purpose of the roundtables are to achieve the research aim of the project, which is 'to establish an educational research agenda, identifying what the big questions and ideas in education are in this contemporary moment'. Each roundtable centre on 1-3 education provocations and will be structured as a world café format where participants will delve deeply into identifying the biggest questions in educational research.
There will also be sketch artists at the roundtables to document discussions, and at the end of the roundtable there will be a 'Harvest', de-briefing time to share roundtable key ideas.
We invite all educators, policy makers, students and the public to engage in NSWCDE's roundtable series. It's an amazing opportunity for you to be involved in setting NSWCDE's educational research agenda.
Attendance is free.
NSWCDE Member Institutions
Avondale College
Charles Sturt University
Excelsia College
Alphacrucis College
Australian Catholic University
Australian College of Physical Education
Macquarie University
Southern Cross University
University of Canberra
University of New England
University of New South Wales
University of Newcastle
University of Notre Dame
University of Sydney
University of Technology, Sydney
University of Wollongong
Western Sydney University
For more details or clarifications please contact Project Officer, Thili Wijesinghe, on 0402615648 or email thilinika.wijesinghe@scu.edu.au