SOLVE | NETWORK | LEARN | GROW
About this event
Your opportunity to meet and chat with Tracey Franco, Founder and Owner of NRG and FinanceCorp.
A relaxed and open session for business owners to network and talk about running a business, marketing ideas and tools, problem solving, networking, sharing ideas and tackling everyday problems.
NRG Members and Visitors welcome.
Attend once, or attend monthly. Simply register for each session.
The Venue is supplied by Edge Employtment Solutions.
Edge Employment Solutions was established in 1984 with a vision to build an inclusive and accepting society through the power of employment.
As Western Australia's first employment agency for people with disability, since 1984 we have successfully secured nearly 8,000 jobs.
We exist to ensure people of all abilities are empowered to work through high quality on-the-job training, employment support and workplace modifications.
We achieve this by thoroughly preparing our job seekers and employers for employment through finding suitable and desired roles in meaningful work and by providing ongoing support to ensure a successful journey.
From an employer's perspective we source, screen and short-list suitable candidates. Having us do the work saves time and money.
https://edge.org.au/
Contact Joey for more information:
Mobile:0449 821 018
Email: joey.kessler@edge.org.au
**********************Free to attend. Limited tickets available***********************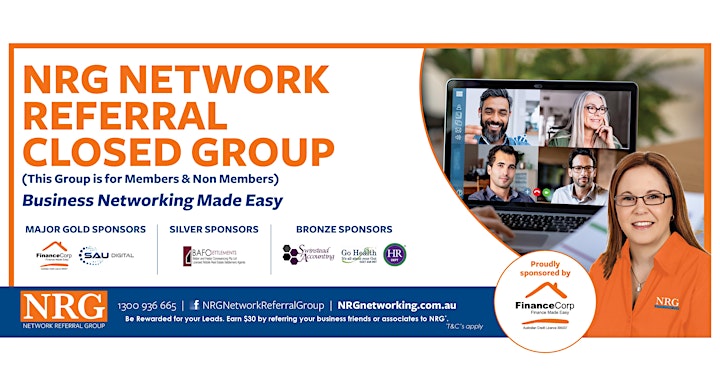 Organiser of NRG Mastermind Sessions with Tracey Franco
Tracey Franco is one of Perth's leading businesswoman having spent the last 20 years working within the finance industry and having a very successful business of her own - FinanceCorp, which has an impressive portfolio of almost $400 million dollars' worth of deals sealed.
As well as being a successful business woman, Tracey is also a respected author having published her own Book "Smart Money" which talks about effective finance strategies designed to help people set themselves up for the future.
Being a forward thinker and having a passion for helping others, Tracey then created          The NRG Group in February 2019.
Since its inception, NRG has fast become one of the most sought-after Networking Groups in Perth due largely to its success rate and commitment to their clients. NRG is not just another "Networking event" but rather a community of like-minded business owners who are passionate about helping others as well as creating leads for their business.
Tracey's success is attributed to her strong financial awareness and business acumen, coupled with effective interpersonal, communication, and leadership skills. With all these skills in hand, Tracey is fast becoming the go to person in Perth when it comes to anything business orientated.
NRG continues to grow exponentially with more Perth businesses looking for a fresh approach to networking.
To find out more about NRG or if you would like to come and attend one of our monthly meetings please visit our website https://nrgnetworking.com.au/meetings/calendar/