If you love the beaches on the Mornington Peninsula, this morning tea and conversation is not to be missed!
About this event
Cost includes morning tea and a special take home gift to help with future beach foraging!
Bookings are essential as numbers are limited. Wear comfortable shoes as we will head out on the beach to pick up plastics. It's advisable to bring a jacket.
A presentation by Ricki Hursburgh, Executive Director of Plastic Oceans Australasia, Peninsula based social and environmental artist, Liz Walker and the Shire's Zero Waste Officer, Jess Cooper.
Why not stay on after 1pm as well to join Ricki and her team on Safety Beach for a Picnic Unwrapped picnic to learn more about avoiding the use of single use plastics in our daily lives.
Plastic straws, single-use plastic water bottles, plastic food wrapping and fishing debris are types of marine plastic pollution that we're familiar with, but there's another insidious type that often goes unnoticed: 'Nurdles'.
A nurdle is a very small pellet of plastic which serves as raw material in the manufacture of plastic products. They are about the size of a lentil and are considered a "microplastic" because they are less than 5mm in size. Countless billion nurdles are used each year to make nearly all our plastic products and due to accidental spills during processing or transportation, many end up washing up on our shores.
"Nurdles often blend in with other coastal vegetation, so at first you don't notice them. Once you have spotted your first nurdle, you can't un-see them ever again." - Marina Hansen, Marine Debris Campaigner
Ricki Hersburgh, Executive Director, Plastic Oceans Australasia
Appointed by the producer of 'A Plastic Ocean' (the internationally acclaimed movie) and the founder of Plastic Oceans UK, Ricki has been at the helm of Plastic Oceans Australasia for the past four years. The foundation is based in Melbourne and works throughout the region to change the way we deal with plastic waste. As Executive Director, Ricki has been instrumental in forging global relationships with industry experts and is responsible for driving change through educational programs with professors, scientists and world leaders. Ricki started her plastics journey at an early age working with her family's plastic recycling business. Since then, she has devoted her life's work to environmental sustainability projects in the corporate, community, government and not for profit sectors. Ricki has a diverse professional background having initiated various programs such as the Asia Pacific 'Healthy Oceans' campaign in Hong Kong for schools and for Marine Parks Forever in BC, Canada. Holding degrees in marketing and business management, Ricki is also a councillor on the John Monash Science School Board, (Melbourne) a committee member for Greening the West and a Funding Industry Australia associate.
Liz Walker - Peninsula based Eco artist
Collecting, repurposing and extending the material possibilities of natural ephemera, found detritus and recycled domestic objects play a key role in a practice investigating contemporary social and environmental concerns. Liz uses an extensive range of resources gathered from around the inner city and rural sites to construct sculpture, assemblage, installations and ephemeral site specific responses to people, time and place. She is fascinated by the aesthetics of decay and the visual language created by the passage of time; willingly exploiting this to magnify the underlying issues explored in her work.
In recent years community engagement through creative workshops and collaborative project delivery has become increasingly important to her practice and development as an artist. Liz has exhibited widely in both solo and group exhibitions, undertaken public artworks, received awards, grants and residencies and her work is held in public and private collections in Australia, Japan, Malaysia and Ireland.
Jess Cooper, Mornington Peninsula Shire, Zero Waste Officer
The Mornington Peninsula Shire Council is adopting an ambitious target to send zero waste directly to landfill by 2030. Jess will join us on the day to talk about how we can do our bit in the community and what the ZERO WASTE Strategy 2020-2030 mean to you!
Below: Artist Liz Walker collecting beach plastics and her up-cycled fork rakes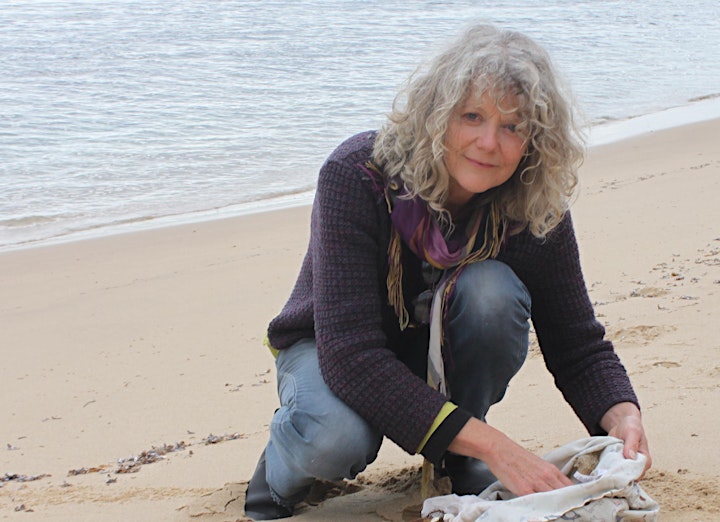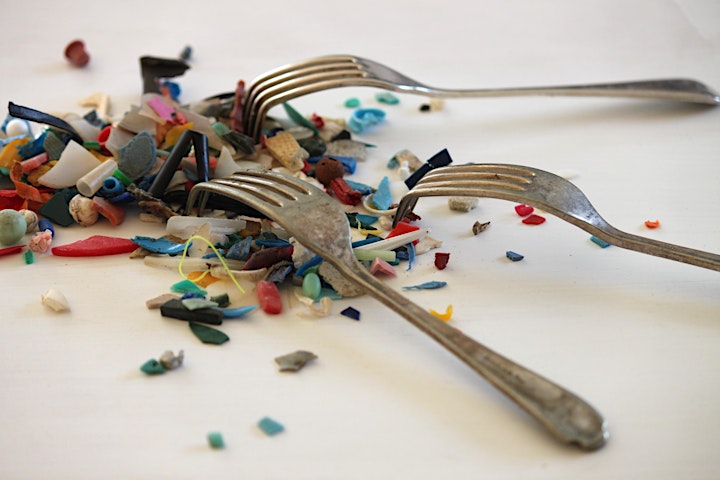 Organiser of Noxious Nurdles: what on earth are they?