Description
TICKETS ON SALE NOW!
Be a part of Timezone's Christmas Party at Timezone Coolangatta!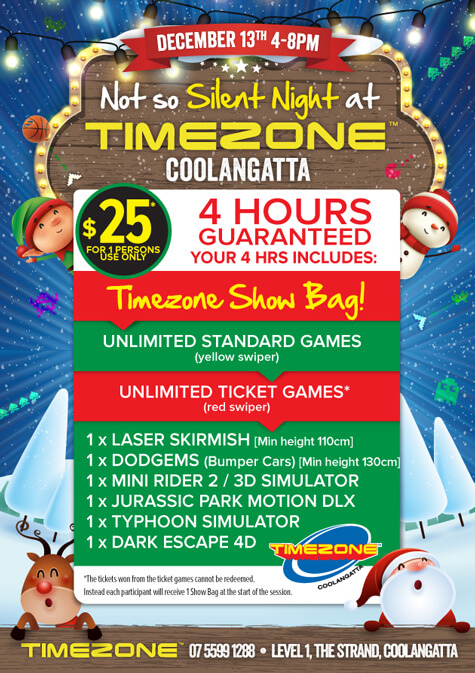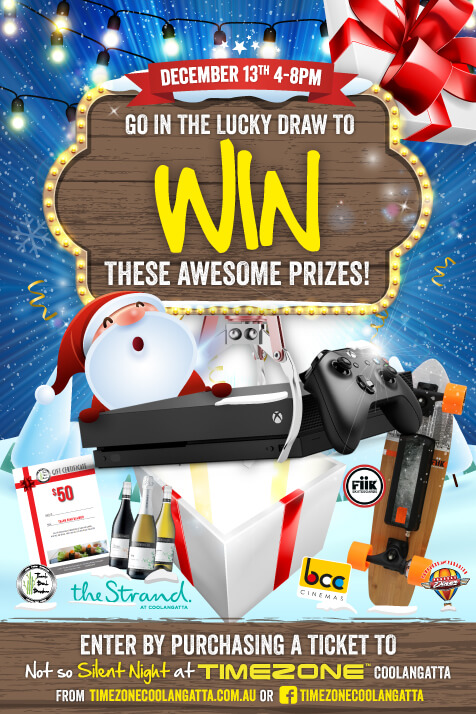 The participant acknowledges having read and understood the terms of this disclaimer, confidentiality and release form and agrees to abide with them and confirms having received a copy of this document.
This ticket is only valid for 1 persons entry to "Not So Silent Night" at Timezone Coolangatta- on 13 December 2017 between 4pm and 8 pm (Qld Time).
Tickets may not be duplicated.
This ticket is non-refundable non-exchangeable.
Ticket needs to be presented at the registration desk at time of entry.
Entry may be refused if tickets are damaged or defaced in any way or are not purchased through an authorised point of sale.
The right of admission is reserved and is subject to the event organiser and the venues terms of admission.
There will be no refund on any unused portion of tickets if you or your invitees are asked or forced to leave or if you decide not to attend any part of the Event
The participants will receive the following:
Upto 4 hours of fun
Unlimited Standard Games (Yellow Swiper) for 4 hours
Unlimited Tickets Games (Red Swiper) within 4 hours*
1x Laser Skirmish – anytime during the 4 hours
1x Dodgems – anytime during the 4 hours
1x Mini Rider 2/3D Simulator – anytime during the 4 hours
1x Typhon Simulator – anytime during the 4 hours
1x Dark Escape 4D
1x Jurassic Park DXL
* The tickets won from the ticket games cannot be redeemed.
Instead each participant will receive 1 Show Bag during entry.
Event organisers reserve the right to withdraw, reschedule or substitute features and may vary advertised programs, prices and venues.
Children must be accompanied by a responsible adult at all times.
No alcohol or illicit drugs are to be brought into the event site.
The participant acknowledge that neither we nor the venue will be responsible for any loss or damage to the property (including personal property such as bags, money or other personal items) brought to or purchased at the event by you or your invitees.
Still cameras (not professional) are permitted but images may only be used for private purposes and not public display.
Authority: The participant acknowledges that the organiser may photograph and/or may record the event in which the participant is attending and authorised the organiser to utilize any such photographs and/or recording in any manner what so ever.