Event Information
Location
SAHMRI (South Australian Health and Medical Research Institute)
North Terrace
Adelaide, SA 5000
Australia
At this NFP Summit, topics include: transacting as an NFP; ESG considerations; employment issues and mental health and wellbeing prevention.
About this event
Session 1 – Transacting as an NFP
Transacting as an NFP presents challenges that are both sector and organisation specific. Understanding how to conduct day-to-day transactions while minimizing risk is a valuable asset for anyone in an NFP leadership position. This session will cover:
Key issues in sale and purchase transactions
Property acquisitions and divestments
Appropriate entity structures and governance frameworks
Session 2 – Environment, Social & Governance ('ESG')
ESG is as important a consideration for NFPs as their corporate counterparts. It is vital that NFPs understand the importance of ESG and how to incorporate it into their operations. This session will cover:
Modern slavery compliance
Climate, carbon and energy issues
Directors' duties and codes of conduct
Session 3 – Employment Law
The legislation that governs employment and workplace relations is fluid and ever-changing. NFPs can find it particularly challenging to stay on top of their obligations and responsibilities to employees. This session will cover:
Mandatory vaccinations
Payroll/award compliance issues
The Fair Work Commission's new sexual harassment jurisdiction
Keynote Speaker - Matthew Iasiello
Matthew is a research assistant at the SAHMRI Mental Health and Wellbeing Resilience Centre. Matthew's particular interest is understanding the relationship between mental illness and mental health, and investigating how this understanding could transform the way that interventions are designed to promote mental health and prevent and treat mental illness.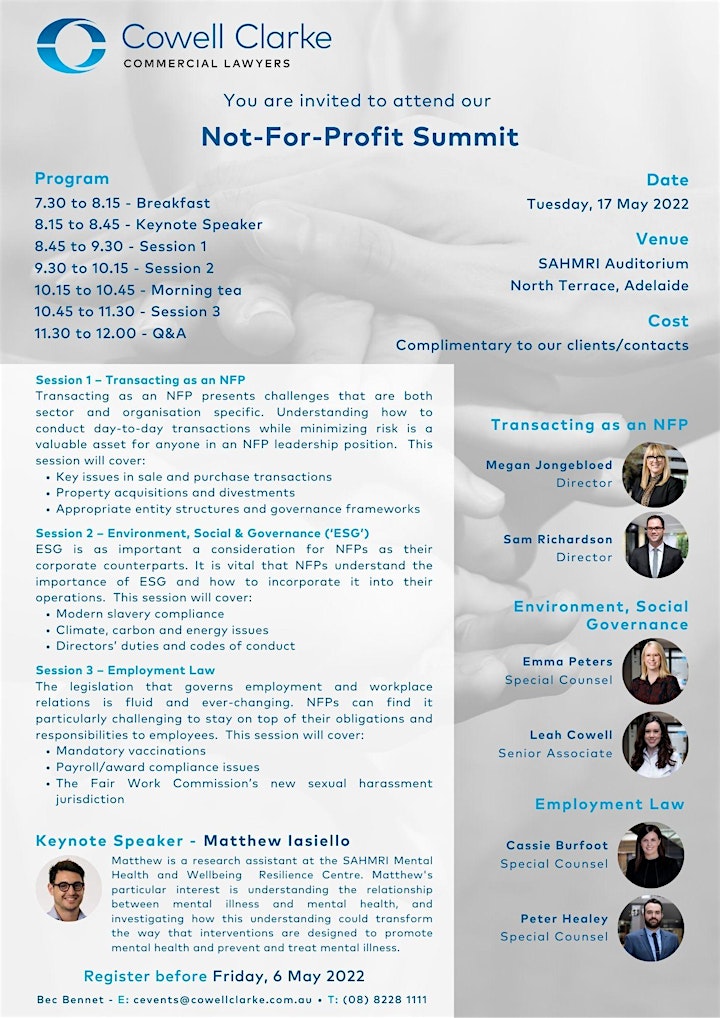 Date and time
Location
SAHMRI (South Australian Health and Medical Research Institute)
North Terrace
Adelaide, SA 5000
Australia