Actions and Detail Panel
Northfield & Ross Smith 20yr Reunion
Sat. 18 February 2017, 1:00 pm – 5:00 pm ACDT
Description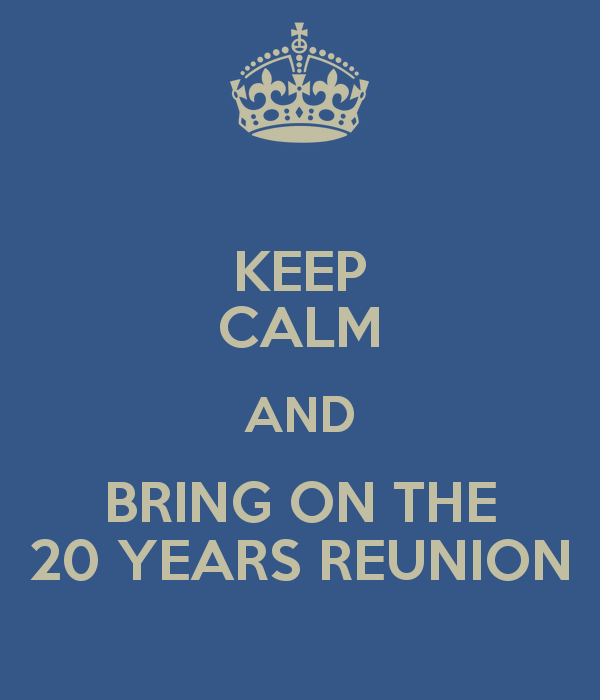 After what surely seems like only a few short years .......
.......... has in fact been 20 years since we all left school!!!!!!
WHAT?? Yep - 1996 - 2016
So, I thought i'd organise us all a reunion because I know it will be fun to see everyone again after all these years!
I am opening the invite to others in our years who may have left before finishing yr 12 (like me) or changed schools - because there are some special people over the years from primary school and high school that I and others would like to see and catch up with again also. So its not so much of a 'Class of 96' reunion - its a Northfield Primary/High/Ross Smith Secondary Reunion kinda thing!
$40.70 - FOOD ONLY - includes delicious continious food only & purchase your own drinks (full bar available)
OR
$83.55 - FOOD & DRINK - includes 4 hours of delicious & continious food AND drinks (see drinks options below),
Rock up: Saturday 18th Feb 2017 (1pm to 5pm) for what WILL be a truly great afternoon.
**FOOD & DRINKS MENU:
Beer: Heineken, James Squire Golden Ale, Little Creatures Rogers Ale, West End Draught, XXXX Gold, Hahn Super Dry, Coopers Pale Ale,
Cider: Adelaide Hills Apple Cider
Wines: (Sparkling) Lindauer Brut Cuvée, (White) Ta Ku Sauvignon Blanc, (Red) Running With Bulls Tempranillo
Other: Soft Drinks
Continious Cocktail Food Included:
(there will be enough food to completely fill you up, so no need to worry :)
Panko Crumbed Prawns, Chicken Drummetts, Pork Ribs, Dim Sims, Chicken Satay Skewers, Wantons, Vili's Mini Pies, Pasties and Sausage Rolls, Sushi & Antipasto Platters.
******* Please share this link with anyone I have missed - the more the merrier !!
See you there :-)