Description
NORTHERN RIVERS COMPOST OPEN DAY
Join Lismore City Council and North East Waste for a fun-filled morning of tours, workshops and children's activities, at the Lismore Recycling & Recovery Centre on Saturday, 5 May from 9am to 1pm, as part of International Compost Awareness Week.
Activities include:
10am and 12noon: Home composting workshops (1 hour per session)
Learn how to have a good composting system at home that transforms your fruit and vegie scraps into nutrient-rich compost. For people who don't have time to compost at home, simply put your scraps in your green bin and we'll do the rest!
9am and 11am Compost and Recycling Tour (approx 45 minute per tour)
We will host guided composting tours to show visitors how our closed-loop organics system works, and how we compost fruit and vegie scraps from kerbside recycling bins into lovely compost products that are suitable for home gardeners, orchards and farms. We'll also show people our amazing Materials Recovery Facility (MRF), which sorts and processes recyclables from yellow kerbside bins.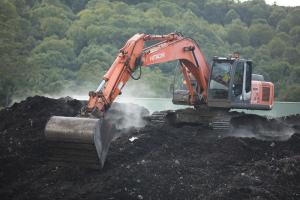 9am - 1pm Kids activities
There are fun things for kids to do, including a giant composting game and potting seedlings to take home.
Special compost discount: Get 3 bags of compost for the price of 2: only $10
The day runs from 9am to 1pm and entry is free. The activities will take place around the REVOLVE Centre inside the Lismore Recycling and Resource Recovery Centre.