Description
February Northern Business Breakfast
Wednesday 26th February 2020, 7am - 8.30am ( + Informal networking 8.30am - 9am)
presenting
"How Agriculture is growing and developing in our region and the opportunities ahead" - Introducing the Northern Adelaide Plains Food Cluster.



The Northern Adelaide Plains is home to a vibrant food industry. It is often overlooked, but it makes a significant contribution to the state's economy and creates thousands of local jobs.

The farm gate value is estimated at $314 million.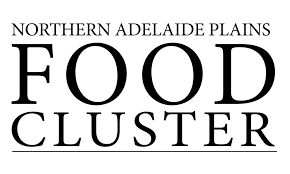 The Northern Adelaide Plains Food Cluster is a recently formed organisation that is beginning to make change for the local area. It is industry-led and aimed at creating tangible outcomes. It also includes a range of stakeholders from Government, universities, training bodies and other groups. The activities of the Cluster are set against a phase of growth for the region. This growth is vital for the local economy as there are flow-on opportunities into the business community.
This presentation will talk about the activities of the Northern Adelaide Plains Food Cluster, speak about the current status of the industry and highlight opportunities.

Keynote Speakers
Dr Tom Madigan is an Economic Development Manager with the Stretton Centre – a business unit of the City of Playford. He has played a lead role in the development of the Northern Adelaide Plains Food Cluster including delivering the project funded by Primary Industries and Regions SA, which catalysed the development of the Cluster. Tom joined the Stretton Centre in 2017 following 14 years at the South Australian Research and Development Institute. In that role he worked closely with industry as an applied research scientist in the area of food safety and innovation. His work with the Stretton Centre sees him engaging closely with the City of Playford's business community to support growth and expansion activities.

Barrie Lloyd is the Chair of the Northern Adelaide Plains Food Cluster - Barrie is a capsicum grower on the Northern Adelaide Plains. Together with his wife Thuy Vo, they run Vo Lloyd Farms in Virginia, where they produce premium product for discerning markets. He has had strong involvement in community initiatives, with a long stint as Chairperson of Stirling Hospital for 29 years. An accountant by trade with Henson Lloyd Accountants Pty Ltd, Barrie gets great satisfaction from helping businesses grow; this extends to his farm, where he enjoys watching the plants grow into the final product and exploring new technologies. He is passionate about his local region.
PLACES ARE ALWAYS LIMITED : BOOK EARLY TO AVOID MISSING OUT.
The organisers gratefully acknowledge the financial support of:

Peter Kittle Motor Company Connect here http://www.peterkittle.com.au/
St Patrick Technical College Connect here www.stpatstech.sa.edu.au
Parafield Airport Limited Connect here http://www.parafieldairport.com.au/
Elizabeth Community Bank - Bendigo Bank Branch Connect here https://www.facebook.com/pages/Elizabeth-Community-Bank-Branch/1468951869999615
____________________________________________________________________
BREAKFAST PAYMENT TERMS On booking we are asking for payment with credit card $A25 (made up of $A22.50 + $2.50 to cover booking and credit card fees ). The December breakfast prices may vary.

Payment on arrival will be $A35 (cash or credit card).
_____________________________________________________________________

ALL WELCOME : OPEN INVITATION
Bring your business cards and every attendee can put information on the information sharing table.