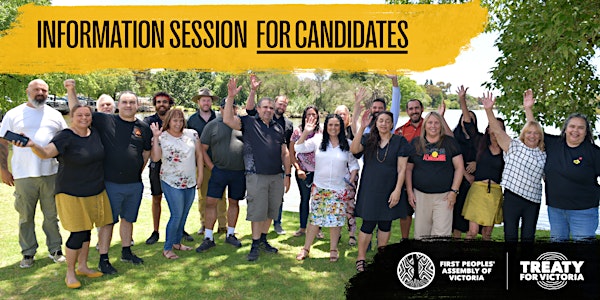 North East By-election: Candidate Information Session (31 Jan)
Join our Candidate Information Session to find out about nominating for the First Peoples' Assembly of Victoria's North East By-election.
About this event
The First Peoples' Assembly of Victoria is the elected voice for Aboriginal and Torres Strait Islander peoples in the Victorian Treaty process.
We're holding a By-election in the North East of Victoria to fill a vacant seat and are calling for eligible Traditional Owners to stand for nomination.
If you're interested in representing your community on the pathway to Treaty, come along to our Candidate Information Session and find out everything you need to know.
Treaty is about having the freedom and power to make our own decisions for our own people.
When it comes to Treaty, nothing is off the table. Walk with us.
To join the online session:
https://us02web.zoom.us/j/83963192590
Meeting ID: 839 6319 2590
One tap mobile
+61280156011,,83963192590# Australia
+61370182005,,83963192590# Australia
Dial by your location
+61 2 8015 6011 Australia
+61 3 7018 2005 Australia
+61 7 3185 3730 Australia
+61 8 6119 3900 Australia
+61 8 7150 1149 Australia
Meeting ID: 839 6319 2590
Find your local number: https://us02web.zoom.us/u/kcKk0mFTjf
Contact
For any questions, reach out to Amy Rust, Head of Engagement and Communications:
Email: engagement@firstpeoplesvic.org