Description
REGISTRATIONS
A maximum of 35 places are available—20 full registrations and 15 concessional registrations.
Because there is far more interest in this event than there are places available, we will be opening different types of registration on different dates, in the following sequence:
EARLY BIRD FULL — $1,995
EARLY BIRD CONCESSION — $1,200
REGULAR FULL — $2,494
REGULAR CONCESSION — $1,400
Fees include catering but not accommodation or the 5% fee Eventbrite charges for administration.
EARLY BIRD DEADLINE — 11.30 pm Friday 23 August


Regular Registrations (after the Early Bird deadline)

Only a few places are still available.
---
REFUNDS
Our refund policy:
Up to Friday 30 August — 90% refund
Up to Friday 11 October — 30% refund
After Friday 11 October — No refunds, except at the discretion of the Event Organiser
---
ACCOMMODATION
Rooms at Inn The Tuarts
There are nine rooms available. All rooms have queen beds. Rooms 9 and 10 have additional single beds. You are welcome to share a room, either with another training participant, or with a person (or persons) who is not participating in the training.
If you have arranged to share with another training participant, both of you will need to select the SHARING option for the room you choose, which will split the room cost 50/50 between the two of you. There is a $50 linen charge for use of the single bed. For example, if you share Room 9—a Queen Studio plus a single bed—with another participant, you will pay $505 each for accommodation ($960 + $50 divided by 2). So, your early bird registration package would be $3,000 ($2,495 fee + $505 room).
All room prices are for 6 nights — IN Sunday 10 Nov: OUT Saturday 16 Nov
You can find photos and details of all the rooms here: https://www.innthetuarts.com.au/accommodation
The most desirable place to stay is at the training venue, Inn the Tuarts, a boutique lodge in the Ludlow Tuart Forest near Busselton. Catered breakfasts, lunches and dinners will happen there. There is a pool with sauna, and the forest surrounds are delightful. As there are only nine rooms available at the Inn, most participants will need to find alternative accommodation. Fortunately, there are many AirBnBs and other options within a 10-to 15-minute drive of the Inn.
The least expensive and attractive accommodations we have found are the Studio Units at Peppermint Grove Beach Holiday Park, a 15-minute drive from the Inn. We've inspected the studios, which are new, modern and clean. The Park is clean and well maintained. Each studio is a 1 bedroom unit with private ensuite bathroom. Studios have either a queen bed or 1 bunk bed (king single) or a king single. Each studio contains office space, TV, air con, fridge, kettle, linen/towels. Prices are $65 per night for one person and $80 per night for two people. If you book for 6 nights, the 7th night is free. The Park is owned and run by Amelia and Darren. Phone: 0439 737 791
If you are ready to book your place, please click on the green Tickets tab.
If you want more information, please continue . . .
You might care to begin with a 5-minute video by Nora Bateson on 'warm data'



You have a unique opportunity to be among the first Australian Warm Data Lab Hosts officially trained by Nora and certified by the International Bateson Institute!
When you complete the requirements of this training, you will receive a certificate issued by the International Bateson Institute—a social-benefit thinking group—based in Sweden. Certification enables you to run Warm Data Labs anywhere in the world. Your certificate will be printed on the same high-quality paper used for Nobel laureates!
As a Warm Data Lab (WDL) host, you can:
Join an international community of WDL Hosts
Gain access to an online WDL platform to share insights
Meet online monthly with other WDL Hosts from around the world
Participate in occasional online refresher courses on the theory
Warm Data Lab hosting is a critical qualification for leaders, business professionals, educators, healers, social and environmental activists and anyone who longs to live in a more harmonious and joyful world.
As a WDL Host you will see and feel differently. You will understand more deeply and model better behaviour. You will have an understanding and a skill set to lead others in ways that are radically different from traditional ways of intervening to effect change.
How can you use this understanding and these skills in your life, in your work?
This is a good question, but it misses a fundamental premise of this approach: "How do we think our way through the messes we're in when the way we think is part of the mess?"
Instead of rushing to solve a problem, as if it can be isolated from its contexts, which is the prevailing way of the world, you are more likely to pause and be mindful of the bigger picture. You are less likely to act in ways that create unintended adverse consequences over time. You are more likely to consider and address underlying causes than to treat symptoms. You are less likely to focus on cure, and more likely to attend to prevention.
If you are looking for a technique or step-by-step program, you will be disappointed. "The gut-knowing that the world is interdependent is incongruent to the mechanistic patterns in which interaction with our families, jobs, life struggles, is habituated" (Nora Bateson).
At first glance, this work might seem abstract and idealistic. Actually, it is highly practical, because until we see the complexity and interdependencies in every aspect of our lives, we often make matters worse, despite our best intentions.
Classic examples of unintended and dire consequences to 'cures' include the insecticide, DDT, the drug, Thalidomide, and the cane toad disaster in Australia. Think of the terrible costs of developing and using atomic weapons, deregulating the financial sector, and making 'war' on drugs, poverty and terrorism.
If we think and feel differently, we will act differently. For example: when Nelson Mandela became President of South Africa, there was enormous pressure within his party to strip the Springboks of all status and dignity. The South African rugby team symbolised the worst aspects of apartheid, and most non-whites wanted retribution. Mandela saw that acting in a punitive way towards those who had persecuted blacks for hundreds of years would be doing precisely what whites had feared. It would also have further inflamed division and hatred. Under his leadership, the Springboks transformed into a symbol for all South Africans. The story of this transformation is told in the film Invictus.
Our family is the crucible in which we live our personal lives. Yet countless families have members who are estranged from one another or worse. Domestic violence and mental illness are increasing. Many families are more or less dysfunctional. Our response to these trends is to look for the cause(s) of the problem, often seen as an individual, and to treat him or her, typically with psychiatric drugs. A systemic therapy focuses on the relationships between family members instead of on one or more individuals who are scapegoated. A systemic approach also attends to the relationships between the family and other systems or contexts—employment, health, housing and so on.
What Greenpeace co-founder Rex Weyler wrote about Warm Data Labs:
"Nora Bateson's . . . goal is to apply mutual learning in living systems to effective responses to economic injustice, gender inequality, ecological destruction, and other challenges facing our modern world. . . .
"[She] convenes diverse groups of citizens from around the world, and works on specific issues—such as carbon emissions, education, healthcare—with what she calls "Warm Data Labs." Warm data, Bateson explains, is information about relationships. Traditional data, numbers, tend to get decontextualized and manipulated to argue one bias against another. The warm data exercise avoids binary positions, such as right-left politics, or science versus mysticism.
"There are no "experts" delivering lectures, and no audience. Everyone participates, selects a contextual group, and the discourse begins. Participants may leave their group and join another at any time. Participants may take notes, and in some cases the notes are left with the group, so there is a running log of the "economics" discussion, and another log of the "science" group. Meanwhile, participants move among these "mutual learning contexts."
— Rex Weyler, Co-founder of Greenpeace International
Why we are organising this event
"I've been a theorist and activist all my life, working for the good life, social justice and quality—in short, to make a difference that makes a difference. The Bateson family—Nora, her father Gregory, and her grandfather William—has been working on this project for over 125 years. Nora Bateson's cutting edge work is the most radical and practical approach to transformative change that I know of. I believe it is needed now more than ever. However, it won't appeal to everyone and it is easily misunderstood. So I invite you to do your own due diligence and keep an open mind."
— Peter le Breton, PhD in Transformative Studies, California Institute of Integral Studies, and Warm Data Lab Training Organiser
"Time is running out and we need to get on with it; defining "it" is the tricky part. "It" necessarily must involve changing how we think, because thought creates, and thus far faulty thinking has created an unbalanced world which is on a dire trajectory. . . How can revolutionary ideas . . . break out of academic circles into the mainstream, particularly into the consciousness of the leaders of our institutions and corporations? . . . [From the February Conference with Nora Bateson] I took hope from new ways of combining individual intelligence to deliver a whole which is greater than the sum of its parts.
"This is one ingredient required to begin to address the problems we face as a species in the 50 odd years we have left before we wipe out ourselves and a good deal of the life on this planet. . . . I enjoyed the way [the Conference] challenged my thinking and I found myself looking at some old issues in a different light in the days that followed. I was perturbated and I think forced to re-order into a more a complex being to handle the new informational paradigm. This 'afterglow' was a nice surprise."
— Luke Ford, Director, Evolution Housing and Warm Data Lab Training Organiser
"The [Batesonian] idea that the whole of life is a mass of living systems, all interacting with each other in complex and diverse ways, contrasts beautifully and paradoxically with the idea that all of life is one. For most of my life, I have been striving to experience an elusive awareness of my oneness with creation. And then, more recently, I realised that something vital has been lost in this striving and it is just as important to be aware of my earthly animal body if I am to live on this planet in a way that generates connection and belonging. But how? Nora's work with symmathesy, I feel, provides a part of the answer for me. The very awareness of all these interconnected living systems has triggered a kind of epiphany: a popping of the edges of the little bubble I have been dwelling in."
— Nicola-Jane le Breton, Story Weaver, Community Facilitator and Warm Data Lab Training Organiser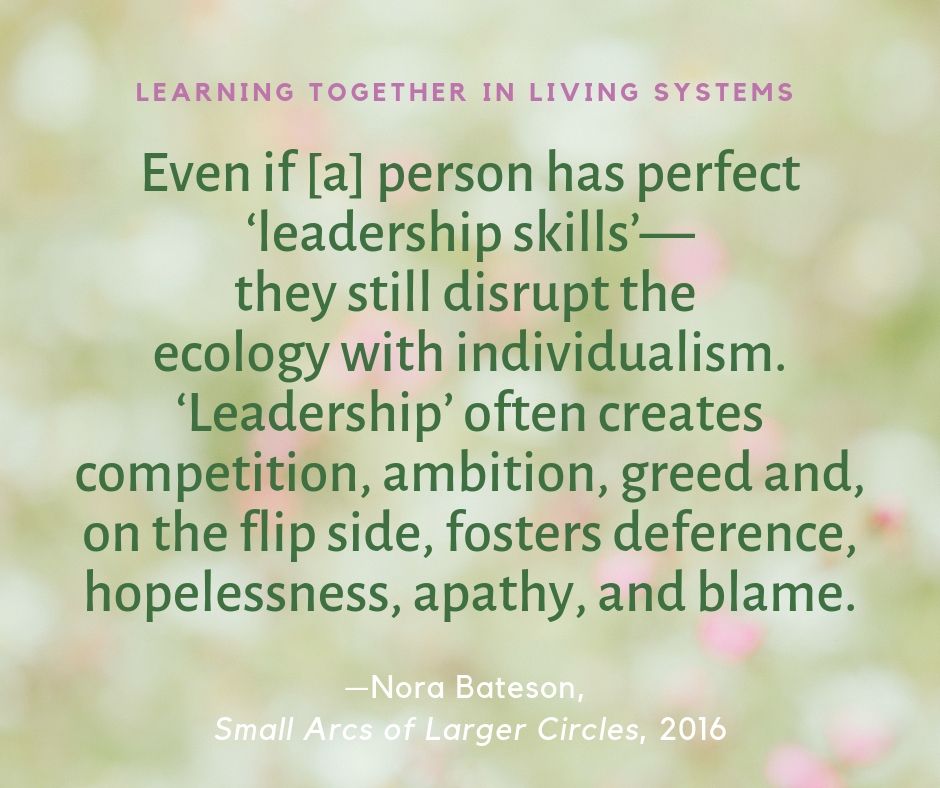 "Bateson's style of presentation was an essential and intrinsic part of his teaching. His central message was that relationships are the essence of the living world, and that we need a language of relationships to understand and describe it. One of the best ways to do so, in his view, is by telling stories. "Stories are the royal road to the study of relationships," he would say. What is important in a story, what is true in it, is not the plot, the things, or the people in a story, but the relationships between them."
— Fritjof Capra, PhD, Physicist, Systems Theorist and Author

Who is Nora Bateson?
Nora Bateson is an award-winning filmmaker, writer and educator, as well as Founder and President of the International Bateson Institute (IBI), based in Sweden.
Building on the legacy of her renowned father, Gregory Bateson, her work integrates the sciences, the arts and professional knowledge. Nora's book, Small Arcs of Larger Circles (2016) is a revolutionary personal approach to the study of systems and complexity. Nora asks the question: "How can we improve our perception of the complexity we live within, so we may improve our interaction with the world?"
As an educator, Nora has developed curricula for schools. For example, Batesonian ideas are now integrated into the curriculum of the iconic Highland Justice and Education Center in Tennessee (formerly Highland Folk School), attended by Rosa Parks and Martin Luther King Jnr.
Nora's work, which has been presented at the world's top universities, offers audiences a lens through which to see the world, which effects not only the way we see but also the way we think.
Nora's central purpose is neither to promote an ideology nor to offer a solution to personal and world problems. Her mission is simply to address and experiment with how we perceive, because how and what we see affects everything we think and do. Nora helps us look at our world anew, so that we discover fresh patterns of connection and information, previously invisible to us. She calls this information 'warm data'.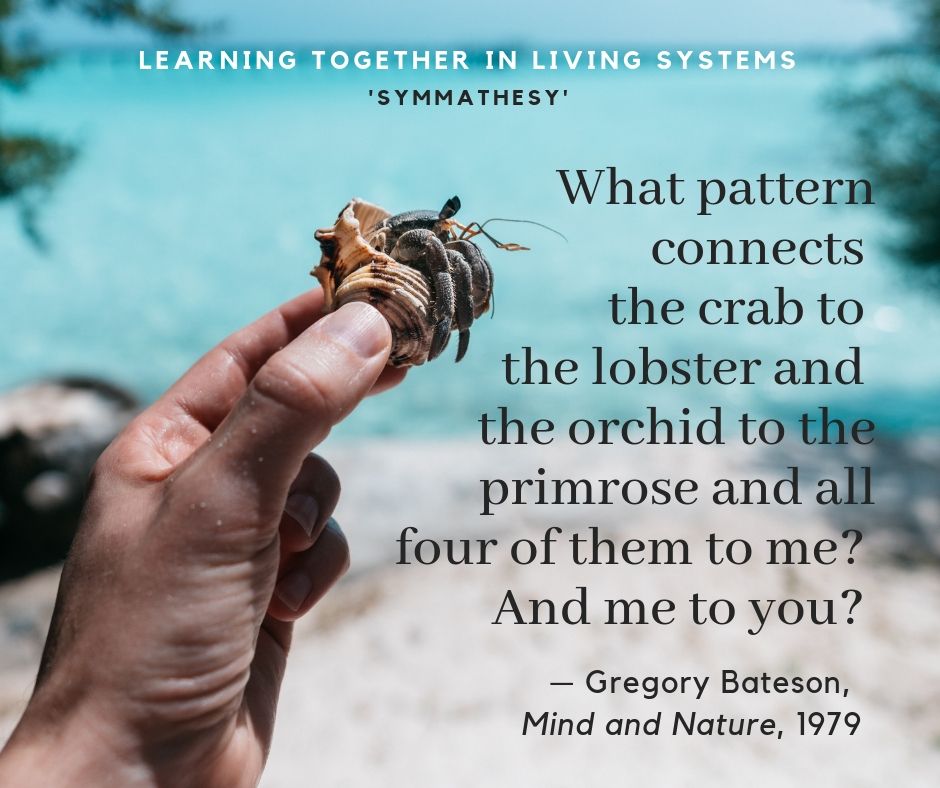 "Gregory Bateson was not only an outstanding scientist but also a highly original philosopher. He was very charismatic and, like a Zen master, he liked to jolt people's minds by asking astonishing and seemingly mysterious questions. "What is the pattern," Bateson would ask "that connects the crab to the lobster and the orchid to the primrose and all four of them to me? And me to you?"
— Fritjof Capra, PhD, Physicist, Systems Theorist and author
What is Warm Data and Why is it Important?
Warm data reveals the interrelationships that are integral to a complex system.
Warm data points to the qualitative dynamics within and between living systems—such as cells and organs, individuals and families, schools and workplaces, governments and nations, forests and oceans—and offers another dimension of understanding beyond that offered by quantitative or 'cold data'.
To interface with any complex system, and not disrupt the circuitry of interdependencies that make it whole, we must consider the spread of relationships that make it robust—including its connections to other systems. Using only statistical analysis and quantitative data gathered by traditional scientific methods will produce findings and point to actions out of sync with the situation's complexity. Information without interrelationality is likely to lead to misinformed action and trigger further destructive patterns. That's why so much of what we do personally and politically makes matters worse.
Recognition of the vital importance of warm data in our complex world is growing fast:
Nora Bateson presented an article on warm data to the United Nations General Assembly 2019 Global Risk Assessment, Warm Data to Better Meet the Complex Risks of this Era.
Nora is working with the Finnish Parliament to improve the Finnish education system, already considered as world's best practice. She also advises companies such as Microsoft who are concerned about the implications of AI technology for living systems.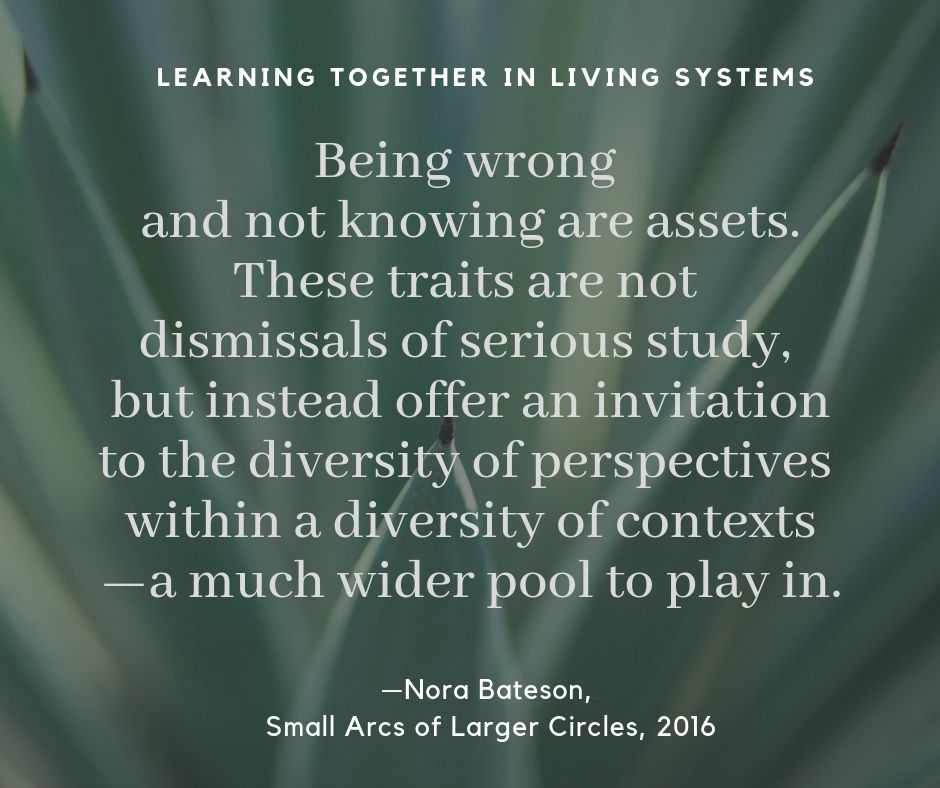 On 6 February 2018, Nora blogged . . . (bold highlighting added)
"I first used the term 'Warm Data' in a meeting in January 2012. As a concept it is still emerging slowly and with a depth that continues to surprise me.
"In my opinion the most important task in this moment is to generate a base of people who are eager to practice perceiving the complexity and interdependency in every aspect of their lives. If I could wish for one thing it would be a big grant to do this work around the world, to train others to do it and create a cross-sector community of people who have a new tool, a new vocabulary and most importantly, each other—to meet the challenges of this era (i.e., ecology, economy, health, education, politics, communication, culture, including identity and sexuality). If humanity can't approach the complexity of our world with greater collective effort, we can't meet the challenges we face now.
"This is NOT an abstraction. I maintain that developing an understanding of the patterns and processes of interdependency in complexity is the single most practical capacity that we can support in ourselves and each other. The uncertainty of this transformational era we are now within is triggering some people to grasp violently for more control. Others are recognizing that a potential evolutionary junction for the human species is upon us. Can we perceive the world through another lens that brings the potential of our interaction with each other and the biosphere into mutual harmony? There will be those who wish to divide the world into parts and control the emerging changes of our times, and those who see the interrelational complexity that defies linear causation and will respond with another order of questions, projects, and actions.
"Humanity is at a crossroads. Will we be hoarders or healers? There is every reason to argue that history proves either. System change is needed to find our way to another way of living that is not fed by exploitation of each other and the ecology. The change needed is not in any of the institutions, for they are interdependent; the change is between them. For that reason a greater familiarity is required to respond to the complexity. For example: any change in economy is going to involve changes in employment, education, medicine, politics, media, culture, law, and so on."
Nora continues, "For many years I have worked as an educator 'teaching' and modeling perception of interdependency. My father, Gregory Bateson, had his way of doing the same thing, and so did his father William Bateson. My family has been working on this project for more than 125 years. Others have also been working on it, including the community of 'systems theorists & systems thinking', cybernetics, and complexity theorists. I can tell you it is a frustrating task. The intellectual activity is delicious and delightful, but more often than not the session ends with someone asking, 'But how do I use these ideas in my work?' The gut-knowing that the world is interdependent is incongruent to the mechanistic patterns in which interaction with our families, jobs, life struggles, is habituated. Some people seem inclined toward this material, and others resist, but for all of us it takes time and practice. This form of perceiving and knowing is not only intellectual, it is also physical, emotional, cultural, linguistic and lives in our imaginations.
"In my experience this idea of Warm Data, and the Warm Data Lab have been the most successful approach I have found. I do not say that lightly. I do not see this work as a manipulation of peoples' thinking. The task here is offer the conditions in which the realizations can occur both individually and collectively. I attribute the success of this project to the way people in a Warm Data Lab make their own individual connectings and linkings—it is not about any direct 'teaching' from me. I have now done more than 60 Warm Data Labs around the world, with all ages, and levels of education, addressing any subject that is complex by nature. I feel I can share it with the world now." (Digging into Warm Data, the Warm Data Lab, and Certified Training - 6 February 2018)
Meet the Hydra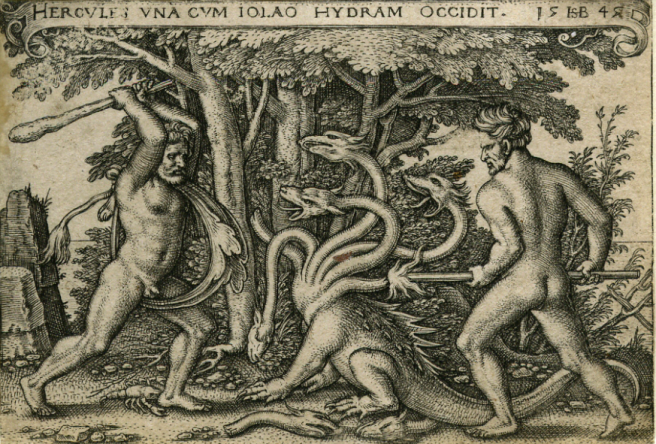 The Ancient Greek mythic monster, the Hydra, grows new heads every time one is chopped off!
Nora writes: "Beyond the conventional problem-solving techniques of reducing and resolving, problem-solving in complexity further requires an understanding of the interdependencies that are generating the issues. We must address these even in addition to our ever more acute and urgent responses to rising situations. Like the heads of the mythological Hydra our crises are many now. But in our silo-ed world the crises that we perceive and address are also silo-ed, as is the habit of finding silo-ed solutions. Much like chopping off the Hydra's heads, the resulting solutions that do not address the complexity seem only to generate more consequences.
"The most serious problems facing us now are not in any particular institution, but rather in the relationship between them. If change is made it is a consequence of a shift not only in the problematized part, but in the combined conditions in which the system exists, be it a person, organization, forest, or society. Like an ecosystem, the interdependencies of the institutional systems are interlinked and steeped together in patterns that make it difficult to create whole systems change. To address our socio-economic and ecological crisis now requires a level of contextual comprehension, wiggly though it may be to grok the inconsistencies and paradoxes of interrelational process. Far from solving these dilemmas or resolving the conflicting patterns, Warm Data utilizes these characteristics as its most important resources of inquiry."
"Gregory Bateson taught us how to stop having the most fundamental old ideas: the static, separating, reductionist fictions that dis-integrate an integrated world. Nora Bateson's beautiful portrait [her award-winning film] of her father's key insights is a stunningly effective antidote for a new generation that now needs his wisdom more than ever."
— Amory B. Lovins, Chairman and Chief Scientist, Rocky Mountain Institute
What is a Warm Data Lab?
The WDL process is an inviting and seemingly simple way to bring a group of people into dialogue around complex issues. Anyone, of any age or profession, can participate in a WDL. The Lab is an open forum for learning and discovery. It is not dependent on knowledge or skill but increases both in an atmosphere of mutual learning.
Hosting a WDL is another story. A Lab host must have a strong foundation in the theories that underpin the process. An effective Lab experience requires a prepared and organised host. In contrast to the simple openness of the WDL, the rigour in which a Lab is held by the host is critical. Warm Data Lab training is rich in both theory and practice.
A good Lab is an artful balance between opening the group's horizon of learning and facilitating rigorous and multi-faceted discoveries. The magic is in participants' own connection and learning, which cannot be funnelled into any particular 'knowing'. Instead, participants make new associations, linkages and perceptions as individuals in mutual learning.
Developed by Nora Bateson over the last seven years, the WDL is offered to groups interested in practising and strengthening their collective ability to perceive, discuss and research complex issues. Labs address the question: "How do we think our way through the messes we're in when the way we think is part of the mess?" By shifting perspectives, the WDL increases our ability to respond effectively to difficult or 'wicked' issues.
Because so many of the challenges we face are complex, we need ways to meet that complexity. Although we desire to reframe complex issues in simple terms that lend themselves to easy solutions, this often leads to unintended consequences and further problems. Thinking in complexity requires an ability to perceive across multiple perspectives and contexts. This is not a muscle that is developed in our schools or workplaces.
The WDL is a living kaleidoscope of conversation and information in which cross-contextual knowing is generated. The conversational process seamlessly engages multiple theories in a practical format. The process is based on two concepts—Transcontextual Interaction and Symmathesy.
Transcontextual Interaction recognises that complex systems do not exist in isolation but rather are formed between multiple contexts that overlap in living communication with each other. Symmathesy, or mutual learning, encourages us to focus on how contextual interactions inform and transform each other. For example, we assume the dire impact of climate change will affect the lives of people who are otherwise relatively happy, healthy and mentally stable. This thinking ignores the transcontextual link between environmental and mental health.
Another example: many children have 'problems' at school, such as disengagement from learning, disruptive behaviour and bullying. Curricula, teachers and teaching methods—the entire school culture—is perpetuated from generation to generation. Yes, there's 'innovation', but is there real change? Every institution, system or sector is linked to every other. Try to change one, and the others will pull it back. Education is closely connected to health (sick children have trouble learning), and to economic, political and societal values.
Students' experience and behaviour in a classroom depends not only on the teacher but also on other class members, family circumstances, health considerations, and much more. Also, a student's class is linked to the school, which is linked to the education system or sector, which is linked to the government and the economy. Therefore, it is hardly surprising that neither making curricula more 'relevant' nor anti-bullying programs in schools have increased learning engagement nor reduced disruptive behaviour and bullying. In fact, there is evidence to suggest that bullying, disruptive behaviour, and disengagement from school are getting worse.
One indicator of youth alienation is the growing rate of suicide among young Australians, including children under the age of 14 and indigenous youth. Is a new suicide prevention strategy needed because the current system is failing? This is the de-contextualised and mechanistic solution advocated by experts. Or do we need to examine the issue across many contexts, which together conspire to produce youth alienation? Experts contend that preventing violence against women—another sign of societal dysfunction—starts at primary school. But does it? It doesn't start anywhere because it is everywhere—a symptom of a culture reproduced generation after generation.
Nearly 100 Warm Data Labs have been held around the world covering many contexts, including in:
Harvard: including participants from Deloitte, NASA, US Army, Cigna, and more
Singapore: including participants that represent women in the Islamic community, addiction specialists, Muslim leaders, Minister of Security, and family therapists
San Francisco: on addiction with Dr. Howard Kornfeld
Stockholm: Immigration, Education, Health, Future of Work
London: Health (with doctors and politicians concerned with the NHS troubles)
EU Parliament: with a group of 80 youth from 50 countries on Democracy and Equality
Warm Data Labs have also been held in Finland, Mexico, Canada, Denmark, Norway, and with many organisations.
"We need to become much more aware of how we are making sense of our world in terms of our underlying patterns of thought. When applied to institutions, they 'appear to be equally entwined in the self preserving holding pattern of dysfunction that stymies all attempts to instigate change, even for the survival of our species' (Bateson, 2016, Small Arcs of Larger Circles, p. 192). These institutions have their own ecology or totality of patterns of interrelationship that require 'contextual rehabilitation' so that the overarching discourse becomes one of interconnection, interdependency, and interaction through relationship. This point could not be more important as we are still operating within a mental silo of separate nation-states each pursuing their own interests. Whether we know it or not, we are in a mutual process of learning our way into the future where we will inevitably receive feedback on our efforts and hopefully enhance our capacity for creative and adaptive improvisation in the interests of the planet as a whole."
— David Lorimer, Editor of Network Review: Journal of the Scientific and Medical Network (2016)


Western Australia's first WDL Host Training
This inaugural 5-day intensive residential training with Nora Bateson is offered in a gorgeous setting between Bunbury and Busselton, only a 2-hour drive from Perth. The course runs from 9:00 am Monday 11 November to 5:00 pm Friday 15 November.
Fee: The training fee including catering is $1,995 (early bird rate). There will be a limited but significant number of concessional places available at approximately a 40% discount on the training fee.
Food: Catering is included in the fee. It includes breakfasts and lunches on 5 days, dinner on the first 4 days and refreshments.
Accommodation: Several accommodation options will be offered—some at the venue and others within a short drive. Different room types and room rates will be available. Accommodation at the venue will be for six nights—IN Sunday – OUT Saturday.


Participants' responses to Learning Together in Living Systems — ('symmathesy') — a 4-day conference in Perth with Nora Bateson, February 2019 . . .
I will do my best to refrain from chopping a head off the Hydra. I will do my best to refrain from trivialising, from ripping life from its contexts in my perceptions, descriptions, actions. . . .I will love and grieve and love and laugh and love and do the ordinary tasks of the day and I will still be loving at day's end.
— Lucy Ridsdale
Seeing the connections between things as incredibly important was validated. I no longer need to fit myself within one academic box. . . . I aim to be a 'cross pollinator' and make honey from all the flowers around me!
— Suzy Stanford
I haven't participated in a conference like this before, where the presenters and participants were curious, alive learners. This process and journey together have been one of the richest experiences of my life. . . . There was a lot of grief about aboriginal peoples, the displacement, the horror, the trauma, the injustice and the cutting off of spirit. This was the first time that I really felt it fully. And I feel changed from this. Now is the time for regeneration. Healing has happened here and it feels very profound.
— Rieka Bosman
I have been blessed to be part of this event and interaction with beautiful people who care about humanity and our future. I leave in unknowing where and how I am to contribute to humanity, but the ferment created by a glimpse of 'symmathesy' will be a seed to nurture.
— Rodney Safstrom
Nora's sessions, her film and introduction to 'symmathesy' and Warm Data were fantastic and very helpful to me in my own development, as well as for the organisation I work in.
— Adam Jorlan, Enkel Collective
Nora was inspiring, very real and natural, a great role model. She was grounded and highly attuned at the same time.
— Nina Ishtar, Reflective Systems
Nora has a beautiful gift of being able to describe complexity in words, resulting in the slowing down of our normal thinking patterns, creating the space for reflection, new possibilities and multiple relationships. This for me was a key take away from the conference together with meeting some wonderful people during these moments. All the sessions, facilitators and participants contributed to this widening reflective space.
— Ernst Scholtz, Independent Consultant

I think the term 'ontological reconciliation', which I coined for my 2006 Honours thesis, strongly reflects the idea of 'symmathesy' in that it proposes a reconciliation approach between Indigenous and non- Indigenous Australians based on two-way learning (i.e. learning together through inter-cultural, multi-contextual, ontological immersion, learning and sharing). Similarly, my PhD thesis on better understanding psychosis adopted a heuristic approach to open-endedly explore multiple paradigms of understanding. I think both of these ventures square well with Nora's notion of 'symmathesy'.
— Brian Spittles, PhD., Murdoch University
The interest for me was in considering how systems, rather than components, are the best means of understanding the world. . . . The many contexts that surround, influence and define these systems, intersect and create a complex web that makes understanding a challenge, but also a fascinating enterprise. . . . Trans-context and multi-systems thinking will both aid our understanding of why the world is as it is, as well as pointing the way for us to repair the world and improve people's lives.
— Ari Antonovsky, PhD, Senior Research Fellow, Faculty of Science, University of Western Australia


Reviews of Nora's book, Small Arcs of Larger Circles (2016):
In this delightful volume Nora Bateson playfully and poetically follows in her father's footsteps in search of complex wisdom for our uncertain world.
— Alfonso Montuori, Professor, California Institute of Integral Studies
The way we see affects what we do," writes Nora Bateson near the start of this exploratory, far- ranging foray into "unauthorized knowledge." In a series of premise-investigations undertaken by way of essays, conference talks, autobiographical story, quotes and poems, ranging through linguistics, biology, semantics, cognitive theory, justice awareness and embrace of paradox, Bateson invites and advocates suppleness of perception, rigor of mind, and depth of feeling. In this book that moves above all by its questions, Bateson embodies that rarity, a truly free thinker also fully engaged with the fates of all.
— Jane Hirshfield, Chancellor of The Academy of American Poets and Author
Do buy and read Nora Bateson's beautiful new book. It takes us through a great circle of poetry, science, ecology, dreams, economics, politics, childrearing. Birthing the future. The prose is juicy and delectable, and brings us face to face with the most complex global questions. Intimate, complex, open-ended.
— Stephen Nachmanovitch, Author, Musician and Educator
This is a wonderful text, beautifully written and enriched with deep insights. So, I'll have to accustom my tongue to Symmathesy, which of course will require some serious symmathesizing.
— Jesper Hoffmeyer, Professor Emeritus, University of Copenhagen Institute of Biology, President of the International Society for Biosemiotic Studies, Author
What can one say about this book? It almost defies words, because she uses language to go beyond language itself. Hers is the finger pointing at the moon. It's a beautiful mix of poetry and imagination, as well as the rigorous inquiry of science. Nora Bateson continues and extends the legacy of her father, Gregory Bateson. This is a book that keeps on giving. Fresh. Lively. Full of love for the real complexities of life. Keep this book by your bed. Give it to someone you love.
— Robert Althouse, Zen Master
For those, who, as I do, spend time thinking of, about, through, and in play, this text is an inspiring reminder of the integrity of play to discovery and full hearted embracing of new patterns of being and encountering, as expressed by Jung. For those 'play thinkers' who have not as yet read Gregory Bateson's work, this book may cause you to do so, and may frame your reading in a wonderful way.
— Selwyn Guilbaud, International Journal of Play, 2017 Vol 6, No. 1, 115-121
Those who set out to "change the world," may discover that common sense is not always common, that status quo institutions resist change even as they pay lip service to new ideas, and that even social change institutions can stumble over old habits of hierarchy, money, or power. How does real, enduring change actually occur in a complex social and biological environment?
In 2017, as a core text for incoming students, the Harvard Innovation Lab selected a book that asks exactly this question: Small Arcs of Larger Circles: Framing through Other Patterns, by Nora Bateson. The book offers a refreshing, promising discussion of social change strategy.
Bateson resists the temptation to leap to "solutions," or devise a road-map for change. There is no list of ten easy things you can do. Rather, Bateson sets out to rethink how we think. The book seeks a language that more authentically reflects the ecologies – mental, social, and biological – that we are attempting to change.
Interspersed among essays about how change occurs in the world, the book offers poetic reflections, personal accounts of childhood, parenting encounters, and "unauthorized knowings" that move from the personal to the social, and to ecological points of view. "It might be that we are navigating with the wrong map," Bateson suggests. "There is no language to define the spiraling processes of the vast context we are participants in. We do not have names for the patterns of interdependency."

— Rex Weyler, Co-founder of Greenpeace International


Recommended viewing and reading on Batesonian thinking and Warm Data
To watch . . .
An Ecology of Mind: A Daughter's Portrait of Gregory Bateson by Nora Bateson (2011) - 1 hour
Stretching Edges by Nora Bateson (2019) - 8 minutes
Nora Bateson on Warm Data (12 September 2018) — 5 minutes
Nora Bateson's Keynote at Perth Conference, 13-16 February 2019 — 56 minutes
To read . . .
Warm Data by Nora Bateson (Triarchy Press, forthcoming 2019)
Eating Sand & Tasting Textures of Communication in Warm Data by Nora Bateson (2 April 2019)
The Salt in the Broth, Warm Data and Systems Change by Nora Bateson (5 Feb 2019)
Warm Data to Better Meet the Complex Risks of This Era by Nora Bateson (7 December 2018)
Digging into Warm Data, The Warm Data Lab, and Certified Training by Nora Bateson (6 February 2018)
Liminal Leadership by Nora Bateson (Fall/Winter 2017)
Warm Data by Nora Bateson (28 May 2017)
Homage to Gregory Bateson by Fritjof Capra
"Zombies and the Hitchhiker" from Nora Bateson's Small Arcs of Larger Circles (2016)
Small Arcs of Larger Circles by Nora Bateson (Triarchy Press, 2016)
Review of Nora Bateson's Small Arcs of Larger Circles by David Lorimer, editor of Network Review: Journal of the Scientific and Medical Network (2016)
"Gregory Bateson: Old Men Ought to be Explorers" by Stephen Nachmanovitch (1981)
Enquiries: Dr Peter le Breton | prlebreton@gmail.com | +61 427 483 113