NodeBots Day Brisbane

Saturday, 30 November 2013 from 12:00 pm to 6:00 pm (AEST)
Event Details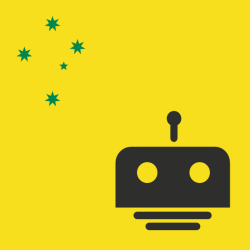 Build web controlled things.
Play with hardware.
Robots!
It doesn't matter whether you are totally new to hardware, Internet of Things and robotics or have been creating killer droids since you were a kid, you're more than welcome to join us for the day and participate.
You'll learn, explore new topics, meet new people and have loads of fun while doing it.
On November 30, come and join designers and developers from around Brisbane for a day of exploration, hacking and fun.
NodeBots Day isn't your usual hack day. You'll use JavaScript but also get to play with Arduinos, Servos, Sensors, Node.js, Johnny-Five, LEDs and maybe even a drone or two.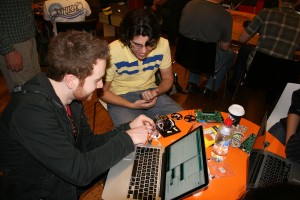 Who should attend?
Anyone who is interested in designing or building web connected physical things.
Do I need to be a developer?
Not really. You'll need to have a passing familiarity with JavaScript - if you can get to "Hello, world" in a browser you'll find the day a load of fun and further develop your skills.
What do I need to bring?
Yourself and a willingness to learn and explore with others.
Bring your laptop and if you've got any hardware that you've been playing with (Arduinos, Robots etc) then you're more than welcome to bring them too. If you're totally new to hardware then thanks to the lovely folks at NICTA, we'll have some ED1 boards to play with. We'll also have some other components provided that you can use too.
If you want to take the plunge, then Freetronics' Experimenter Kit comes highly recommended.
For those that are very brave we'll have a "NodeBot Kit" being released shortly with a list of components you can get and we can build it on the day.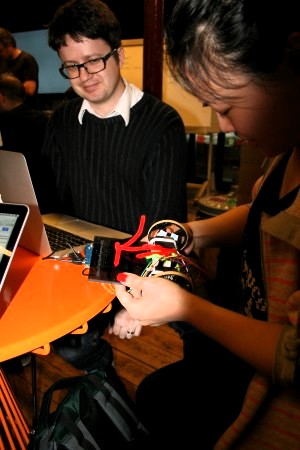 What will we do?
We'll kick off the day with a few unconference style presentations to groups depending on your familiarity and from there we'll dive into getting you up and running with Johnny-Five and building your first "thing". After that it's up to you - get into a group with others or hack away solo. Our friendly volunteer experts will be there to give you a hand.
What's included?
We'll provide you with a space to play, power, WiFi and Internet access as well as some snacks through the day to keep you fuelled. We'll have plenty of components like LEDs, small servos and some other bits of kit that you can use to build things with.
Can I bring my kids? Is this a child appropriate event?
Children are more than welcome to attend and we've had 7-12 year old kids at previous events who really enjoyed the day. The day isn't being specifically aimed at children and as parents we know that keeping them interested for a whole day can be a challenge - but if anything is going to do that it's going to be blinking lights, moving robots and helping build things!
If you have any questions about suitability for kids, please get in touch and we'll be more than happy to chat about it.
Who's doing this?
Anna Gerber (@annagerber) is a maker and developer and is bringing the event to Brisbane. Andrew Fisher (@ajfisher) is a nodebot builder and is herding the cats.
The Edge are providing you with a space, WiFi and power and NICTA will be providing you some equipment to play with to get you to your first "Hello World" of hardware.
Glen Arrowsmith (@garrows - Browser bot pioneer), Maurice Butler (@butlermaurice - JS & Node developer), Brendan Halliday (@nog3 - Hardware hacker) and Harriet Lawrence (@harrietgl - Web Thingsificationer) are providing their expertise on the day.
What does it cost?
It's $20 which goes towards catering, consumables and some additional hardware to play with.
If you're keen to really get building then we also have a $100 "Robo Hacker" ticket which has your ticket and provides you a SimpleBot kit so you can take your creation away with you afterwards as well.
When & Where

The Edge
Stanley Pl
South Brisbane, QLD 4101
Australia

Saturday, 30 November 2013 from 12:00 pm to 6:00 pm (AEST)
Add to my calendar