Event Information
Refund policy
Contact the organiser to request a refund.
Eventbrite's fee is nonrefundable.
A memoir about grooming, intergenerational trauma, grief and love
About this event
This event will be streamed via Zoom
A ground-breaking, uncompromising and unflinching memoir about grooming, intergenerational trauma, grief and love. A look at forgiveness – how and why it isn't always a magical solution to healing trauma .
My mother knew I was abused as a child. She had read letters sent from my abuser to me…But she never spoke to me about them, or what they described. And she never intervened to stop the abuse…Now she is dying and the past is rising to the surface like a bruise….
No Matter Our Wreckage is a powerful, poetic and unflinching memoir about what it means not to matter, and how an extraordinary woman refused to listen to the stories she was being told about herself - by her history, by her abuser, by her mother, by society. It is only by speaking out that Gemma Carey learns she can break free from her past and reclaim her life, her self and her future.
ABOUT THE SPEAKERS
Gemma Carey is an author and researcher. Her writing has appeared in The Guardian, Meanjin, and The Canberra Times amongst other outlets. She has featured on ABC Radio and NPR. As a writer, Gemma's goal is to capture hard life experiences - grief, loss and trauma - and spin them into something beautiful so that others can see their own experiences reflected back to them and people who haven't experienced such things can learn. Gemma is an Associate Professor at the University of New South Wales, where she is the Research Director for the Centre for Social Impact. Her academic work focuses on health and social inequalities.
Ginger Gorman is the author of the powerful book, Troll Hunting: Inside the world of online hate and its human fallout and is also an award-winning print and radio journalist based in the Australian Capital Territory. She is also a 2006 World Press Institute Fellow. Her freelance work has been published in print and online in publications such as news.com.au, The Huffington Post, The Guardian, The Age and the ABC's Drum website.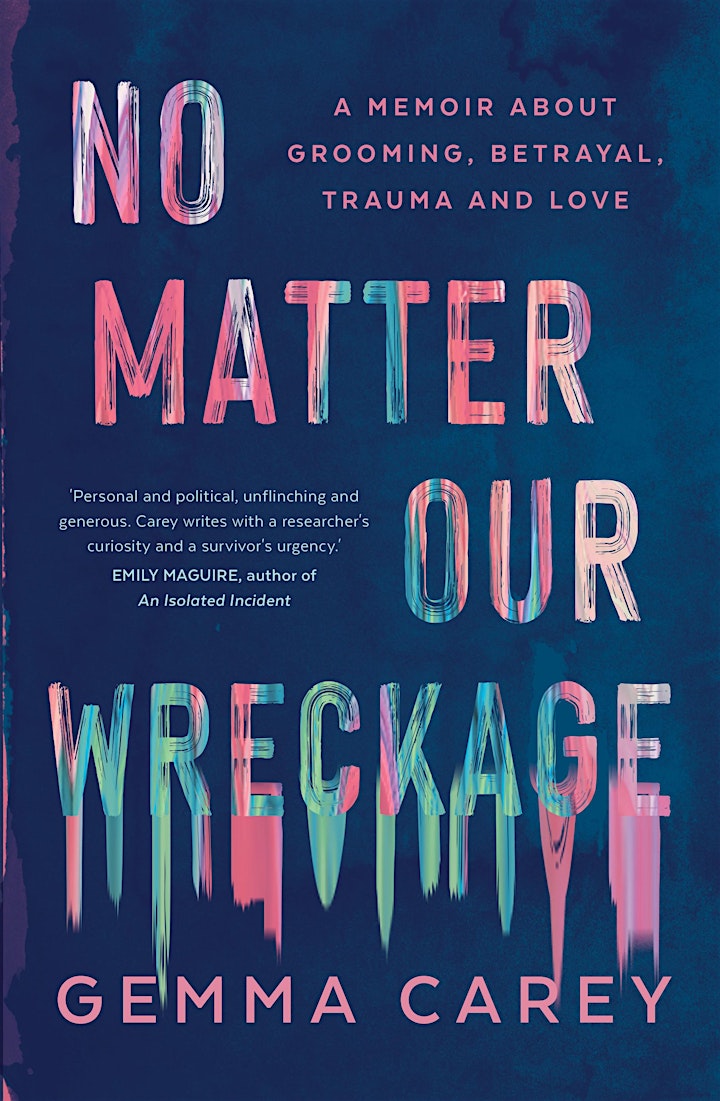 Date and time
Location
Refund policy
Contact the organiser to request a refund.
Eventbrite's fee is nonrefundable.
Organiser of No Matter Our Wreckage: A Conversation with Gemma Carey & Ginger Gorman
Harry Hartog opens a new chapter in bookselling, inspired in part by a team of independent booksellers, and in part by the fantastical life of Harry Hartog himself.
More than simply a space lined with shelves, Harry Hartog is a meeting place between the worlds found inside books and the world around us. This shop is for the adventurer, the student of life and the next generation of reader. Old fashioned quality and creative ideas will be the cornerstone of this community.
ABOUT THE STORE:
Customers of all ages will discover a range of new and second hand books that continue to surprise and delight with every visit. The store doesn't just stop at books, we have an extensive range of cards and amazing gifts you won't find anywhere else.
Whether you can't quite figure out the title of that book you are looking for, looking to order that special something, or are simply looking for advice on what to read next, our staff will be there to assist. 
Harry Hartog is a major supporter of local author talent, with the space to host events and books signings. 
Our goal is to create proud establishments within our communities. We will strive to keep the passion of the physical book alive for years to come, and we sincerely hope you will join us in doing so.
Come in and say hello, find a good book and relax.
Welcome to our community.
- See more at: http://www.harryhartog.com.au/pages/about_us#sthash.5j5hXMBa.dpuf