Event Information
Location
Astro Photography Australia Dark Skies Site
Goldfields Road
Youndegin, WA 6409
Australia
Refund policy
Contact the organiser to request a refund.
Eventbrite's fee is nonrefundable.
Enjoy wide open horizons and dark skies by participating in this astrophotography workshop at a private dark sky property.
About this event
About
This is a dark sky nightscape experience. Located at the private property of Roger Groom and his family, the property was purchased and has been purpose designed for the use of astronomy including astrophotography such as nightscapes. The dark skies are unparalleled at this distance from Perth. Roger and his family bring you a relaxed and well equiped environment in which to experience nightscape astrophotography.
This is a nightscapes workshop focusing on utilising the foreground elements and dark night sky to capture beautiful images.
Inclusions
Awesome wide horizons, dark skies and interesting foreground scenery in a safe, private environment.
Astrophotography Nightscapes Workshop:
Workshop facilitated by Roger Groom of Astro Photography Australia
Workshop presentation and group discussion
Enjoy photographing with other participants or on your own, on-site with assistance as you need it from Roger.
Astrophotography ultra-portable tracking mounts available for use (Vixen Polarie, iOptron SkyTracker, AstroTrac).
During the night return to base for looking at your results and discussing processing.
Nightscape techniques including:
Tripods, mounts, tripod heads
Camera settings: ISO, aperture, shutter speed, picture modes/styles, shutter settings, noise settings.
Focusing and framing.
Lens choice and camera choice (if applicable to participants)
Using lighting both natural and artifical to enhance the scene
Startrails, individual exposures, multiple exposures
Filters (where applicable)
Demonstration of tracking mount
Availability of tracking mounts to use on the night for longer exposures
Facilities & Provisions
Water, Tea, coffee, milo, hot chocolate and a selection of cakes and fruits provided
BYO dinner - microwave available for heating if required
Ablutions available onsite
Mains power is available for charging and powering devices such as laptops
Timing
15:00 - Overnight camping attendees may arrive to set up
15:30 - All attendees arrive from this time. Refreshments available.
16:00 - 17:45 workshop presentation
17:45 - 18:15 time for refreshments, dinner (BYO), sunset and twilight photography
18:30 - 21:30 workshop practical
You are permitted to continue photography onsite as late as you wish (until sunrise) following completion of the formal worskhop at 9:30pm providing you maintain minimal disturbance to those accommodating onsite.
Last departure (for those staying overnight) Sunday 11am.
Optional Image Processing Session
Following the night of photography there is an optional image processing session in the morning. Anyone who attended the night session is welcome. Prior booking essential.
This session will be customised to those present. The aim is to work through your images from the night prior, learning from each other's images and what image processing we can do on those images. Roger will direct the image processing using software including Photoshop, Lightroom, PixInsight, DeepSkyStacker and Sequator. Participants will need their own software installations/licenses pre-configured for the workshop if they wish to follow with their images, or can watch Roger's demonstration.
8:30am - 10:30am (2 hour session, exact start time flexible ot those present)
BYO laptop/computer/IT equipment
Tables with mains electricity available to power your devices
Water, Tea, coffee, milo, hot chocolate, light refreshments provided
$110pp
What to Bring
Appropriate warm clothing including fully enclosed sturdy footware. Long pants and long sleeves are recommended (to protect against vegetation and bugs)
Hat, insect repellent or other such personal items
Head torch with white and red light modes, ideally dimmable
Chair, small table optional (can be useful for organising your gear and a base to rest during the night)
Food or drinks beyond those provided that you may require
Camera gear for nightscape photography (contact if unsure, happy to advise)
For the optional image processing BYO laptop/computer equipment. Tables, electricity provided.
Who can attend?
Workshop attendees participating in photography must have at least a basic knowledge of how to operate their camera in manual mode (manual exposure time, ISO, aperture, picture format settings) and must be self-equipped (camera, tripod, etc).
We know that being a remote workshop you may wish to join the workshop and also bring a partner or friend along to enjoy an evening out in the contry but not have them participate in the workshop. When booking you must book for these people via the add-on feature.
Seating in the undercover area for the workshop presentation will only be provided for workshop attendees due to space limitations.
Additional people "along for the ride" are charged at $19pp.
Booking of additional people "along for the ride" is essential. A whole of site capacity is set and so it may not be possible to accommodate additional people, checkout will confirm this.
No pets are permitted.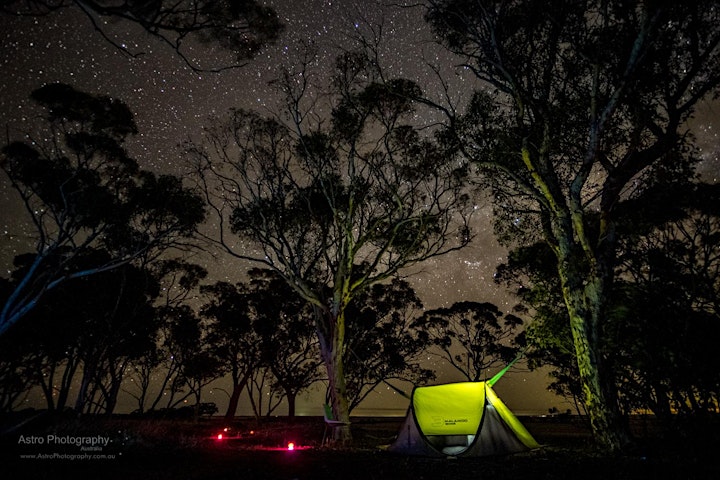 Accommodation
It is recommended you either accommodate onsite or in a nearby town to ensure participnts are not driving back to Perth late at night when tired. The site is appoximately 110km or 1 hour 30 min drive from Mundaring in the Shire of Cunderdin. Exact location of this private site will be shared with registered participants upon booking.
Onsite
Camping is permitted on-site. Cost $19 per person (workshop attendees and extras), per night (swag, tent, caravan, camper)
Comfortable ablutions (including hot shower) are available onsite
Booking is required (see checkout add-ons options)
Maximum numbers enforced.
Offsite
York is the recommended location for a large variety of accommodation options, at a distance of about 35 minute drive.
Quairading is recommended as the closest location at about 20 minute drive. where there is new camp ground facilities including modern onsite cabins.
Farmstay and AirBnB options are available in the Central Wheatbelt within the regions of Cunderdin, Quairading and York.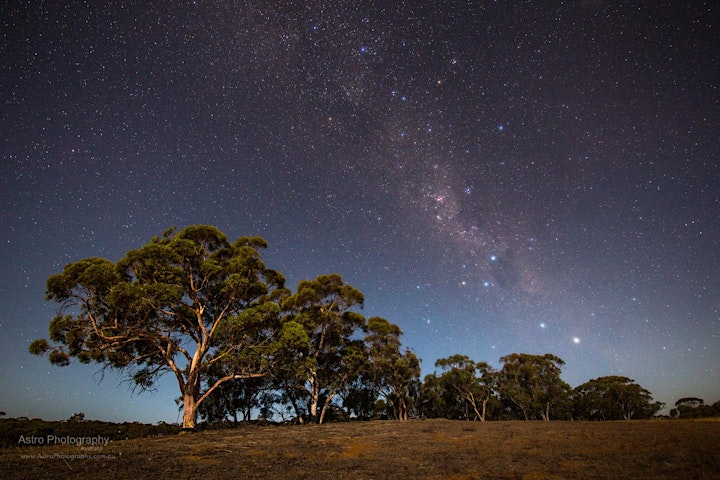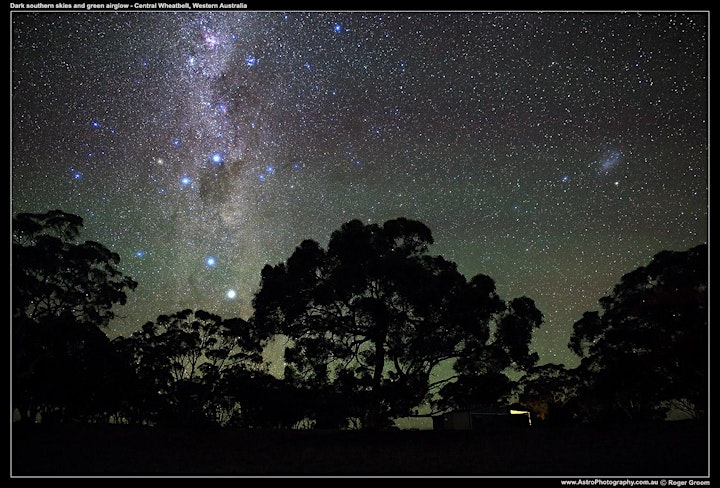 Weather / Cloudy Scenarios
A decision will be made regarding weather when the 48 hour forcast is available and this decision will be communicated to all registered participants via the email address used in booking.
It is at the descretion of Roger Groom the organiser of this event to decide if the event will proceed or be cancelled due to weather. By booking you accept this.
Guidelines for go/no-go based on weather:
If the forcast for cloud is 70% or less cloud cover and no rain is forcast the event will proceed. Some cloud makes for fantastic nightscape photographs and does not detract from the workshop experience.
If the forcast for cloud is above 70% cloud cover or rain is forcast with greater than 40% chance for the whole period of the event window the event will be cancelled.
If a severe weather warning is issued for the time and place of the event, the event will be cancelled.
If the event is cancelled for one of the above reasons a refund of the total amount minus EventBrite fees will be provided and we will hope to see you on a subsequent workshop with better conditions.
Please note that weather conditions can vary significantly between the Central Wheatbelt and Perth Metro regions.
COVID-19
This event will operate within the restrictions set by the WA Government at the time.
If the whole event is unable to proceed due to COVID-19 restrictions a full refund will be provided.
If a participant is unable to attend because they are required to isolate a full refund will be provided.
The event will take place outdoors, except the initial talk which subject to weather conditions may take place indoors in a large shed suffucient to cater for COVID restriction requirements and above all provide a well ventilated, safe environment for participants.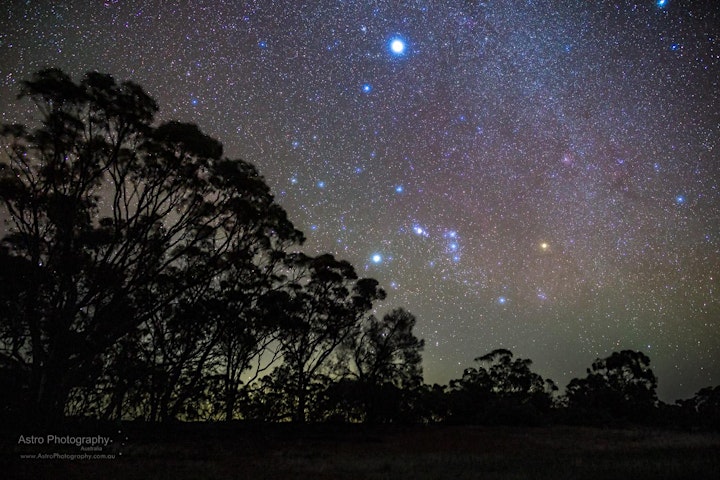 Date and time
Location
Astro Photography Australia Dark Skies Site
Goldfields Road
Youndegin, WA 6409
Australia
Refund policy
Contact the organiser to request a refund.
Eventbrite's fee is nonrefundable.