Description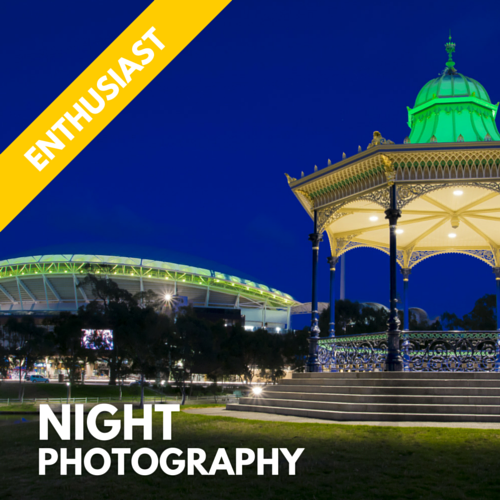 Night photography. It's one of the more challenging subjects in photography. Learn how to take better photos at night with this night photography course, carefully developed to teach you selected night photography tips and tricks.
Why You Will Love This Course: Whether you want to learn how to capture the night sky, find out how to paint with light or just want to know the right camera settings for night photography, then this is the course for you. This is a 4 hour hands on session involving technical advice and loads of shooting opportunities including cityscapes and light painting.
Join us for a shoot around Adelaide's CBD and see another side of your city and how to capture it! Cityscapes can have an extremely wide dynamic range of light due to artificial lighting, this workshop will help you identify the large difference between the brightest and darkest fields of each scene and how to accurately compensate to compose great images. By demonstrating these skills and disciplines which you can use across other areas of your low light photography.
Reach your full potential and master the following techniques:
Essential gear for night shooting

Lens selection

Metering

Focusing

Composition

Light painting with LEDs
Duration: 4 Hours
What To Bring? Your camera fully charged and camera manual, notepad and pen. Please ensure bring a sturdy tripod. If you have a shutter release we also recommend bringing it along. As this is a photo walk, please ensure you wear comfortable shoes and suitable attire to suit weather conditions.
About Your Trainer: Lindsay has been running photography workshops in Adelaide for 11 years since moving here from his native Scotland. He studied Audio Visual Technology in his home town of Edinburgh, before moving to London and then to Berlin. After owning a studio and photo lab in the UK, he then moved to Australia to pursue his passion for photography and teaching. As well as conducting training for Diamonds, he also conducts the photography training program for Adelaide Zoo.
Location Details: Meeting at Diamonds Training Suite, for photography walk. Level 2, 187 Rundle Street Adelaide 5000. Please note, this is not the Diamond's Store, but slightly further east.
Please Note: As this is a Level 2 course, it is expected that you have a basic knowledge of how to operate your DSLR as taught in our Introduction to Photography course. This course is designed for owners of DSLRs and Mirrorless systems.
Cancellation: 48 hours notice is required to reschedule. Failure to provide notice within this period of time will result in your voucher being forfeited. The course will normally operate in all but exceptional weather conditions, in the event of severe weather we will contact you and transfer your booking to another date.