The Kora is traditionally played from Jali families who are historians, genealogists and storytellers who pass their skills on to their des
About this event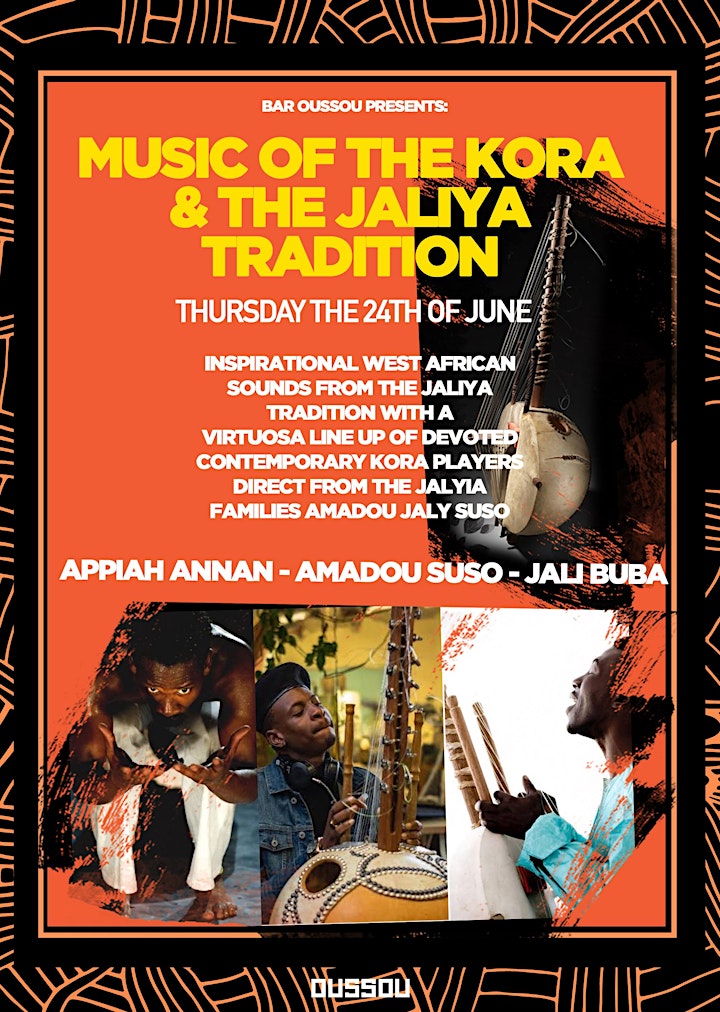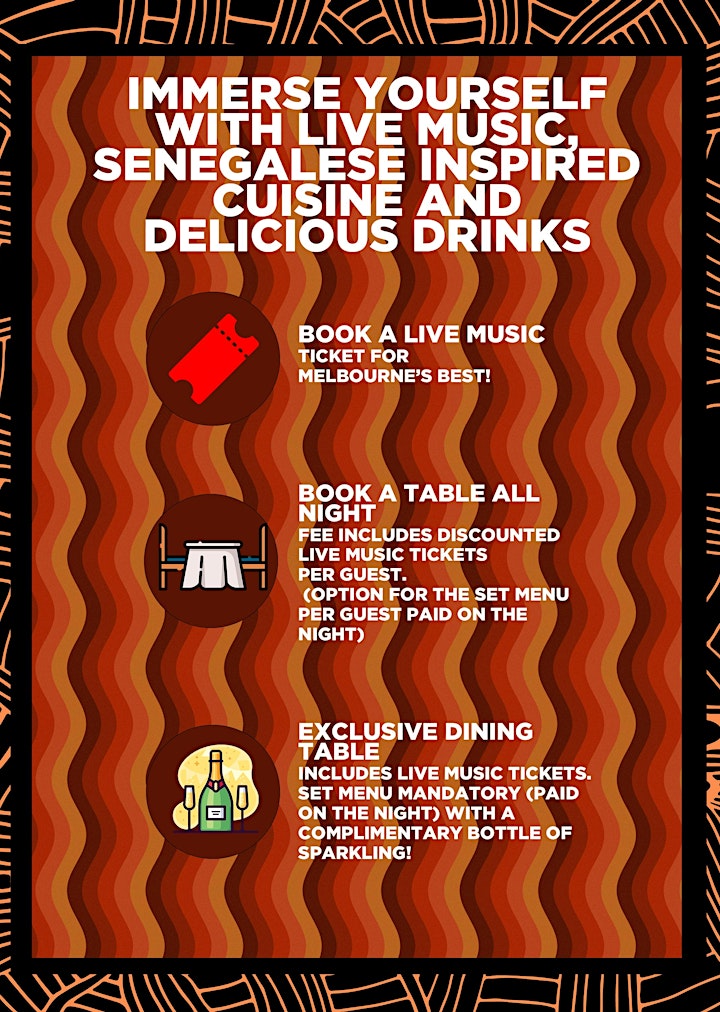 Presenting a numinous night with the Kora!
The Kora is traditionally played from Jali families who are historians, genealogists and storytellers who pass their skills on to their descendants. Though played in Guinea, Guinea-Bissau, Mali, Senegal and Burkina Faso, the instrument was first discovered in the Gambia.
Presenting 3 Kora players
Appiah Annan originally from Ghana: musician, singer, traditional and contemporary dancer and choreographer has gained inspiration from the sound of the Kora featuring its music in his contemporary dance compositions. So devoted to the sound he dedicated himself to teachers from Senegal, Guinea, Guinea-Bissau, and Burkina Faso and now in Melbourne he plays this extraordinary instrument. Appiah will perform with Ago on the Djembe and Gome Drum and Ay Nii bringing the Kpanlogo drum to the night.
2 of the great Jali(y) family Jali Buba and Amadou Jaly Suso virtuoso performances.
Jali Buba came to our shores performing at the Adelaide Womad Festival spell binding us with his Kora and continues to amaze and inspire drawing on the tradition of MBalax. Forming the Band Afro Diyas Jali Buba's dexterous plucking and strumming of the harps strings blends with his melody. Jali Buba's Melody rises in his voice in a unique vocal style calling generations to sing the polyphony with him and you can hear it! A legacy that continues to transform from the ages of ages to the now.
Amadou Jaly Suso is from the Gambia bringing new compositions arresting us with his genius for unique contemporary afro/Jazz compositions. Accomplished solo musician, singer and composer leading outstanding bands such as The Senegalese Jazz band (recipient for the Age Best World Music Award). Amadou continues to arrest us with his genius awakening our solar plexus and divines the Kora to the next level.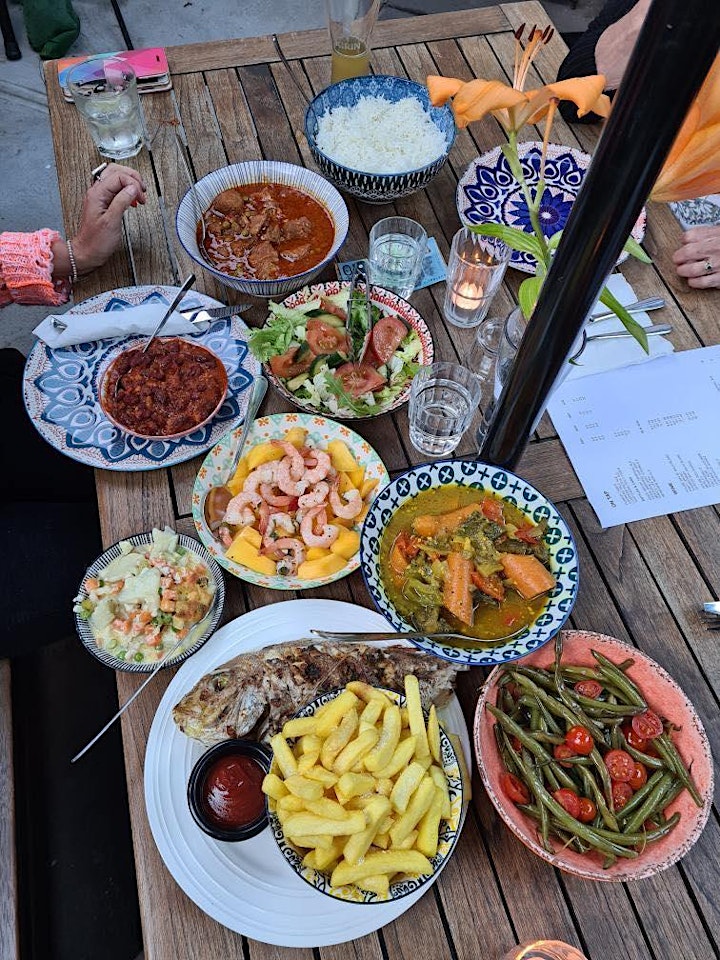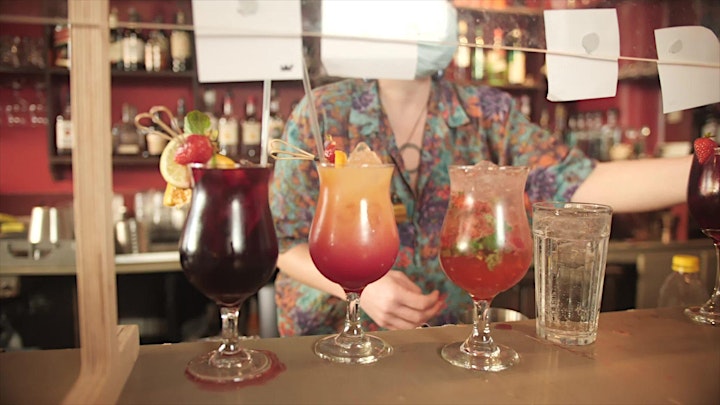 $30 per guests
SET MENU:
Yassa Poulet or Moutong
Chicken or Lamb slow cooked Senegalese Curry cooked on alternate nights
Thurs (Lamb), Fri (Chicken, Sat (Lamb), Sun (Chicken)
Vegetable Curry
Slow cooked vegetables in a coconut order cause (alternate nights)
(V/VG/GF)
Roast and Baked Dishes
A selection of accompanying dishes including roast vegetables, baked potatoes, pasta and bean bakes, potatoes croquets or gratin to name a few.
(V/VG/GF)
Salads
A selection of 2 salads, greek salad, prawn salad, green bean, pasta salad
(V/VG/GF)
Sweet Senegalese Doughnuts
Doughnut on a bed of ice-cream, drizzled with strawberry sauce and dressed with mint
Fresh Fruit salad for Vegans
(V/VG/GF)
SOMETHING EXTRA:
SENEGALESE WHOLE SNAPPER $30
Snapper stuffed with parsley chilli pesto, served with chips and salad
SENEBISAP COCKTAIL $18
Featured Senegalese Cocktail, Hibiscus infused with Bombay Gin, Cointreau, dressed with Mint, Strawberries Lime and a Rose Bud
More Cocktails on our Menu!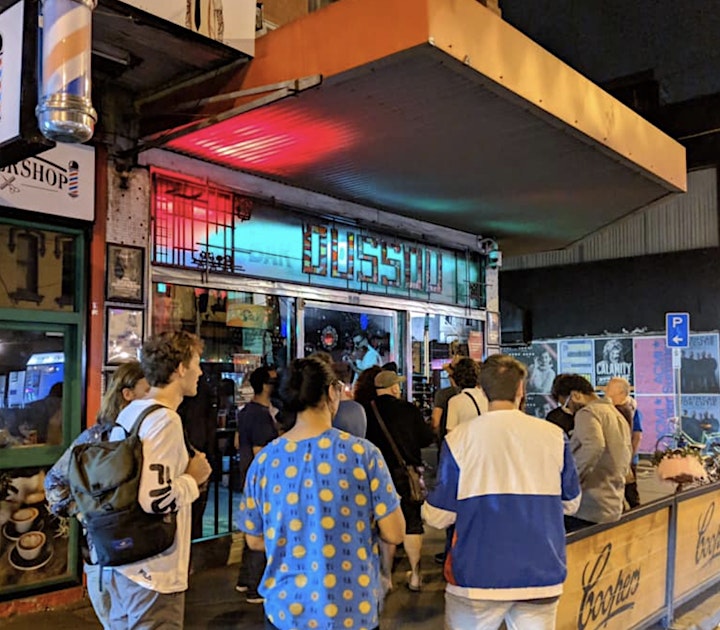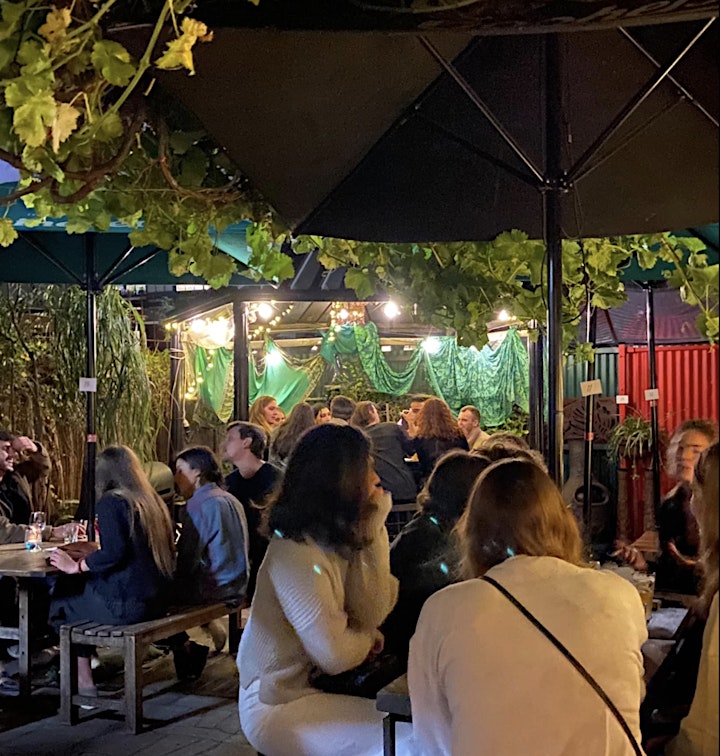 IMMERSE YOURSELF WITH LIVE MUSIC,
SENEGALESE INSPIRED 
CUISINE AND DELICIOUS DRINKS
Upon arrival please check in at the Front of House for QR code entry.
We have created a Dining Live Music Covid Safe Experience. Secure your Booking for the whole night with a fee which includes your live music ticket for your guests per table. Set menu is mandatory for some selected tables. All set menu per guest are paid on the night. Please note we require guest numbers for preparing the menu and for Covid capacity quotient.
Capacity is limited as per the current Covid Safe restrictions. Masks are mandatory unless seated. We provide sanitising stations, table service and 1.5 square meter rules apply throughout the venue.
Organiser of Night of the KORA - Dining Experience + Live Music
Bar Oussou is quickly earning itself a reputation for being appreciated for live music with an international flavour. A place that incubates rich and diverse creative events in the heart of Brunswick.Upon entry a front bar stage followed by exclusive rooms, leading into a courtyard with a second stage for some of the best musicians every day we are open.