NICTA Big Picture Seminar - The Berkley Data Analytics Stack: Present and Future - Michael Franklin

Tuesday, 18 February 2014 from 1:30 pm to 3:30 pm (AEDT)
Event Details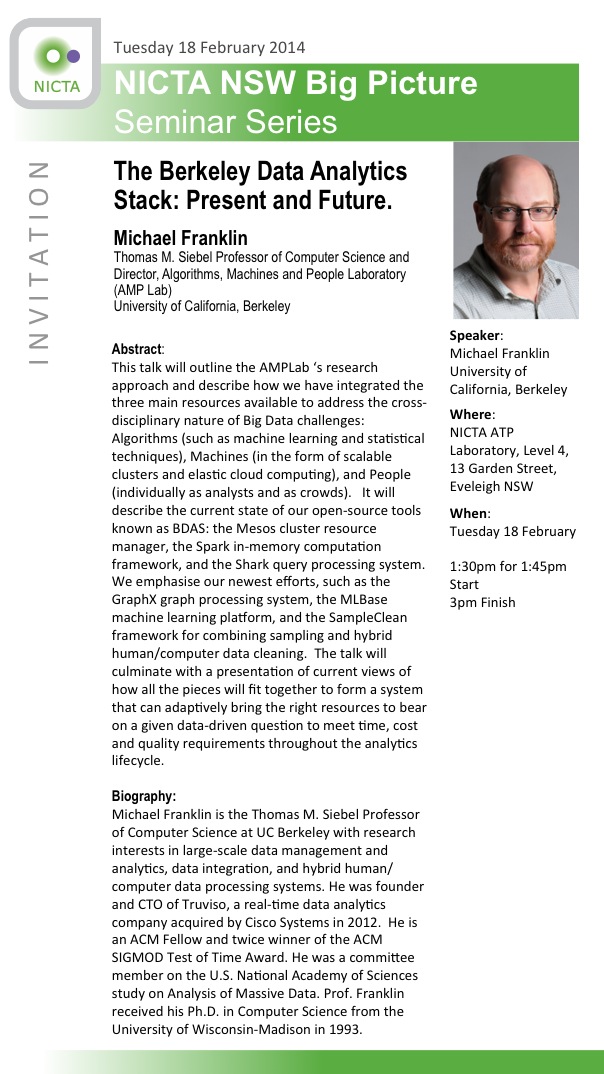 NICTA Big Picture Seminar - Tuesday 18 February
Presenter: Michael Franklin University of California, Berkeley
Title: The Berkeley Data Analytics Stack: Present and Future
Abstract: This talk will outline the AMPLab 's research approach and describe how we have integrated the three main resources available to address the cross-disciplinary nature of Big Data challenges: Algorithms (such as machine learning and statistical techniques), Machines (in the form of scalable clusters and elastic cloud computing), and People (individually as analysts and as crowds).   It will describe the current state of our open-source tools known as BDAS: the Mesos cluster resource manager, the Spark in-memory computation framework, and the Shark query processing system. We emphasise our newest efforts, such as the GraphX graph processing system, the MLBase machine learning platform, and the SampleClean framework for combining sampling and hybrid human/computer data cleaning.  The talk will culminate with a presentation of current views of how all the pieces will fit together to form a system that can adaptively bring the right resources to bear on a given data-driven question to meet time, cost and quality requirements throughout the analytics lifecycle.
Bio: Michael Franklin is the Thomas M. Siebel Professor of Computer Science at UC Berkeley with research interests in large-scale data management and analytics, data integration, and hybrid human/computer data processing systems.   He was founder and CTO of Truviso, a real-time data analytics company acquired by Cisco Systems in 2012.  He is an ACM Fellow and twice winner of the ACM SIGMOD Test of Time Award. He was a committee member on the U.S. National Academy of Sciences study on Analysis of Massive Data.   Prof. Franklin received his Ph.D. in Computer Science from the University of Wisconsin-Madison in 1993.
Have questions about NICTA Big Picture Seminar - The Berkley Data Analytics Stack: Present and Future - Michael Franklin?
Contact NICTA
When & Where

NICTA - Australian Technology Park Laboratory
Level 4 Seminar Room
13 Garden Street
Eveleigh, NSW 2015
Australia

Tuesday, 18 February 2014 from 1:30 pm to 3:30 pm (AEDT)
Add to my calendar