A world-class experience combining comedy, magic and illusion. Nickleby has Performed live to over 1 million people.
About this event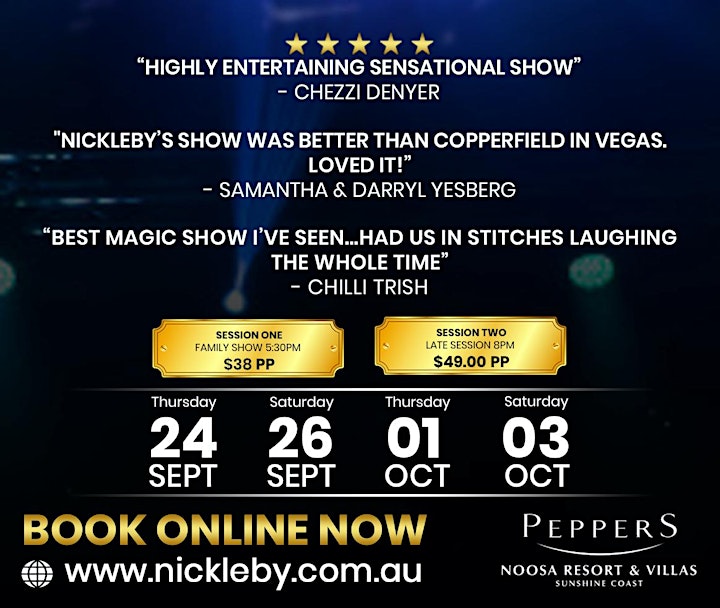 SHOW TIMES & PRICES:
__________________________________________________________________________________
SESSION ONE
FAMILY SHOW 5:30PM $38 PP
_________________________________________________________________________________
SESSION TWO
LATE SESSION 8PM $49.00 PP
_________________________________________________________________________________
To book your show tickets select your time & date above
Dinner: Two sittings, 6.30pm and 7pm.
Two courses including a glass of wine $39.00 PP
Dinner Bookings must be made via this link quoting 'Magic' in the comments box.
Book Dinner before or after the show
Matt Golinski is a highly regarded Australian chef. Matt is well known as one of the original team of the popular, long running Ready Steady Cook television series where he cooked hundreds of delicious dishes delighting viewers with his skill and good humour.
Perched on the second floor of Peppers Noosa Resort & Villas is the fresh, contemporary View by Matt Golinski restaurant. Take a moment to unwind, soaking up warm Noosa Heads sunshine and stunning beach panorama, while enjoying a cocktail or glass of wine on a terrace lounge, high above the treetops.
Guest arrival Speical COVID requirements
Your temperature will be checked prior to entry, Anyone with a temperature of 37.5 degrees or over will not be permitted entry.
Vehicle Entry/Exit
Vehicle entry/exit as follows:
Morwong Drive (7pm-7am, Little Hastings Street),
Viewland Drive (7am-7pm, Alma Way).
Map attached.
On-Site Parking
Limited parking is available on-site. Once parking is full, guests will be directed to park on Viewland Drive, with the resort buggy service available to transport guests up/down the driveway.
Covid Safety and Contact Tracing
Social Distancing Regulations: Government distancing regulations are in place – currently guests not in the same household must be seated 1.5m apart. Bookings from the same household do not require to socially distance.
Contact Tracing: We are required to record the following details of each attendee
- Name
- Address
- Phone Number
- Temperature
We will ensure records are used only for the purposes of tracing COVID-19 infections and are captured and stored confidentially and securely.
Please note that due to government social distancing restrictions imposed by the Queensland Government on 25/07/2020, all guests must be seated when consuming food/coffee/beverages.
Round tables will permit guests to take drinks in to the room. The max capacity per table whilst socially distancing is 3 guests, or up to 8 guests for bookings where all guests reside in the same household.
NOOSA DATES:
Thursday 24th Sept 2020
Saturday 26th Sept 2020
Thursday 1st October 2020
Saturday 3rd October 2020
More dates announced soon