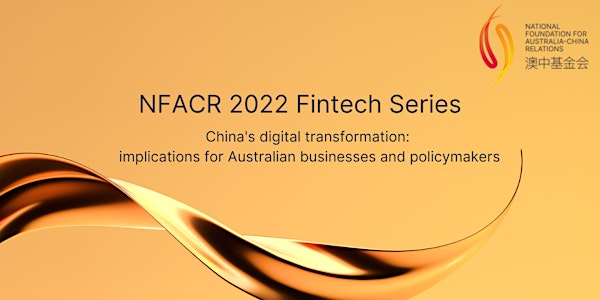 NFACR Fintech Series - China's Digital Transformation
The National Foundation for Australia-China Relations (NFACR) is proud to host the second event of its 2022 Fintech Series.
About this event
The NFACR Fintech Series draws on expertise from across industry, government and academia and links to an extensive network of the region's most influential specialists on fintech and the future of financial services.
In this event, Mr John O'Loghlen (Ant Group) and Mr Christopher Kong (Data Hero Network) will examine the digital transformation spearheaded by China's private sector, and the ways Australian companies and policymakers can learn from, respond and harness this change.
John O'Loghlen joined Alibaba Group as Director of Business Development for Australia and New Zealand in March 2016. In this role, John focused on serving clients across all of the Alibaba Group's business units, with a particular focus on assisting Australia and New Zealand brands and businesses connect with the Chinese consumer. Since 2018 John has been the Regional Director for Ant Group overseeing the Alipay cross border payments business and, in addition, also leads the WorldFirst international payments business based in Sydney.
Before relocating to Sydney in 2014, John co-founded a leading gourmet pizza chain in Beijing which is a strategic commercial partner in China for Fonterra. Prior to Gung Ho! Pizza, John led Domino's Pizza International's Asian business from 2006 to 2009 based in China. John also spent five years investment banking at Goldman Sachs working in London, New York and Beijing and has served as a New Zealand Trade & Enterprise (NZTE) government appointed advisor to leading New Zealand corporations in China.
He holds a BA from Harvard University and an MPhil from Cambridge University. He studied Chinese at Tsinghua and BLCU in Beijing, and is proficient in Mandarin.
Christopher Kong is the founder of Data Hero Network, which bridges the gap between technical data talent and non-technical company executives. He provides coaching, organisational design consulting & recruitment services.
He is a pioneer on data transformation & understanding consumer behaviour, with 18 years of in-market experience in Australia, Singapore & China. During this time, he held leadership positions at Danone, Nielsen & Cadbury.
Christopher holds a BA of Commerce and Law (Hons) from the University of Melbourne. He is a qualified Chartered Financial Analyst and co-delivered the Behavioural Economics Immersion Program with Professors from Yale School of Management. In 2020, Christopher was named as one of the 40 under 40 Most Influential Asian-Australians. He is passionate about deepening mutual understanding between Australia & China by strengthening people-to-people links.
Once registered, you will receive email reminders with a link to join the live event closer to the event date.
If you have any questions, please contact us at nfacr@dfat.gov.au.
Follow NFACR on Facebook and subscribe to our mailing list for Foundation news, grant activities and events.