To keep our Customers, Vendors and Local Community safe we have made the tough decision and cancelled our August ECRM Newcastle Market Day.
About this event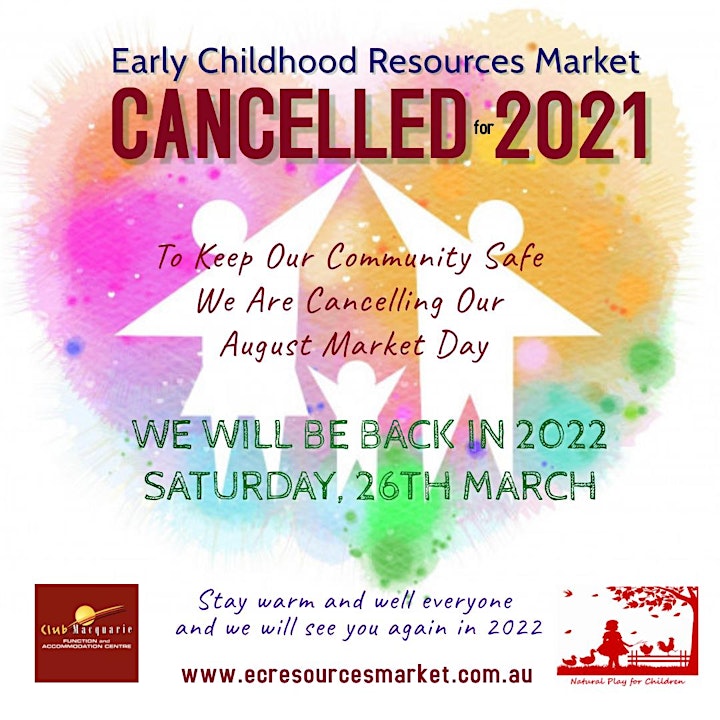 IMPORTANT MARKET UPDATE
AUGUST EVENT CANCELLED!
The Early Childhood Resources Market is a boutique indoor market held right here in the Hunter and is proudly organised by Natural Play for Children. ECRM Newcastle showcases quality resources and services from a collection of Australian Small Businesses that cater to the specific needs of early childhood services, educators, families and young children. 
ECRM provides early childhood professionals, families, and our local community with the opportunity to shop in the comfort of an indoor, air-conditioned market area. You will be able to choose from a range of handcrafted wooden toys, teaching resources and books, small world play sets, Indigenous resources, peg dolls, children's books, handmade natural timber resources, craft kits, essential oils, puzzles, crochet and knitted toys and so much more from our amazing vendors.
There is nothing quite like that hands-on shopping experience and the chance to meet and chat with the owners of some of your favourite online businesses:-
With more vendors to join us, please follow ECRM on our social pages to stay up to date with our market event.
The Early Childhood Resources Market is the perfect event for early childhood professionals, families and the young at heart.  ECRM2021 is a FREE community event, and we invite our local community and beyond to come along and join us at Club Macquarie on Saturday 28TH AUGUST, for our second and last Market event for 2021.
We are all very excited to be meeting up with everyone again in July, there truly is nothing quite like that hands on market experience that is the Early Childhood Resources Market.
FREQUENTLY ASKED QUESTIONS (FAQ's)
COVID 19
When you arrive at the venue:
Please note: If you have recently visited and/or live in a Covid-19 designated hot spot, have cold or flu like symptoms and/or fever, unfortunately you will be sadly unable to enter Club Macquarie to attend our Market Event.
All visitors must sign into Club Macquarie as a guest Electronically via the Service NSW app or manual checkin also available. Digital and/or manual check-in is also required to our market event.
In the event of a Covid-19 outbreak in our local area, our Early Childhood Resources Market will be cancelled if we feel the risk to our local community and Vendors is too high. ECRM will comply with all directives as issued by the NSW Department of Health.
Are there ID or minimum age requirements to enter the event?
Yes, as the venue is held on licenced premises and you will need to provide ID to enter Club Macquarie. You are required to comply with all Club Macquarie rules and regulations, including dress code. This is a family friendly event, however all children must be in the company of an adult aged 18+ to enter the venue.
Why Do I Need to Book A Free Ticket to ECRM2021?
This year due to Covid-19, it is preferred that all attendees are pre-registered as we usually have customers travelling to attend our event, often a from a great distance. This way we will be able to easily keep you up to date with our event and notify you quickly of any last minute changes.
We do also love it when tickets are preregistered as it is a great guide to how many people will be joining us on Market day in March.
Can I Still Attend The Market If I Haven't Preregistered?
Registration at the door may still be possible, however cannot be guaranteed. Please expect delays and we thank you for your patience in advance.
This year due to Covid-19, it is preferred that all attendees are pre-registered. This will allow us to advise everyone of any event changes or entry restrictions due to Covid-19 hot spots as advised by the NSW Department of Health.
What Do You Do With My Registration Information?
Registration details are not used for any other purpose apart from the promotion of the Early Childhood Resources Market (ECRM Newcastle). You will not receive any third party marketing from any of our Vendors, it is simply not our style. Although you are most welcome to follow our Vendor's business pages on Facebook/Instagram and subscribe to the websites, just to see what else they get up too.
Organiser of Newcastle Early Childhood Resources Market - AUGUST ECRM2021
Natural Play for Children is a small boutique family business based in Lake Macquarie, New South Wales. NPFC is a place to find unique hand made and fair trade products, with an emphasis placed on up-cycling natural materials into unique sensory and educational resources. 

For all enquiries, please contact NPFC in the following ways:-
Maureen Hayes
Phone:  (02) 4040-5365 or (0478) 609425
Emails:  info@naturalplayforchildren.com.au