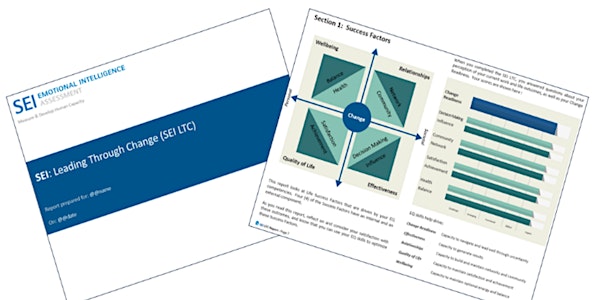 New Six Seconds EQ report: SEI LTC (Leading Through Change)
Location
https://zoom.us/j/6316404381
Description
What does it mean to lead well through change?
The SEI LTC (SEI Leading Through Change) is a report for our times – change is everywhere, and affecting every person!
Join our webinar to learn more about this exciting new Six Seconds' EQ report – how it came about, what it looks like, what it measures, when you might use it and what you need to be able to debrief it…
Find out more about how we integrated the SEI Leadership Report with the Change MAP, and a new AGILE Leadership Framework - to support leaders to navigate and lead well through uncertainty. It's ground breaking!
What: 60 minute webinar
Where: Zoom : https://zoom.us/j/6316404381
When: Thursday 7th March: 12 noon (Brisbane, Australia)
Looking forward to seeing you in my Zoom room,
With gratitude, Alison Lalieu CEO UBalancer Solutions ,Preferred Partner Six Seconds Australia