Join New Sensation at the Charles Hotel North Perth on the new date of 27 May 2022 as we play homage to Oz's biggest and best band INXS.
About this event
ATTENTION ALL TICKET HOLDERS for New Sensation - Live @ The Charles Hotel
New sensation's scheduled performance on Saturday 15th January 2022 at The Charles Hotel regretfully must be postponed due to unforeseen circumstances.
The new date for this concert will be Friday 27th May 2022.
Full refunds are available to any ticket holder wishing to receive one.
We will also honour all existing tickets for the new date.
All exisiting ticket holders will receive an email from us within the next 24 hours with all options available to you.
If these options do not suit, we are happy to do a straight swap of tickets over for our New Sensation Live @ The Stirling Arms Guildford on Friday 18th March 2022
Should you have any further questions, we encourage you to email us at newsensationinxstribute@gmail.com and include your Ticket Number and name as a reference in the subject line.
We sincerely apologise for any inconvenience this postponement has casuse and we humble seek your understanding during these very interesting times...
Thank you for your ongoing support.
New Sensation
Join New Sensation at the Charles Hotel - North Perth, on the NEW DATE of FRIDAY 27th MAY 2022 as we play homage to Australia's biggest and best band INXS.
Featuring a 40 year career spawning multiple hits, INXS are considered to be one of the greatest Australian artists of all time.
New Sensation is a 6 piece INXS Tribute band that will transport you back in time to when the music was king and the parties were wild.Join us as we take you on a journey exploring the best of the best of INXS.
Are You Ready for a New Sensation?
Proudly brought to you by Rock Puppy in partnership with Starr Special Events & Focus Promotions.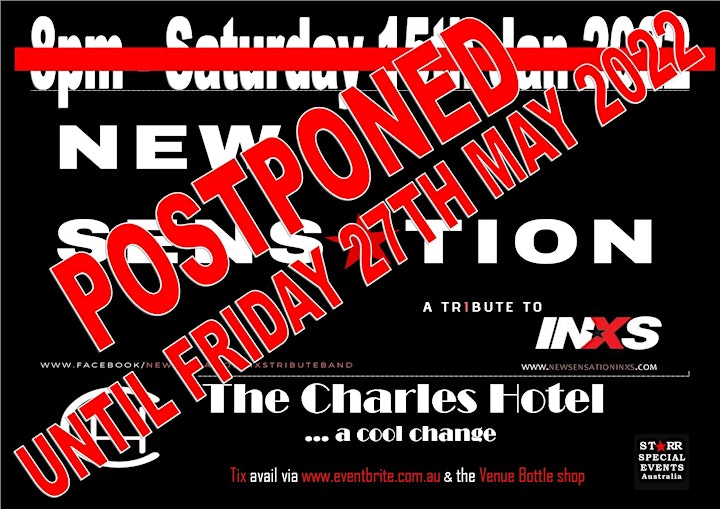 Organiser of New Sensation - NEW DATE 27 MAY 2022 Live @ The Charles Hotel North Perth
Rock Puppy Records is a Perth based company that focuses on delivering professional quality live music events worldwide. 
Artists associated with the company include New Sensation, Mephisto (Cuban Metal Band), Kick Back Acoustic Duo, Jeremy Harry Harris, The Acoustic Dragons and Panelvan. 
All shows are backed by our company working within the boundaries and laws established in the respective countries our events take place.