New Perth Label Seventeenth Doll Presents King Proteus & Their Debut Single & Video Release - Lion.
About this event
King Proteus step onto the scene as the new musical court jesters of Perth; an eclectic sound finally going public with the libido-enthralled primal exaltation of "Lion".
The signature traits of Australian Underground Rock combine with Travis Brinnand's soaring vocals, Clayton Brown's crunchy textured guitars, Dario Jiritano's velveteen bass motifs, and David Rajendram's rhythm mayhem - Red Hot Chilli Peppers, Radiohead, Queens Of The Stone Age, Marvin Gaye, and Vulpeck are melted down and lovingly reconstituted with a rambunctious Jazz know-how.
Alongside the Lion Video Premiere and the launch of Seventeenth Doll Records will be hit-list supporting ensembles Triangle Fight, Satisfaction Guaranteed, and Here Comes The Rooster.
Doors: 7:30pm
Show: 8pm
Seating is unallocated so arrive early to secure your seat of choice. Feel free to arrive early and enjoy all Planet Royale has to offer at Pulp Kitchen, Barcadia and Major Tom's before the show!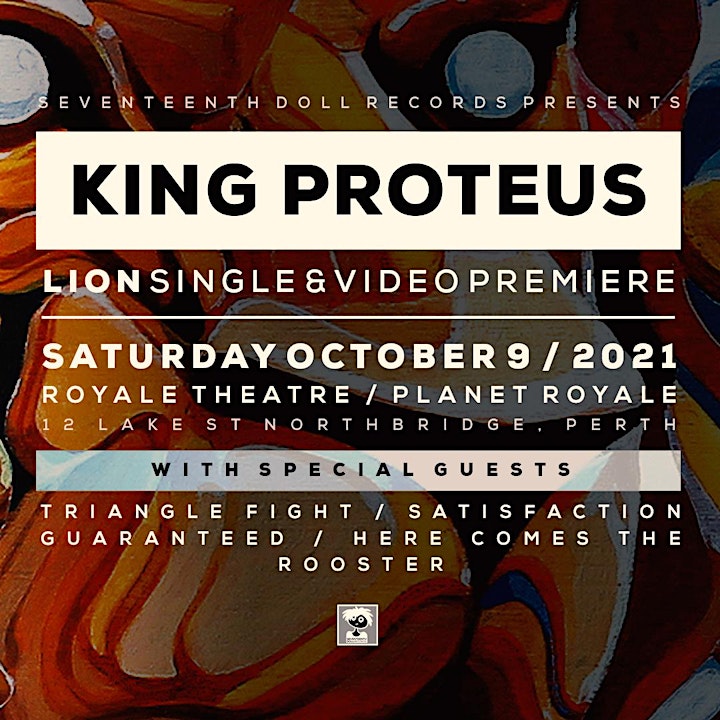 Organizer of New Perth Label Seventeenth Doll Presents King Proteus & Their Debut Single
A once purpose-built IMAX theatre, the Royale Theatre is now home to live entertainment, and boasts incredible sound and visuals, the most comfortable seats in Perth, and an in-theatre bar. The Royale Theatre is part of Planet Royale, where you can eat, drink, play and enjoy live entertainment all under one roof. Button mash with your mates on our vast array of retro arcades and marvel at arguably the GREATEST public collection of pinball machines in the whole of Australia. Re-spawn your soul and your stomach at Pulp Kitchen, where you'll find an epic food offering that would have even Vincent Vega drooling. Level up (quite literally) and indulge in a bespoke cocktail at Major Tom's, our cocktail lounge that oozes good vibes and good tunes, before catching a show in The Royale Theatre. Situated in the heart of Northbridge, Planet really is a one-stop entertainment destination! You are welcome to arrive early before your show to enjoy Planet Royale, or stay on after the show!
NOTE ABOUT VIP BOOTHS: For VIP Booths, you only need to purchase 1 ticket to buy a booth. VIP Booths seat 4 people per ticket, VVIP Booths seat 6 people per ticket.
NOTE ABOUT TICKET RESALES: Please note our tickets are only available for resale through TIXEL. Please do not accept ticket resales on any platform except Tixel, and please do not send anyone you don't know money for tickets, as they are most likely to be a scammer selling fake tickets.