A safe, sacred circle where women reconnect with Self and their sisters in a profound and meaningful way.
About this event
EDIT: Due to COVID-19, we are cancelling the women's circle until further notice. We are at a crucial time in the spread of this virus, and reducing contact with others is vital to help flatten the curve of infection rates, even in small groups of healthy people. Thank you for your understanding. Stay safe and well, beautiful ones. x
Our women's circle is a safe, sacred and supportive space that allows each member to reconnect within her Self and with her sisters in a profound and meaningful way.
The circle is designed to be a space where we replenish our spirit and nurture each other on our individual and collective paths. It is a way of giving yourself permission to set aside the demands of the external world – family, careers, relationships – to focus on your own inner journey.
To put it simply, it's 'time out' in a divine feminine space.
The circle is a space where you are free of judgement, dogma and societal expectation. It is where we support each other to reconnect with our wisdom and share it with unconditional love. Where you can just be instead of do.
We hold the circle on a monthly basis near the New Moon, tapping into the reflective, intuitive and inwards-focused energies of that phase of the moon.
Is it for you?
• Do you long for some soulful 'me time' but things always seem to get in the way?
• Do you wish you could experience the positive power of a loving and supportive sisterhood?
• Do you long for a space where you can be your true self, and leave recharged and inspired?
• Are you interested in your spiritual side but your friends and loved ones don't quite 'get it'?
• Do you long to step away from judgement and fear and speak your truth, and in doing so be fully seen and heard?
We have found that when women hold sacred space for each other, something magnificent begins to happen – they not only uplift each other but also become more in-tune with their Selves, and they carry that energy into other parts of their lives.
If this sounds like something you've been looking for, please join us.
Q&A
What does it involve?
Each circle is unique as it is influenced by the collective energies of the women who attend. However, we do follow a basic structure that includes a welcome (non-religious) prayer, a meditation, some basic movement, self-reflection and conversation. We may also include an intention-setting activity, oracle cards, energy work... whatever feels right, but we'll make sure we talk about it first and make sure everyone is comfortable.
What if I follow a religion or am an aethist?
Whatever spirituality you identify with is welcome, as are atheists. We refer to gods/goddesses, guides, angels etc but you can apply these to your deity of choice, universal energy, higher self, spaghetti monster... whatever feels right for you.
What if I'm nervous about the circle or about not knowing anyone?
It's okay to be nervous. We get nervous before each circle, too! We promise it's a very welcoming space and if there's any activity you don't feel comfortable with, you can sit it out. We will do our best to make you comfortable at all times and invite everyone to let us know if they aren't.
Do I need to bring anything?
All you need to bring is comfy clothes and maybe a bottle of water, though there is water available.
We also ask that you bring an offering from your heart for the circle - something small and simple like a word or image on a piece of paper, a petal or leaf, a stick of incense, a shell... whatever feels right for you.
I am a trans woman – am I welcome?
Of course. All of our sisters are welcome, regardless of their physical form.
Are men allowed?
Not in the women's circle, for obvious reasons, but we are planning mixed circles in the future, so please get in touch and we'll let you know when we have more info.
About the organisers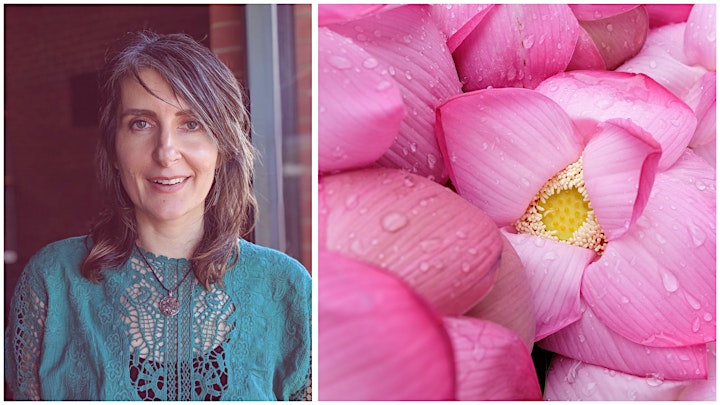 About Ester Zazzaro of The Chakra Room
Highly attuned empath Ester Zazzaro feels within her own body what is happening in your body. Ester's passion is to help others return to wholeness and access universal consciousness through experiencing the full depth of sense-sation within their being. After years exploring and honing her unique abilities as an energy worker and intuitive counsellor, Ester Zazzaro established The Chakra Room.
Through concentrated focus of her energetic awareness, Ester Zazzaro can gently and compassionately introduce you to a deeply embedded memory of somatic consciousness that brings a deeper sense of self. She specialises in intuitive healing for chakra balancing, physical, mental and emotional release, pain relief and assisting deep inner work.
About Sky Harrison of Heartspace Enterprises
Sky Harrison set up Heartspace Enterprises to provide for the varied services she offers – the women's circle, copywriting/editing and writing fiction. In everything she does, Sky operates from her heartspace, anchoring everything in wisdom, joy and authenticity.
The women's circle began in Sky's loungeroom and quickly outgrew the small space. She began running it on a larger scale but it was put on hold when other life events intervened.
Sky also shares her uncensored wisdom through her Instagram account @holding_heartspace.
Organiser of New Moon Women's Circle
Sky Harrison (Heartspace Enterprises) and Ester Zazzaro (The Chakra Room) have combined their passion for empowering women through connection and wholeness to create these women's circle events.
Thheir own spiritual awakenings and growth has been mirrored in their soul-sister relationship of almost 30 years, where they have been supporting and assisting each otehr to express their authentic selves, trust their inner wisdom and embody their divine nature in a practical, physical world. 
Ester's skills as a healer and bodyworker, specialising in the divine feminine/masculine energies both in the Self and within relationships, brings a unique and beautiful perspective to the circle, while Sky's quiet wisdom, communication skills and non-judgemental viewpoint holds space for women to thrive.
Together, they aim is to create a space where women can connect and deepen into themselves. They see their role as facilitators and space holders, as each woman who attends the circle brings her own unique wisdom and energy.
The women who attend come from all walks of life but have one thing in common – a desire to live authentically – and come together to support each other on that journey.
http://thechakraroom.com.au