Join business leaders and HR professionals from the not-for-profit sector for an engaging interactive learning and networking session.
About this event
THURSDAY JULY 29th AT 5:15 PM, PERTH CBD, WA
(Please note that this has previously been advertised for Thu 8th July, but postponed due to COVID restrictions)
Remi Kelly and Kirtika Kayarat of Hall & Wilcox will present a stimulating session, 'The times, they are a-changin': casual employment and workplace sexual harassment get a shake-up'.
2021 is shaping up to be a big year of reform for employment and industrial relations.
Allow Remi and Kirtika to guide you through the Government's recent changes to casual employment laws and its proposed response to the Australian Human Rights Commission's Respect@Work: Sexual Harassment National Inquiry Report 2020.
This HR for Good event will enable you to navigate the complexities of emerging employment law and systemic reform, equipping you to lead positive, informed change in your organisation. REGISTER now.
Refreshments will be served and there will be the opportunity to network with others.
*This event is kindly hosted by Hall & Wilcox*
About the speakers: Remi Kelly
Remi has more than five years' experience in employment and industrial relations, including stints as a union official and a public servant. Remi's practice focuses on employment, industrial relations, discrimination and health and safety. Remi has supported not-for-profits in the aged care, disability services, childcare and housing sectors, companies in the construction and manufacturing sectors, local and state government authorities and individuals in the hospitality and retail sectors. Remi draws on her diverse experience to deliver effective solutions to complex workplace issues and build rapport with stakeholders.
About the speakers: Kirtika Kayarat
Kirtika was recently admitted to legal practise and works across the Employment and Commercial Dispute Resolution groups. Kirtika previously worked in professional services for an accounting firm.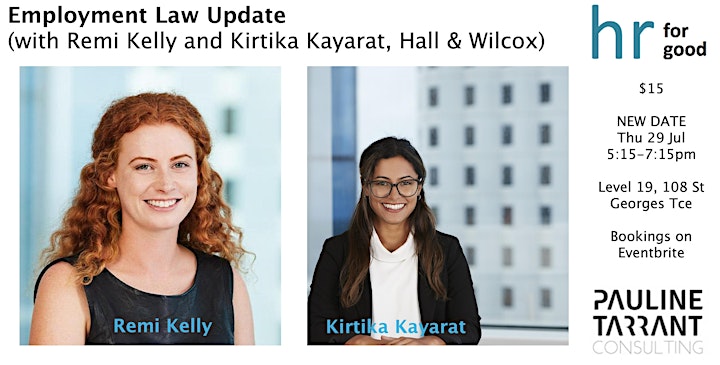 Organiser of NEW DATE - 29 JULY - Employment Law Update
Pauline Tarrant is an adventurer who has travelled the world and spent her entire working life helping people and organisations be at their best.
In addition to almost 20 years international experience in the HR profession Pauline also possesses a Masters in Human Resource Management from Bristol Business School in the UK and Fellowship of the Australian Human Resources Institute.
Pauline is founder of the award winning Pauline Tarrant (HR Consulting) and HR For Good. She was a Councillor for the City of Canning in Western Australia and speaks regularly on cutting edge HR practices.
Pauline works with clients in Western Australia and beyond to help them refine their people practice, people strategy and people technology to achieve sustained high performance.