New advances in the diagnosis and treatment of Pyrrole Disorder (Webinar)
Event Information
Refund policy
Refunds up to 1 day before event
Eventbrite's fee is nonrefundable.
Pyrrole Disorder is a little known, but very common cause of chronic mental health issues like depression, anxiety, ADHD, bipolar, & more
About this event
What is Pyrrole Disorder? Pyrrole Disorder is a modern day chronic and complex health condition which encompasses many other chronic health conditions under one umbrella disgnosis. What may appear to be someone having multiple diagnoses can actually be ONE causing all of them!
You or family members or friends may have Pyrrole Disorder but not know it! How is this possible? Because most doctors don't acknowledge that it exists, as it is a nutritional, metabolic and lifestyle condition, and one for which there are no medications that can fix it! And since doctors aren't trained in nutritional medicine, they don't recognise it, diagnose it, or treat it... so most people go undiagnosed for a long time and suffer with a long list of symptoms.
If you have a collection of long-term chronic symptoms, Pyrrole Disorder may explain why if:
• Your health issues were triggered by or exacerbated by stress or trauma
• Similar symptoms appear in family members
• You have a LOT of long-term symptoms or health issues.
Common symptoms of pyrroles include many of the following:
• Anxiety and/or depression
• Low energy or fatigue
• Thyroid hormone condition
• Male/female hormone issues, and many female cycle issues
• Intolerance to stress, and/or high stress
• Frequent or ongoing anaemia (low iron) issues
• Sleep issues
• Many digestive symptoms - reflux, indigestion, bloating, IBS, constipation
• Low immune system
• Headaches or migraines
• Being sensitive to light, smells, sounds, some foods, and/or allergies
• Autism spectrum disorders, ADD, ADHD
• And a lot more...
Someone with Pyrrole Disorder will have most, if not ALL, of these symptoms.
Pyrrole Disorder is something I see a LOT of in my clinic, with most people not having been diagnosed or aware that they have this condition. It can be a MASSIVE relief to finally find out what may be the root cause of your health issues! A Pyrrole treatment plan needs to be personalised, as everyone presents very differently, but a good treatment plan can be absolutely life-changing when started and when symptoms begin to resolve!
As a result of my clinical experience with Pyrrole Disorder, I am holding this webinar for the general public, for those with Pyrroles and their families to find out more about the condition, and how the condition can better be treated. There will be another more technical seminar for practitioners soon to learn more and be able to help people with this condition, but practitioners with low experience of this condition can still find this webinar useful as an introduction.
If the above sounds like you, or someone you know, please tag or invite them to this page and this event. You can be helping to change their life!
I will talk about the causes of Pyrrole Disorder, its symptoms and effects on the body and health, medical and natural treatments, and new research too.
I look forward to seeing you at the online event soon!
Starting date/time - Sunday 5th December at 2pm Brisbane time (AEDT). Or if you cannot make this online event, a recording and notes will be sent to all ticket holders ASAP after the event, so you can access the information again at your convenience.
Tickets: available through the Eventbrite booking link below, at $29 each, and family members can attend and watch together!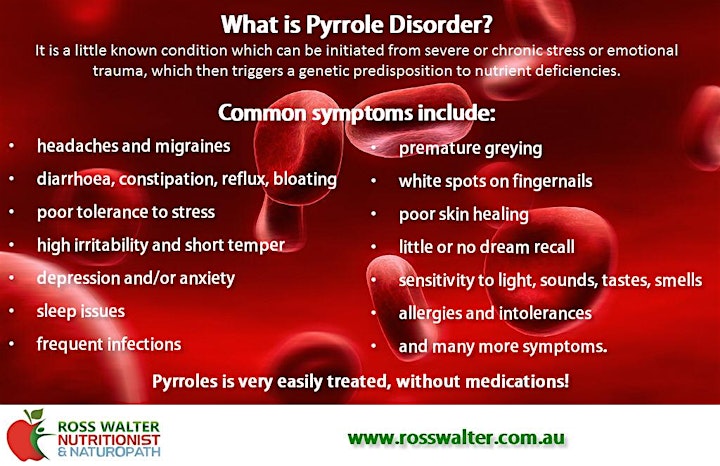 Date and time
Location
Refund policy
Refunds up to 1 day before event
Eventbrite's fee is nonrefundable.
Organizer of New advances in the diagnosis and treatment of Pyrrole Disorder (Webinar)