What do advances in neuro-technology mean for future criminal law, justice and the mind?
About this Event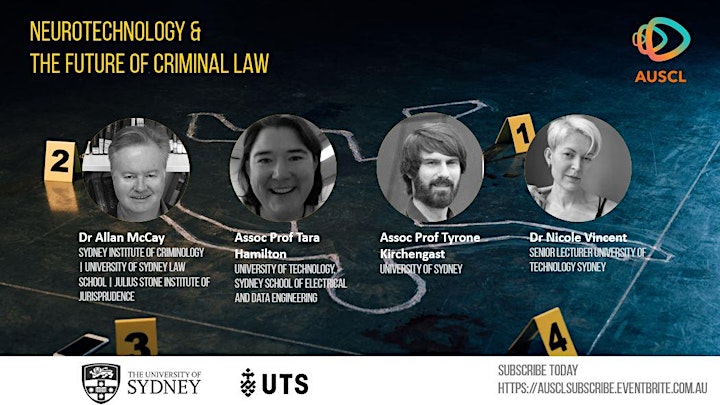 Neurotechnology and the Future of Criminal Law
With experts from UTS and University of Sydney
Elon Musk's Neuralink and Facebook's acquisition of CTRL-Labs are clear indications that neurotechnology is fast moving out of the experimental phase and has the backing of some of the largest tech companies. But as advances in neurotechnology may soon make it possible to rewire our brains and behaviour should we also be looking at the ability of our laws to respond?
Meet your presenters
Dr Allan McCay - Author of Neurointerventions and the Law: Regulating Human Mental Capacity (Oxford University Press). The Sydney Institute of Criminology (Deputy Director), University of Sydney's Law School (Adjunct Lecturer), Julius Stone Institute of Jurisprudence at the University of Sydney (Member), Centre for Agency, Values, and Ethics at Macquarie University (Affiliate Member) and member of the NeuroRights Network, an international group working towards responsible innovation in neurotechnology.
Associate Professor Tara Hamilton - BE Honours Class I (Electrical Engineering) and BCOM (Economics and Marketing) from the University of Sydney in 2001, MSc (Biomedical Engineering) from UNSW in 2003, and PhD from the University of Sydney in 2009.
Dr Nicole A Vincent - Dr Nicole A Vincent is a Senior Lecturer in the TD School at University of Technology Sydney. Her area of expertise is the social, legal, policy, and ethical implications, applications, challenges, and opportunities of advances in science and emerging technologies. Dr Vincent's scholarly work has been funded by more than $1 million grants, she has published well over 40 peer reviewed academic papers, edited three books, delivered more than 100 academic talks including numerous keynotes in 14 countries, and organised 20 international conferences. Her publications have been cited in the Supreme Court of the United States of America, and by the Presidential Commission for the Study of Bioethical Issues. She spearheaded the development of the Australian Neurolaw Database – the only open access resource of its kind in the world – and her two edited volumes "Neuroscience and Criminal Responsibility" (2013) and "Neurointerventions and The Law: Regulating Human Mental Capacity" (2020) published with OUP are core neurolaw reference texts. Nicole obtained her PhD in philosophy from the University of Adelaide in 2007, and prior to her current appointment, she also held positions at the University of Auckland in New Zealand, Technische Universiteit Delft in The Netherlands, Georgia State University in USA, Macquarie University, Charles Sturt University, and the University of New South Wales.
Associate Professor Tyrone Kirchengast - Associate Professor and Associate Dean (Postgraduate Coursework), Sydney Law School. Admitted to the NSW Supreme Court and High Court of Australia
Who should attend?
All with an interest in the Future Law and the impact of technology are welcome to attend.
About AUSCL
AUSCL, the Australian Society for Computers and Law, is a registered Australian charity established for the purpose of advancing education and promoting advocacy on issues at the intersection of technology, law and society.
Our global network of members include IT, Legal and Policy professionals, academics, students and leaders of civil society. We are passionate about multi-disciplinary approaches to solving some of the most pressing challenges ushered in by advances to technology and digitization.
Join our mailing list today by subscribing: https://ausclsubscribe.eventbrite.com.au