Description
Entrepreneurs and Business people can change the world.
Heart Based Entrepreneurs and Business people can change it for the better!

The world is full of innovative products and services.
Some are clearly designed to make money for individuals and corporations no matter the cost to people, the planet or the environment.
If that's you, don't read on. This won't be for you.
However... there are other products and services created to serve people, the planet and the environment... by people who genuinely care.
And it is this group I am here to assist....and to boost your chances of massive success.


This is for you if you
Are an entrepreneur

Own your own business

Are self employed or

Lead a team


If that is you – read on! Because...

You have stuff to do on this planet, you know it, sense it and you feel it.
It makes you fulfilled when you're in the zone and crappy when you're 'wandering in the jungle'!
You probably know what I mean...
The confusion or overwhelm that melts your brain

The ache in your heart when you lose your way

The turmoil in your belly when you're unsure of what to do next...
Want to get a handle on all that?
Discover how to use ALL your intelligences and get you moving and doing what you are designed to do - contribute to the world in your own unique way...and in your own voice!

Let me explain…
The latest neuroscience research confirms what ancient wisdom traditions have been trying to tell us for the past 3,000 plus years.

You have complex, adaptive and fully functional neural networks, or 'brains' or intelligences', in your Head, Heart and Gut.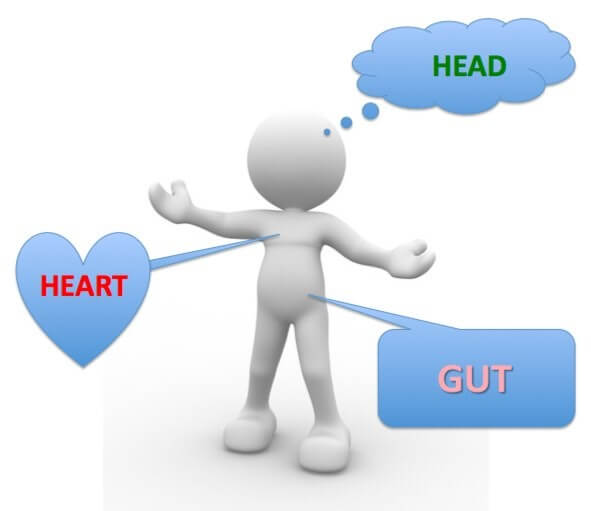 When these 3 intelligences are aligned and on the same page, you will experience states of flow, ease, connection, heightened intuition, and so much more.

Your decision making will be sharper, wiser and more in tune with your deep authentic self.

Through using ALL your 3 powerful intelligences you can:

get clear on your 'heart's purpose',

get your creative juices working,

prime your intuition and.... get into inspired action.

Join us as we explore how to 'juice up' all your 3 intelligences and.... what may be stopping you, i.e.

• conflict between thoughts, feelings and actions
• leading to inaction and fear-based road block
• not acting upon or sabotaging your dreams, goals and plans
• trouble making decisions or being unable to stop unwanted behaviours
• the feeling that something is missing and
• you're not fully connected with your deepest inner self

and... most importantly - what to what to do about it.
Come and join us. It's time to make shift happen!



FAQs
Can I buy a ticket at the door?
Yes, you can. It's $15 at the door or $10 online. So buy online if you can....

What time does the presentation start?
We start the presentation at 6.30pm but please arrive by 6.15pm so we can start on time. So much to share – so little time! We aim to finish by 8.15pm
What can I bring into the event?
Please bring pen and paper as there are some juicy bits you'll want to remember

How can I contact the organiser with any questions?
You can call Bill on 0410 559875

Do I have to bring my printed ticket to the event?
Yes - please. That will make registration quick and easy

Is my registration fee or ticket transferrable?
We are happy for someone to take your place if you can't make it. We'll need their details beforehand though. Call or text Bill on 0410 559875
Is it ok if the name on my ticket or registration doesn't match the person who attends?
That's pretty much the same as above. Just let me know beforehand.

What if I can't make it that night?
Well, that would be a pity...you'll be missing out on some really fascinating insights into your own inner workings! However we know that life doesn't always work as we planned, so we'll allow you to transfer to another talk when we schedule it.

Date and Time
Location
Freedom Float Centre
Shop 5, 105 West Burleigh Road
Burleigh Heads
Gold Coast, Qld 4223
Australia